Joe Durant leads the Rapiscan Systems Classic after the first-round at Fallen Oak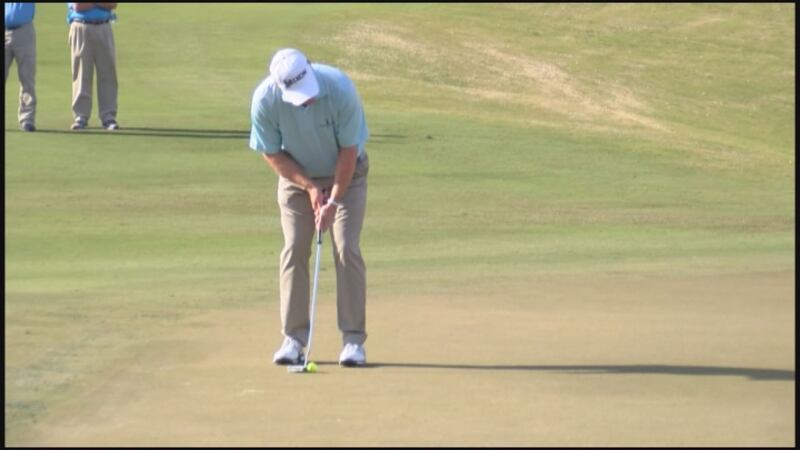 Updated: Mar. 23, 2018 at 7:22 PM CDT
SAUCIER, MS (WLOX) - This is the ninth year that Fallen Oak is hosting the PGA Tour Champions event.  The $1.6 million Rapiscan Systems Classic get underway this morning with 78 golfers ready to engage the Tom Fazio designed golf course, rated the best in Mississippi.
The hunt for the $240,000 first-place check was officially underway.
Poplarville native Glen Day, who makes his home in Alotion, Arkansas fired a two-under-par 70.  He's four shots off the lead.
Joe Durant set the pace on day one.  The Pensacola, Florida golfer had a bogey-free round with three birdies on the front and three birdies on the back to close out his lowest opening-round score for the year.  Durant shot a six-under-par 66.  It's the third time that Durant ended as the first-round leader or co-leader in four previous PGA Tour Champion events at Fallen Oak.
Durant said, "This course just sets up nice to my eye.  It's a beautiful golf course and it's very challenging.  The tee shots seem to set up well for me, but the greens are probably as quick I've see them here.  You've got to put the ball in the right spots and I really played well today with the wind swirling like it was.  I'm really happy."
Mark  Calcavecchia had seven bridies on the day and occupies second place.
Calcavecchia said, "I'm ecstatic.  If you go back and look at my previous years here, my very first year.  I had a top ten and that's been it.  So, it's probably my best round I've ever had here.
After an even-par front nine, Mark Calcavecchia closed out with five birdies on the back nine and his five-under-par 67 is the lowest scored recorded over six previous events at Fallen Oak.
Steve Stricker is in the hunt.  Stricker closed out the first 18 holes with a four-under-par 68, one shot in front of Billy Mayfair, Billy Andrade and David McKenzie.
Two-time defending champion Miguel Angel Jimenez opened with an even-par 72 and is tied for 24th.
Kevin Johnson qualified for the Rapiscan Systems Classic on Monday at Diamondhead and is tied for 59th.  He scored an eagle to help him close with a 1-under-par 71.
Here's how the past championship at Fallen Oak fared:
*Tom Lehman-T12, 71
*Michael Allen-T12, 71
*Miguel Angel Jimenez-T24, 72
*Jeff Maggert-T42, 74
*David Frost-T48, 75
The second-round tee times will run from 10:45 a.m.-12:45 p.m. off the No. 1 and No. 10 tees.
General admission is free!
Copyright 2018 WLOX.  All Rights Reserved.