New welcome center kiosks focus on nature tourism
Published: Dec. 9, 2014 at 10:17 PM CST
|
Updated: Dec. 10, 2014 at 10:52 AM CST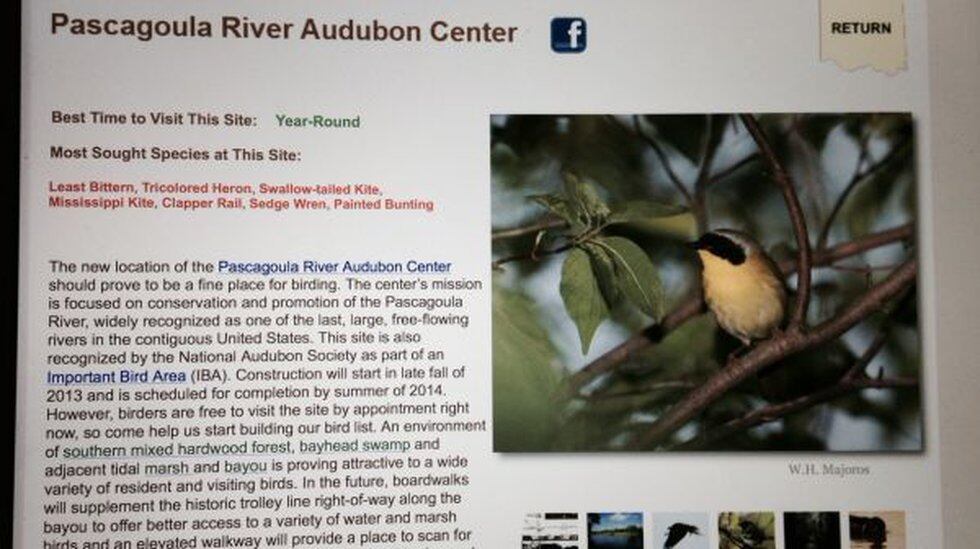 JACKSON COUNTY, MS (WLOX) - The growing popularity of nature tourism is getting a boost at the two Mississippi welcome centers on I-10. Interactive kiosks have been installed to direct visitors to the more than 40 birding trails along the coast.
"It has a listing of which of the trail sites you could possibly find a reddish egret," said Mozart Dedeaux, as he showed visitors the new device.
Tourism leaders gathered at the welcome center near the Alabama state line to unveil and promote the new technology.
"These kiosks and this work represents two of the major things that I intend to implement. Technology and nature based tourism. So today is, for me, a gift quite frankly," said Malcolm White, who heads the tourism division for the Mississippi Development Authority.
"An awful lot of people walk through those doors on a daily basis, looking for what this area has to offer. And you've done a yeoman's job installing this kiosk for us today," said Mayor Billy Broomfield.
"We have a listing that tells them the best time to come and the most sought after species," said Dedeaux, as he scrolled through the kiosk screen.
Visitors don't have to go very far to check out the nearest birding trail in Jackson County. The Escatawpa Trail is located at the western end of the welcome center property.
"The experiences are personable. They are what we want to share with our visiting public. And share our backyards with them, literally," said Renee Areng, Director of the Mississippi Gulf Coast Regional Convention and Visitors Bureau.
The National Audubon Society and the Mississippi Development Authority's tourism division are among the many partners in the project. Mozart Dedeaux of the Pascagoula River Audubon Center designed the website that's the heart of the kiosk.
"It's those partnerships that make the difference, and that's what we have to keep focusing on, is everybody has a role to play. Nature based tourism is certainly a part of that. It's one of the, I like to call it one of the colors in the palette of opportunity for us," said Dr. Mark LaSalle, Director of the Pascagoula River Audubon Center.
The new kiosks not only direct visitors to the various bird trails in South Mississippi, they also have information about area restaurants, hotels and other amenities. If they prove successful, they hope to install them at other welcome centers throughout the state.
Copyright 2014 WLOX. All rights reserved.
?