400 pound gator trapped near apartments in Gulfport
Published: Apr. 3, 2013 at 3:57 PM CDT
|
Updated: Apr. 3, 2013 at 6:58 PM CDT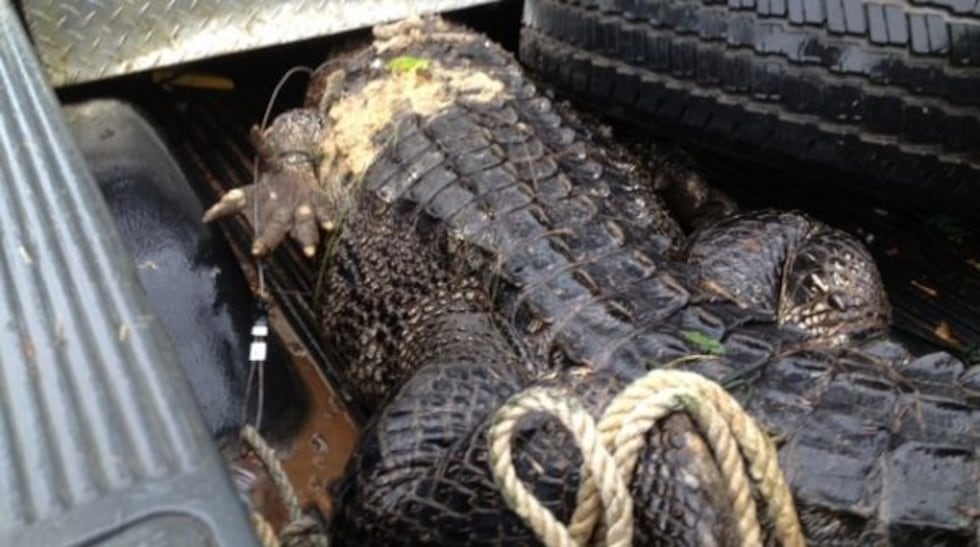 GULFPORT, MS (WLOX) - It took five men to pull a huge alligator out of a drainage ditch near Airport Road Wednesday in Gulfport. Nuisance alligator trapper Sam Searcy said the gator is about 10 feet long and weighs in at about 400 pounds.
It's the first gator he's captured this year.
"The alligator was spotted about two weeks ago in a drainage ditch that goes into Turkey Creek which goes into Bayou Bernard in Gulfport," Searcy said.
A man who walked to his job at Walmart saw the gator and called police.
"He was very shaken after seeing it," Searcy said. "Gulfport police contacted me because the gator was in a highly populated area."
On Tuesday, Searcy set out a snare to catch the gator.
"It's a way to capture the gator without food. It holds the gator with a big rope on its neck," Searcy explained.
Searcy said he didn't use food because gators aren't eating right now since it's still too cold.
"All he was doing was sun bathing, but sun bathing in the wrong place," Searcy said. "He is too big. He could eat kids."
The gator will be killed and its meat will be sold along with the hide and other parts.
"I have to fill out a lot of paper work to legally sell parts of this gator," he said.
As the weather warms, Searcy said, you can expect to see more reptiles, including gators, come out in the open.
"This is the second gator we received a call on this year. We heard about another one near the Jeff Davis home on the beach. We have not done anything about that one yet," Searcy said.
CLICK HERE TO VIEW A SLIDESHOW OF THE ALLIGATOR CAPTURE.
If you spot an alligator, call your local authorities or Mississippi Department of Wildlife Fisheries and Parks at (601) 432-2400.
Copyright 2013 WLOX. All rights reserved.