News Anchor
Jackson, MS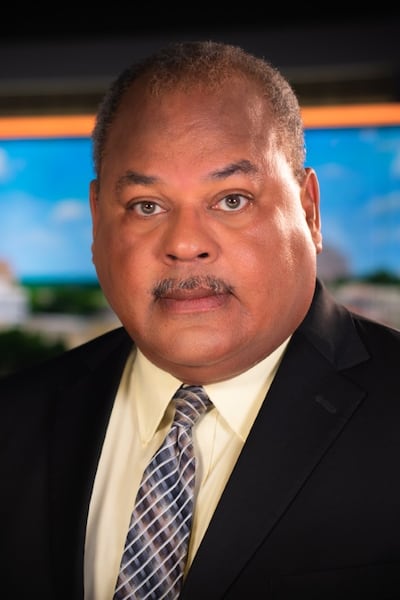 Howard Ballou has been in the broadcast journalism profession for more than 30 years.
He has won several awards of excellence in his field, including United Press International's "Best Documentary" category for a report he did on Tennessee Drunk Driving Legislation, three First Place Mississippi Associated Press Broadcasters Awards, Best Franchise reporting for his Taking Back Our Neighborhoods series of reports since 2009.
In 2016, Ballou won Mississippi Associated Press Broadcasters First Place Best Documentary for An Autograph for the Ages.
In 2007, Ballou was inducted into the Mississippi Associated Press Broadcasters Association Hall of Fame, having anchored and reported for the top rated 6 pm and 10 pm newscasts since 1984.
He was presented a resolution by the Jackson City Council in 2017, "honoring and commending" him for "preserving excellent stewardship in news journalism."
Howard is the former President of the local chapter of the National Association of Black Journalists and is former Regional Director for the Society of Professional Journalists/Sigma Delta Chi. He is also very active in the community, serving on Boards of Directors of numerous charitable and civic organizations.
This is his second stint as primary anchor for the 6 and 10 p.m. newscasts at WLBT-TV. He now anchors the 5pm newscast, as well. Howard also worked in broadcast journalism in Texas (KDFW-TV), Tennessee (WHBQ-TV), South Carolina (WFBC/WYFF-TV, WIS-TV) and North Carolina (WCCB-TV).
For two years, Ballou anchored newscasts on two networks, Fox affiliate WDBD-TV (9pm) and NBC affiliate WLBT-TV (5, 6 and 10pm).
In addition to his anchoring at WLBT-TV, he is currently a general assignment reporter and has served as producer and executive producer for the station.
Howard is married to the former Deborah Thomas and is the father of three sons -- Brandon, Brian, and Blair. Howard is an avid fisherman and loves to read good books and listen to good music, especially jazz and classics.