Kim Mulkey vaguely attributes Angel Reese's absence to 'locker room issues'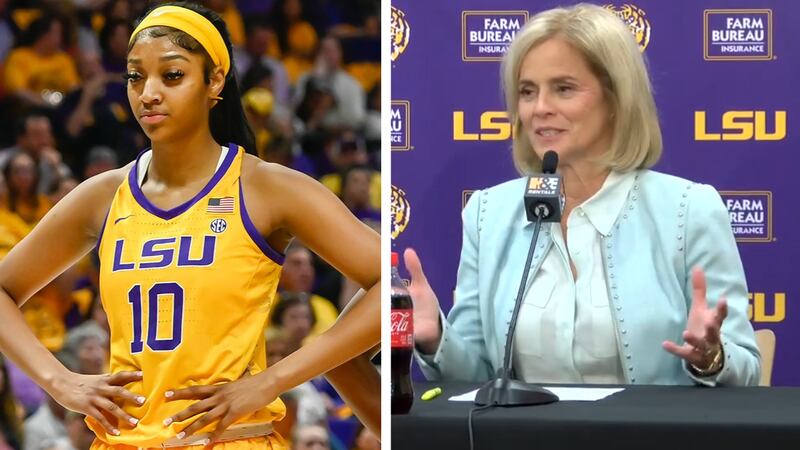 Published: Nov. 20, 2023 at 11:05 PM CST
BATON ROUGE, La. (WVUE) - The LSU women's basketball team was dominant Monday night at the Pete Maravich Assembly Center (PMAC), steamrolling Texas Southern 106-47, securing a win despite the continued absence of All-American forward Angel Reese.
Reese missed her second consecutive game, and her situation remains unclear. After the game, Coach Kim Mulkey attributed her absence to "locker room issues," and said she would not give out more information than necessary in an effort to protect her players.
"You always have to deal with locker room issues," Mulkey said after the game. "That's just part of coaching. In 40 years, I can never think of a time where I didn't have to deal with issues. That's what coaches do. Sometimes y'all know about them and sometimes you don't. Sometimes you want to know more than you're entitled to know. I'm going to protect my players. Always."
Reese was benched during the second half of the team's 109-79 win over Kent State last week. Mulkey called that benching a coach's decision.
On Friday, Reese did not travel with the team for a game at Southeastern Louisiana in Hammond. Mulkey refused to divulge why she was not on that trip.
"It's very obvious Angel was not in uniform," Mulkey said Friday. "Angel is a part of this basketball team, and we hope to see her sooner rather than later. I'm not gonna answer anymore. That's it. That's all y'all need to know."
Reese has only posted one time publicly since speculation surrounding her absence began.
"Please don't believe everything you read," she posted on X Sunday morning.
See a spelling or grammar error in our story? Click Here to report it. Please include the headline.
Subscribe to the Fox 8 YouTube channel.
Copyright 2023 WVUE. All rights reserved.