Students learn from industry experts at large career expo
Published: Nov. 15, 2023 at 7:03 PM CST
BILOXI, Miss. (WLOX) - Eighth graders from across the state are flooding the Mississippi Coast Coliseum and Convention Center on Wednesday and Thursday for an annual career expo called Pathways to Possibilities (P2P).
More than 7,000 public, private and home-schooled students from nine counties will make their way through the expo two-day event.
"It's fun," eighth grader Jaron Dudeck said. "I like looking at all the job opportunities and that there's more than just police officers and firefighters and all that."
Dudeck, along with Brooks Carroll, took the field trip from Stone Middle School in Wiggins. They said they were most enthused by the hands-on activities.
"The building stuff back there, they have, like, stuff you can build," Carroll told WLOX.
According to a press release, the expo is designed to expose students to top area-based jobs with industry professionals on site to share what a work day is like for them.
"I love the news," Lou from Colmer Middle in Pascagoula said.
Lou said she was thrilled to see WLOX's Chief Meteorologist Carrie Duncan at the event. Duncan conducted mock interviews with students on the station's live set.
Calling herself a lifelong fan and dressing as Duncan for Halloween, Lou cried as they first met.
"She commented on one of my Halloween pictures," she said. "My dad, like, idolizes her since I was growing up. I really love her, and I love the news, and I love what they did for my life."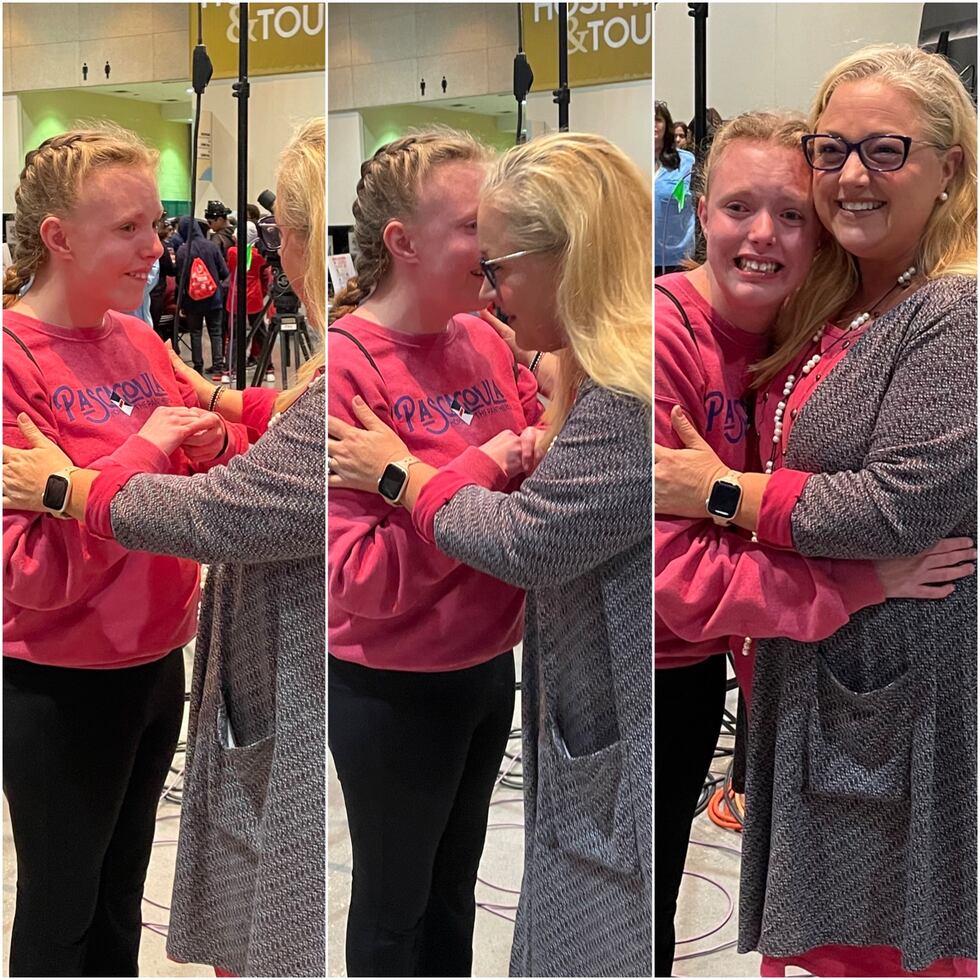 In addition to broadcast journalism, about 19 career types total are on display throughout the arena.
Each class is given 90 minutes to explore.
"It's pretty fun, definitely helpful for finding a job," Stone Middle student Jaden Rench said.
Gautier Middle student Khamorian Pruitt, the lineup included a variety of different health care fields.
"I'm feeling really nervous because I'm socializing, and I'm not really a socializing person. But I'm really excited because I get to explore what I can do in the future or when I graduate," she said. "My main thing is going into the medical field because I've always wanted to help people."
Pruitt's classmate, Ava Gibson, added: "The Ingalls wall where you go up and down the stairs, I enjoyed that. I enjoyed the simulators I had to do. It was really fun."
The planning team said since P2P began in Biloxi in 2013, it has hosted more than 100,000 students in the state across 49 counties.
"P2P has also grown outside of the state to include Myrtle Beach, South Carolina, Ripley, Tennessee and Memphis, Tennessee," the release read.
On Thursday, P2P will include an additional private session for "identified opportunity youth" ages 16-24.
They are invited to explore a variety of alternative education and workforce development programs.
Click here to subscribe to WLOX News on YouTube: Keep up with South Mississippi news, sports, and local events on our YouTube channel!
Copyright 2023 WLOX. All rights reserved.