Vote on tentative contract with General Motors too close to call as more tallies are reported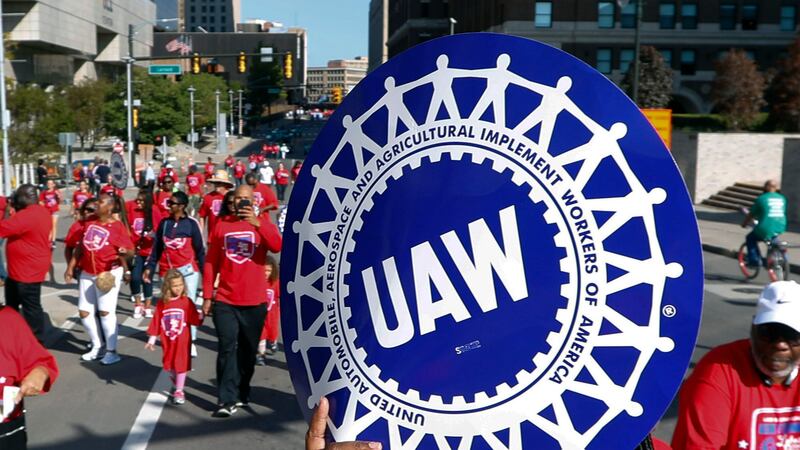 Published: Nov. 15, 2023 at 8:57 AM CST
|
Updated: Nov. 15, 2023 at 4:32 PM CST
DETROIT (AP) — Voting on a tentative contract agreement between General Motors and the United Auto Workers union that ended a six-week strike against the company appears too close to call after the latest tallies at several GM factories were announced Wednesday.
The union hasn't posted final vote totals yet, but workers at several large factories who finished voting in the past few days have turned down the four- year-and-eight-month deal by fairly large margins. However, a factory in Arlington, Texas, with about 5,000 workers voted more than 60% to approve the deal in tallies announced Wednesday.
The vote tracker on the UAW's website Wednesday shows the deal ahead by 958 votes. But those totals do not include votes from GM assembly plants in Fort Wayne, Indiana; Lansing Delta Township, Michigan; and a powertrain plant in Toledo, Ohio, which all voted against the agreement, according to local union officials.
In most cases the vote tallies ranged from 55% to around 60% against the contract.
But in Arlington the vote was 63% in favor with 60.4% of production workers approving the deal and nearly 65% of skilled trades workers voting in favor, making the tally tight with GM voting to wrap up on Thursday.
Spokesmen for both the union and General Motors declined comment while the voting continues.
It wasn't clear what would happen next, but local union officials don't expect an immediate walkout if the contract is voted down.
Voting continues at Ford through early Saturday, where the deal is passing with 66.1% voting in favor so far with only a few large factories still counting.
The contract was passing overwhelmingly at Jeep maker Stellantis, where voting continues until Tuesday. The union's vote tracker on Wednesday showed that 79.5% voted in favor with many large factories yet to finish.
Workers at some smaller GM facilities have yet to vote, and final tallies are expected to be announced late Thursday.
Keith Crowell, the local union president in Arlington, said the plant has a diverse group of workers from full- and part-time temporary hires to longtime assembly line employees. Full-time temporary workers liked the large raises they received and the chance to get top union pay, he said. But many longtime workers didn't think the immediate 11% pay raises were enough to make up for concessions granted to the company in 2008, he said.
"There was something in there for everybody, but everybody couldn't get everything they wanted," Crowell said. "At least we're making a step in the right direction to recover from 2008."
The union agreed to accept lower pay for new hires and gave up cost of living adjustments and general annual pay raises in 2008 to help the automakers out of dire financial problems during the Great Recession. GM and Stellantis, then Chrysler, went into government-funded bankruptcies.
In the contracts with all three automakers, long time workers will get 25% general raises over the life of the deals with 11% up front. Including cost of living adjustments, they'll get about 33%, the union said.
The contract took steps toward ending lower tiers of wages for newer hires, reducing the number of years it takes to reach top pay. Many newer hires wanted defined benefit pension plans instead of 401(k) retirement plans. But the company agreed to contribute 10% per year into the 401(k) instead.
At other factories, local union officials said that longtime workers at GM were unhappy that they didn't get larger pay raises like newer workers, and they wanted a larger pension increase.
Tony Totty, president of the union local at the Toledo powertrain plant, said the environment is right to seek more from the company. "We need to take advantage of the moment," he said. "Who knows what the next environment will be for national agreements. The company never has a problem telling us we need to take concessions in bad economic times. Why should we not get the best economic agreement in good economic times?"
At a GM pickup truck factory in Flint, Michigan, which voted 51.8% against the contract, worker Tommy Wolikow said more senior workers should have gotten bigger raises because newer hires and temporary workers got a lot more. "This wage thing, it's just not cutting it," he said. Still, he said the contract is close and he'd go for it with a few small additions.
Wolikow, hired by GM in 2008, said he was happy with a 10% annual company contribution to his 401(k) plan rather than a defined benefit pension.
Thousands of UAW members joined picket lines in targeted strikes against Detroit automakers over a six-week stretch before tentative deals were reached late last month. Rather than striking at one company, the union targeted individual plants at all three automakers. At its peak last month about 46,000 of the union's 146,000 workers at the Detroit companies were walking picket lines.
Of the four GM plants that went on strike, workers at only one, Arlington, Texas, approved the contract. Workers in Wentzville, Missouri; Lansing Delta Township, Michigan; and Spring Hill, Tennessee; voted it down.
—-
This story has been updated to clarify that the vote is too close to call.
Copyright 2023 The Associated Press. All rights reserved.