New Alabama congressional district draws sprawling field as Democrats eye flip
The creation of a Democratic-leaning congressional district in Alabama has drawn a sprawling field of candidates as Democrats eye a rare chance to flip a Republican seat in the battle for control of the House of Representatives.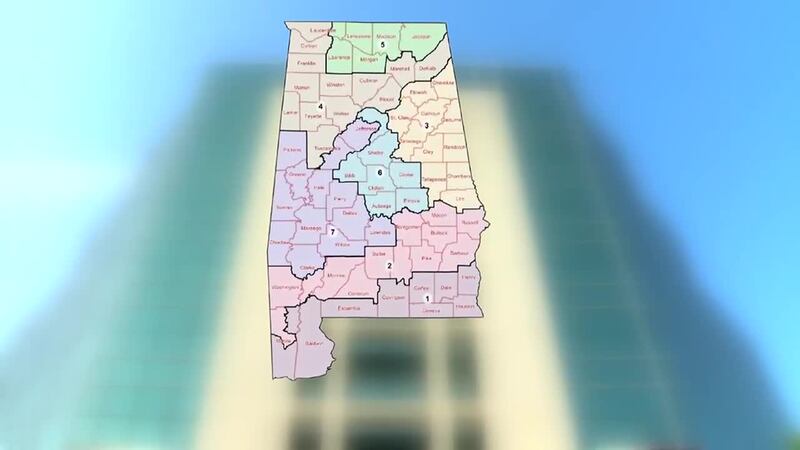 Published: Nov. 14, 2023 at 7:33 PM CST
MONTGMERY, Ala. (AP) — The creation of a Democratic-leaning congressional district in Alabama has drawn a sprawling field of candidates as Democrats eye a rare opportunity in the deep red state to flip a Republican seat in the battle for control of the House of Representatives.
The new district, created by court order, is viewed as a once-in-a-generation opportunity for Democrats looking to win higher office in a state where Republicans currently dominate statewide positions. The outcome of the Alabama race, with control of the U.S. House of Representatives on the line, will be closely watched. And with ongoing court challenges to congressional maps in Georgia, Louisiana and elsewhere, some hope the Alabama race will be a harbinger of Democrats making inroads in the Deep South.
Federal judges last month selected new congressional lines for Alabama after ruling the state had illegally diluted the voting power of Black residents. The revamped Congressional District 2, which was designed to boost the voting power of Black residents, has a voting-age population that is 48.7% Black, giving the district a decidedly Democratic tilt. Twenty-one candidates — 13 Democrats and eight Republicans — have filed papers to run for Congress in the district.
"Democrats are the strong favorite here, but you need a good candidate, you need to take it seriously. You can't take anything for granted," said Zac McCrary, a pollster who has worked for high-profile Democratic campaigns.
The three-judge panel ruled that Alabama's prior map — only one of whose seven districts was majority-Black — likely violated the federal Voting Rights Act. The three-judge panel, in selecting the new map, said the state, which is 27% Black, should have two districts where Black voters are the majority or close to it, so that they have an opportunity to elect a candidate of their choice.
"Alabama's long-awaited Congressional map means the state's Black citizens — who have been denied fair representation for too long — will finally have an opportunity to elect another member of Congress that reflects the demographics of the state, ensuring that their community's voice is heard in the people's house," said Viet Shelton, a spokesman for the Democratic Congressional Campaign Committee, the party's House campaign arm.
The U.S. House of Representatives is narrowly controlled by Republicans. The close divide heightens the importance of potential flips like the one Democrats are seeking in Alabama.
"We are confident that Alabama's Second Congressional District will herald another victory for Democrats next November, propelling us one seat closer to retaking the majority and ending the dysfunction and chaos that has defined Republican control of the House," Shelton told The Associated Press in an email.
State Republicans, however, say they are not ceding the seat without a fight. Alabama Republican Party Chair John Wahl said while the court drew a "straight-up lean Democrat district," he believes there is a chance for Republicans to hold it.
"I think you're going to see a lot of interest from both parties," Wahl said. "This is something that Democrats are going to be very engaged in trying to take, and Republicans across the country are going to be watching to see what happens with this district." Wahl said he believes a cross-section of voters are upset with issues such as inflation, which they blame on the policies of the Democratic Party.
The new Alabama district will be used in the 2024 election as similar redistricting fights play out in Georgia, Louisiana, Florida and a number of other states where Democrats argue that GOP-drawn maps diminish the power of Black voters. A federal judge ordered Georgia to draw an additional Black-majority congressional district, although the state plans to appeal.
The Alabama district is an open seat in the 2024 election after the current representative, Republican Rep. Barry Moore, was drawn out of the district. Moore has decided to challenge Republican Rep. Jerry Carl in Congressional District 1.
The 13 Democrats who have qualified to run are: retired U.S. Marine James Averhart; state Rep. Napoleon Bracy, Jr. of Prichard; state Sen. Merika Coleman of Pleasant Grove; House Minority Leader Anthony Daniels of Huntsville; Shomari Figures, a former deputy chief of staff to the U.S. attorney general and the son of state Sen. Vivian Figures; Dr. Brian Gary, a surgeon; state Rep. Juandalynn Givan of Birmingham; state Rep. Jeremy Gray of Opelika; education consultant Phyllis Harvey-Hall; Willie J. Lenard; businessman Vimal Patel, Larry Darnell Simpson; and Darryl Sinkfield, an executive with the Alabama Education Association.
The eight Republicans who have qualified to run are: state Sen. Greg Albritton of Atmore; former state Sen. Dick Brewbaker of Pike Road; attorney Caroleene Dobson; business owner Karla M. DuPriest; former NFL and University of Alabama football player Wallace Gilberry; real estate agent Hampton Harris; Stacey T. Shepperson of Saraland; and Newton City Council member Belinda Thomas.
Copyright 2023 The Associated Press. All rights reserved.