Matthew Perry's 'Friends' co-stars reminiscence about late actor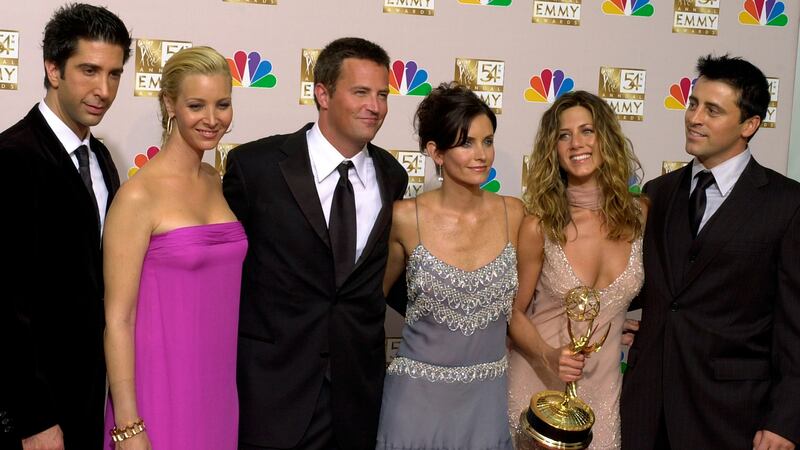 Published: Nov. 15, 2023 at 10:24 AM CST
|
Updated: Nov. 15, 2023 at 2:13 PM CST
LOS ANGELES (AP) — All five of Matthew Perry's "Friends" co-stars are sharing more remembrances of the star in their first personal social media posts since the actor's death last month.
Jennifer Aniston, Courteney Cox, Lisa Kudrow and Matt LeBlanc and David Schwimmer each posted heartfelt notes about Perry, who died on Oct. 28, on Instagram. The posts on Tuesday and Wednesday were accompanied by photos from the "Friends" set.
"In the last couple weeks, I've been pouring over our texts to one another. Laughing and crying then laughing again," Aniston posted Wednesday, sharing a text message where Perry sent her photo of a script reading session where Perry made her laugh.
"Oh boy this one has cut deep... Having to say goodbye to our Matty has been an insane wave of emotions that I've never experienced before," Aniston's post read.
Kudrow became the fifth "Friends" star to pay personal tribute to Perry amid the wave of mourning.
"Thank you for making me laugh so hard at something you said, that my muscles ached, and tears poured down my face EVERY DAY," she said in an Instagram post. "Thank you for the best 10 years a person gets to have."
The stars issued a joint statement a few days after Perry's death, saying they were "all so utterly devastated by the loss of Matthew. We were more than just cast mates. We are a family."
Schwimmer posted a photo of him and Perry dressed up as "Miami Vice" characters, calling it "one of my favorite moments with you."
"Now it makes me smile and grieve at the same time," Schwimmer's post said.
LeBlanc posted Tuesday: "It was an honor to share the stage with you and to call you my friend. I will always smile when I think of you and I'll never forget you. Never." His post included one candid shot of the cast all hugging on set.
Perry was found dead last month at his Los Angeles home. After an initial investigation, the Los Angeles County coroner deferred giving a cause of death, which may take weeks to determine.
Cox shared a video clip of a "Friends" scene where her and Perry's characters are in bed, trying not to have their relationship discovered. It's an iconic moment of the show, and Cox shared a bit of backstory about filming.
"In this scene, before we started rolling, he whispered a funny line for me to say," Cox posted. "He often did things like that. He was funny and he was kind."
"I am so grateful for every moment I had with you Matty and I miss you every day," she wrote.
Most of the posts reference how sweet, funny and thoughtful Perry was.
LeBlanc ended his note with a bit of comedy, writing: "Spread your wings and fly brother you're finally free. Much love. And I guess you're keeping the 20 bucks you owe me."
Copyright 2023 The Associated Press. All rights reserved.