Be a Santa to a Senior returns to Biloxi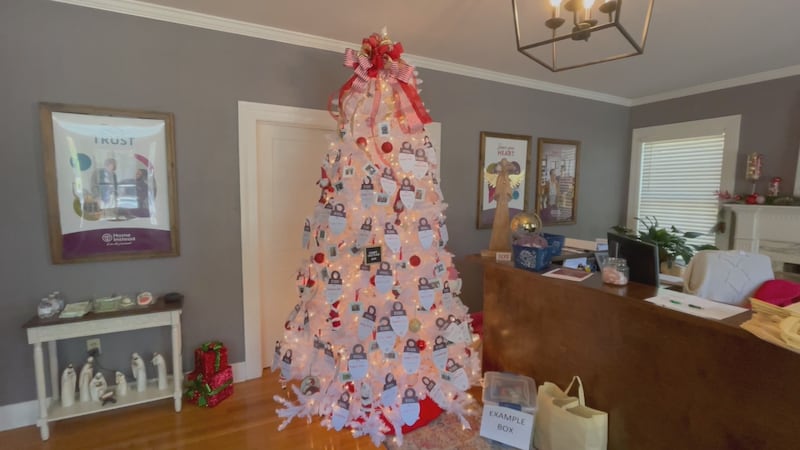 Published: Nov. 15, 2023 at 2:19 PM CST
BILOXI, Miss. (WLOX) - Be a Santa to a Senior has officially kicked off in Biloxi for the 2023 holiday season! This is the 19th year Home Instead has hosted the local program.
Melissa Wilkinson, owner of the Home Instead office in Ocean Springs, aims to spread the happiness and togetherness that the holiday season can bring to older adults.
"The holidays can be hard for many older adults, especially those who may not have a companion to share them with," Wilkinson said. "Through Be a Santa to a Senior, we can help these seniors experience the happiness and togetherness the season can bring."
This year, program coordinators hope to collect 1,500 gifts for 150 local older adults.
To participate, shoppers can look for Be a Santa to a Senior trees or displays at locations around the area. Ornaments featuring the name and desired gift of an older adult will be on display, and shoppers can buy the requested gift and return it unwrapped in a gift bag to the location with the ornament attached. Ornaments will be available now through December 12. The gifts will be delivered to local older adults in time for the holidays.
Be a Santa to a Senior trees can be found at the following locations:
CVS Ocean Springs, 2190 Bienville Boulevard., Ocean Springs, MS 39564

CVS Pascagoula, 3657 Market Street, Pascagoula, MS 39567

CVS D'Iberville, 12024 Lamey Bridge Road., D'Iberville, MS 39540

CVS Gulfport, 11022 US 49, Gulfport, MS 39503

CVS Diamondhead, 4422 Kalani Drive., Diamondhead, MS 39525

Port City Café, 2561 Pass Road, Suite A, Biloxi, MS 39561
"Gifts aside, the true value comes in the connection Be a Santa to a Senior makes between the community and our older neighbors," said Wilkinson.
Be a Santa to a Senior brings together the entire community, with support from local businesses, nonprofit organizations, retailers, volunteers, and countless other community members. The Home Instead office in Ocean Springs has partnered with CVS Pharmacies, Port City Café, and multiple community partners to assist with gift collection and distribution.
As a franchise network, Home Instead® is celebrating the 20th anniversary of the Be a Santa to a Senior® program. Over that time, Be a Santa to a Senior® has engaged more than 65,000 volunteers, provided more than 2.2 million gifts, and shared the holiday spirit with about 800,000 older adults nationwide.
For more information visit BeaSantatoaSenior.com. To learn more about helping older adults along the Mississippi Gulf Coast visit imreadytocare.com
Click here to subscribe to WLOX News on YouTube: Keep up with South Mississippi news, sports, and local events on our YouTube channel!
Copyright 2023 WLOX. All rights reserved.