Solar eclipse visible Saturday in South Mississippi
For a little while Saturday, part of the sun will go missing from the sky
Published: Oct. 13, 2023 at 9:33 AM CDT
|
Updated: Oct. 13, 2023 at 9:44 AM CDT
SOUTH MISSISSIPPI (WLOX) - The sun will turn a bit darker in the middle of the day on Saturday October 14th 2023. This solar eclipse will be visible, weather cooperating, across many areas in our country.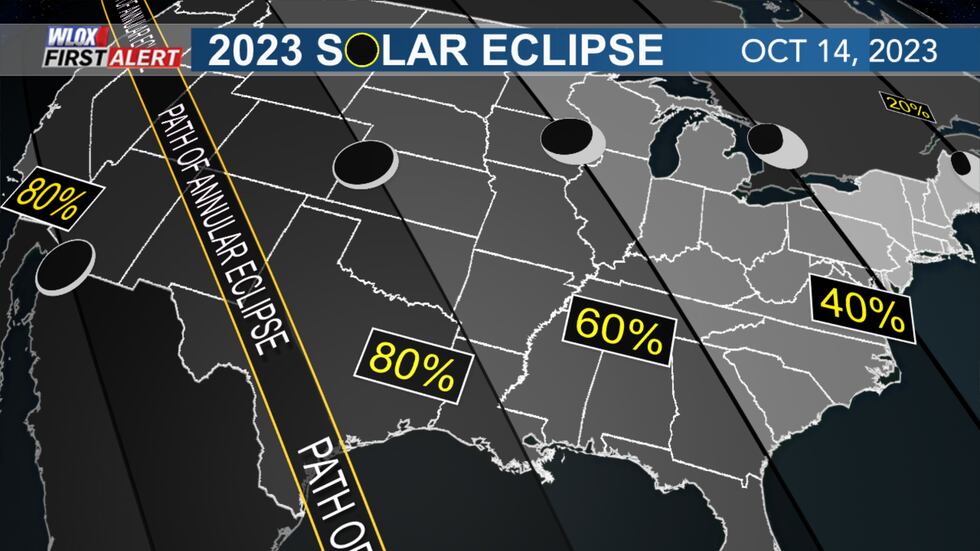 A solar eclipse is when the moon passes between the Earth and the Sun, blocking the Sun from view for a period of time. But, this time, it will be a specific type of solar eclipse called an 'annular solar eclipse.'
According to NASA, an annular solar eclipse happens when when 'the Moon passes between the Sun and Earth, but when it is at or near its farthest point from Earth. Because the Moon is farther away from Earth, it appears smaller than the Sun and does not completely cover the Sun. As a result, the Moon appears as a dark disk on top of a larger, bright disk, creating what looks like a ring around the Moon.'
In South Mississippi, this Saturday October 14 2023 solar eclipse will be visible starting around 10:30 AM and will be done by about 1:45 PM.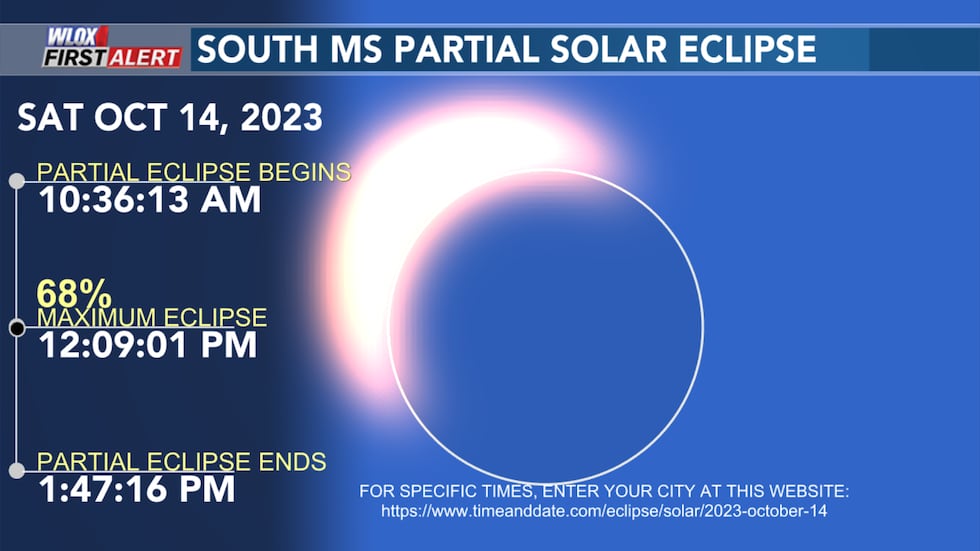 The moment of maximum eclipse for South Mississippi will be around 12:09PM. That will be the moment of the eclipse in which most of the sun is covered by the moon. For South Mississippi, that will be around 68% of the sun covered by the moon.
"Don't expect the sky to darken too much in South Mississippi with around 30% of the sun still uncovered," said WLOX First Alert Meteorologist Wesley Williams. "The only time when the sky turns to night is when around 100% of the sun is covered and for us only about 68% of the sun will be covered, leaving plenty of slightly dimmer light."
If you plan to view, it is important to remember to never look directly at the sun with your naked eyes. This would likely result in irreversible damage to your vision and your eyes.
Protect your eyes with an approved solar filter if you plan to look directly at the sun. Sunglasses are not sufficient protection.
Looking for eclipse safety info? NASA says 'viewing any part of the bright Sun through a camera lens, binoculars, or a telescope without a special-purpose solar filter secured over the front of the optics will instantly cause severe eye injury.'
You can read more safe viewing tips from NASA here.
The last time South Mississippi has a significant and visible solar eclipse was back in 2017. Many viewers safely enjoyed the view and some even sent us pictures.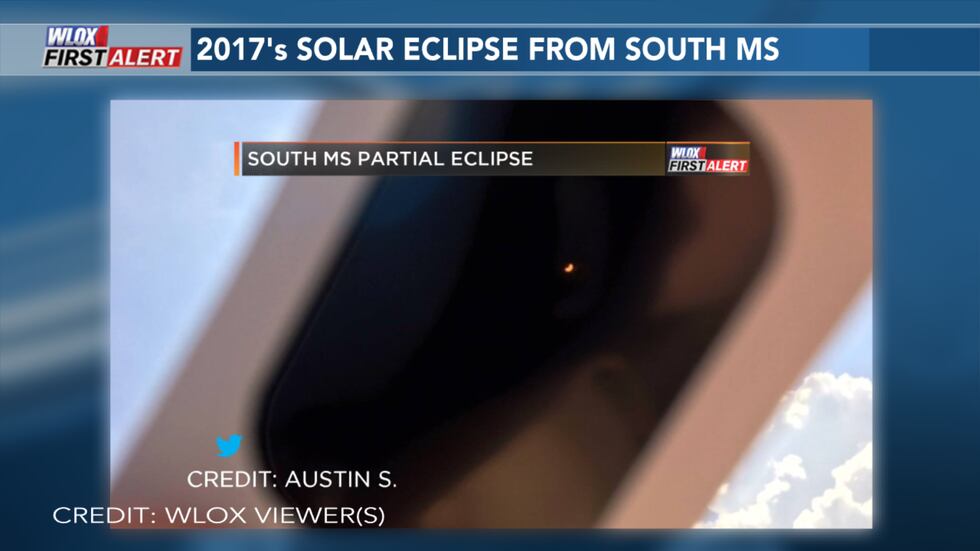 If you miss this solar eclipse, there is another coming next year. And an amazing one coming in the 2040s. You can read more about those upcoming solar eclipses here.
Click here to subscribe to WLOX News on YouTube: Keep up with South Mississippi news, sports, and local events on our YouTube channel!
Copyright 2023 WLOX. All rights reserved.