Coast Life: Artist uses past experiences to fuel his drive to add "splash" to cars
Published: Oct. 2, 2023 at 9:26 PM CDT
BILOXI, Miss. (WLOX) - The Coast Life is all about the cars during Cruisin' the Coast, and a South Mississippi artist uses his personal artistic touch to enhance the look of cruisers.
On a back road of Harrison County, the Classic Cadillac serves as the front porch to John Lunstrum's home, also a working studio.
"I will pretty much do anything and everything," Lunstrum said. "If I can't do it, I'll try and figure it out."
All corners of Lunstrum's home are filled with his work. He calls himself a mixed-media artist. His touch can make a car sparkle.
"[Cars are] my first love," said Lunstrum. "If you're a kid and you're on a corner and you see a cool car go by and you don't want it, then whoever is driving that car isn't driving it right."
During Cruisin' the Coast, the Cruisers seek out Lunstrum so he can add some splash to their classics. Back home, he has a personal project.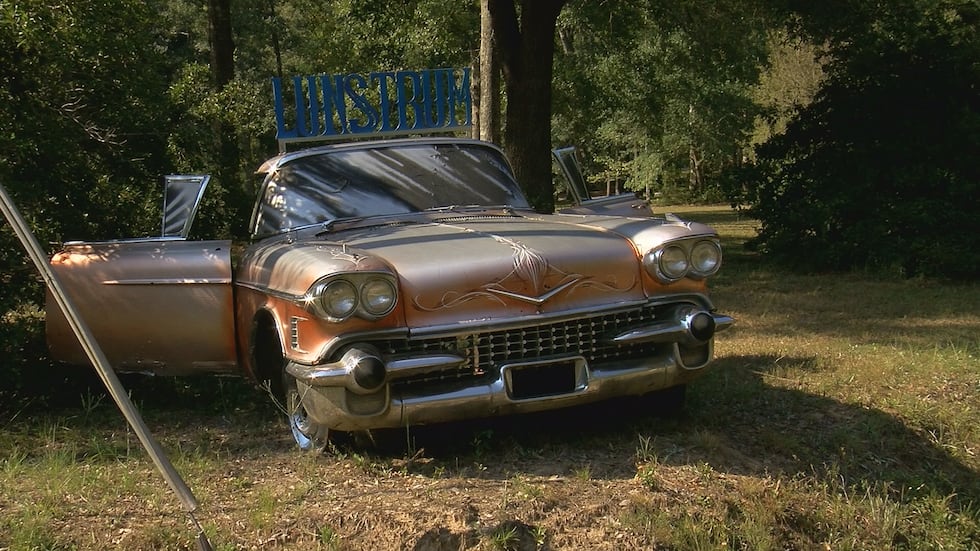 "There's never too much money you can put in a car," said Lunstrum. "You're never going to be done, it's pretty much your canvas. You just keep going, that's what it's about, making your car your car."
Before it becomes your car, it starts with his vision.
"I do the whole job in my head first, all of them. They're in my head first."
The painter's artistic touch is inspired by his past.
"My dad was a biker, and my mom was a stripper, so this is kind of what you get," Lunstrum said.
Lunstrum's father was killed on a motorcycle, but the advice he gave his son still lives on.
"He kind of planted the seed in my head. He said you need to tattoo, airbrush and pinstripe, that's exactly where I ended up later in life. I tattooed for year, now I do the airbrushing, pinstriping and now I'm in fine art as well."
LIST: 2023 Cruisin' the Coast Schedule
The journey to becoming an accomplished artist hasn't always been a straight line. When he was younger Lunstrum spent time in jail. Those previous experiences fuel his drive.
"What you're looking at is a 1%. I've worked really hard to get where I'm at with blood, sweat and tears. I've been broke and holding up signs at truck stops just to feed people with pinstripe brushes."
Lunstrum hopes his road will now lead to an inspiring cruise for others.
"It's amazing where my story's ended up. Anybody like that that thinks I could do that; well you have to go do it. I'm handling what I'm supposed to do, God put me on this path and that's what I'm doing."
Lunstrum will be at Cruise Central in Centennial Plaza every day during Cruisin' the Coast. At night he can be found at Incorrigible Motorsports in Gulfport.
For more information, visit Lunstrum's website at www.johnlunstrum.com.
Click here to subscribe to WLOX News on YouTube: Keep up with South Mississippi news, sports, and local events on our YouTube channel!
Copyright 2023 WLOX. All rights reserved.