After Further Review: Five takes from Saints loss to Bucs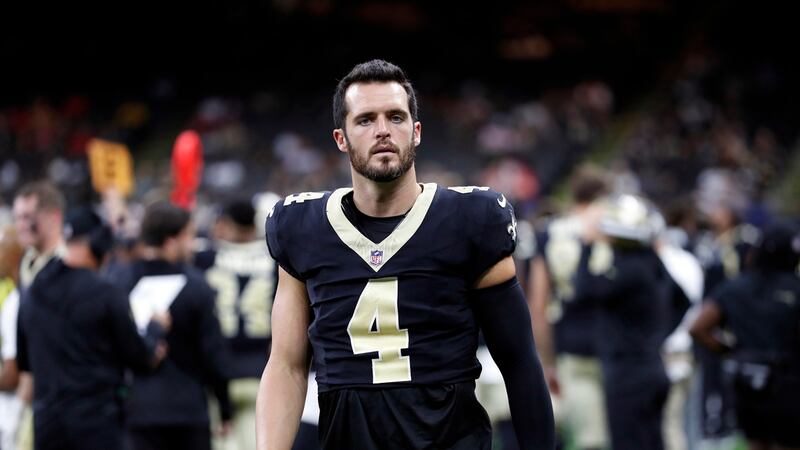 Published: Oct. 1, 2023 at 11:32 PM CDT
NEW ORLEANS (WVUE) - Take One: Disaster in the Dome
In a span of five quarters, the Saints went from the doorsteps of 3-0 to now 2-2. That's how fast things can flip in the NFL.
Unlike last week where the wheels fell off in the final eight minutes in Green Bay, this week Saints were completely outplayed all game and deserved every bit of the thorough beatdown the Bucs handed them.
The Saints were simply bad in too many areas to beat a divisional opponent that has now won three straight games inside the Superdome.
Dennis Allen put it best when he opened his press conference by saying, 'we got our A** beat today.'
Read more: Carr starts, but Saints are lackluster in 26-9 loss to Buccaneers
Take Two: Offensive wows
The messaging was different after this one. The 'time on task' or 'we're getting closer' optimism of weeks past were all gone after Sunday.
The Saints know they have an offensive problem and were outward in expressing that feeling.
There is simply no cohesion at any level. It feels more like a scattered collection of individual players with no real harmony.
Sunday was their worst effort of the year. Three field goals, no touchdowns, under 200 yards of total offense and no real feel of any identity anywhere. The sense of urgency has reached an all-time high.
Offensive coordinator Pete Carmichael has to figure this out. If there isn't a breakthrough very soon, there may be drastic changes on the way. Unlike last year, the Saints truly believe they have enough offensive talent to win, and they can't afford to let another season slip away due to inept offensive play.
Take Three: Carr playing status
The playing status of Derek Carr was the biggest storyline all week. Carr battled through his shoulder injury to play Sunday but was pretty average for most of the day.
In regards to whether or not the injury hampered his play, there were two throws that looked impacted by him not being at full strength. Early in the game he missed Michael Thomas on a skinny post, and then in the second half he underthrew Chris Olave on the sideline.
The bigger issue may have been Carr's lack of practice reps. Carr didn't practice until Friday, and his timing seemed to be off all game. At times, he was too quick to get to the check down. Other times, it felt like he held onto the ball too long. It just led to disjointed performance all day.
The frustration on his face with the way the offense has sputtered through the first four weeks was evident after the game.
Take Four: Defensive shortcomings
Undisciplined.
That was the word I kept coming back to when summing up the Saints' defensive effort. Overall, that side of the ball was just too undisciplined in a lot of areas. They weren't sound in their run gaps. They missed several tackles, and most worrisome of all, they once again struggled to get any kind of pass rush. Plus, a unit that thrived on third down allowed 8/15 to Tampa Bay.
This defense is a prideful group, and they've been the biggest reason for the team's two victories. But on Sunday, they were subpar and a big reason why the team fell to 2-2.
Take Five: Other observations
If there is a small silver lining to the offensive effort, it's that the offensive line played better. Hopefully, this clears a hurdle for Carr, who is playing with a slight sense of hesitancy as he and the line work on their chemistry.

Alvin Kamara finished with 13 receptions on 14 targets. Some of those felt natural, others felt forced. He finished his day with 24 touches for 84 yards.

In what turned out to be a short battle between Mike Evans and Marshon Lattimore, Evans got the win.

Bryan Bresee continues to make plays. He was disruptive with the team's lone sack and had a tackle for loss.

Tough break for Jameis Winston. He practiced most of the week but didn't get the start. When he went in the game, he threw an interception on his only pass. It was that kind of day for the offense.

Strange sequence at the end of the half. Isaac Yiadom picked off Baker Mayfield in what looked like a touchback but was eventually brought back out to the one-yard line. Right on cue, the Saints fumbled the ball right back on the next play that set up a Bucs TD right before halftime to go up, 14-3. That lead proved to be insurmountable. As for the ruling, I was surprised there wasn't review. It looked pretty obvious that Yiadom was in the end zone

2-2 is not where the Saints want to be. Fortunately, they're just one game out of first in the division. They hit the road next week to face a struggling Patriots team.
See a spelling or grammar error in our story? Click Here to report it. Please include the headline.
Subscribe to the Fox 8 YouTube channel.
Copyright 2023 WVUE. All rights reserved.