Remembering Hurricane Georges 25 years later
Georges took a nearly two-week journey across the Atlantic to eventually make landfall in Biloxi
Published: Sep. 28, 2023 at 1:50 AM CDT
|
Updated: Sep. 28, 2023 at 11:04 PM CDT
BILOXI, Miss. (WLOX) - Twenty-five years ago, South Mississippi took a direct hit from Hurricane Georges. It started as a tropical wave off the coast of Africa and quickly grew into a monster Category four hurricane over the Atlantic before weakening and impacting the Caribbean Islands. George made landfall six times before making a seventh and final landfall in Biloxi on Sep 28, 1998 as a category two storm.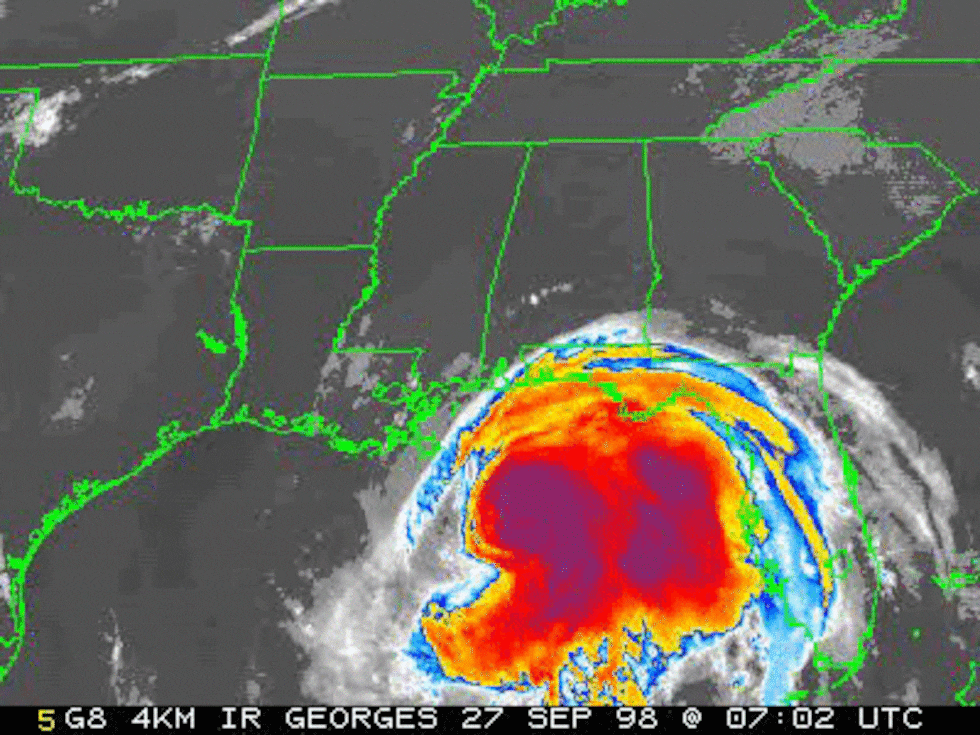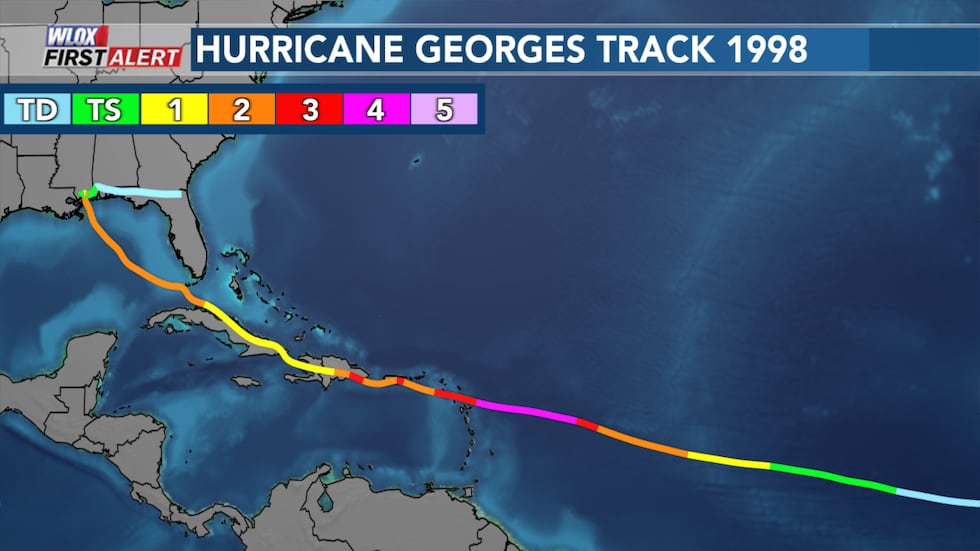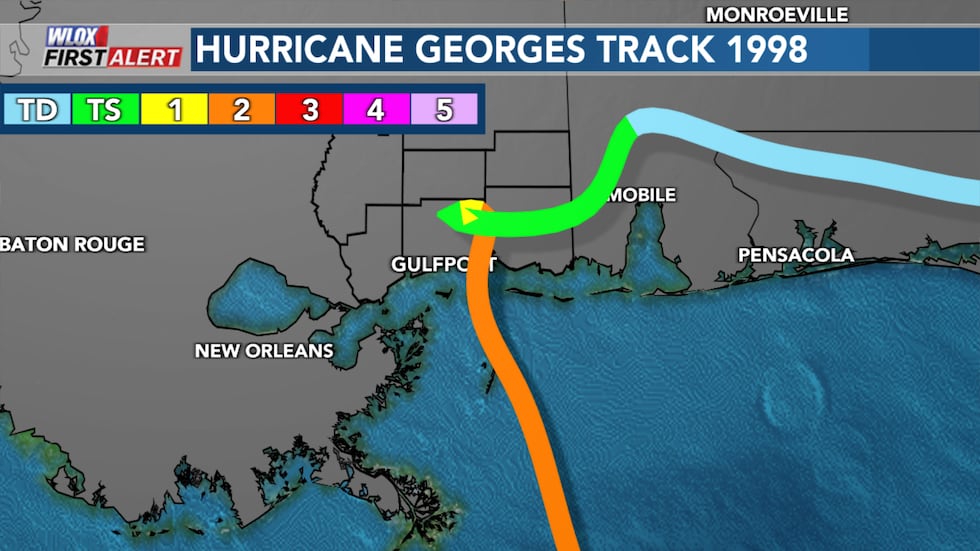 Flooding rains: Georges holds record for highest rainfall total from a tropical system in Mississippi
After Georges made landfall, steering currents weakened and it stalled over South Mississippi for 6-12 hours, dumping widespread 15-20 inches of rain across parts of Harrison, Stone, George and Jackson Counties. According to NOAA National Centers of Environmental Information (NCEI), Hurricane Georges dumped 32.21 inches of rain near Wiggins, making it the wettest tropical system on record for the state of Mississippi.
As a result of the extreme rainfall, area rivers burst out of their banks. The Tchoutacabouffa River reached its all-time highest crest of 19 feet causing disastrous flooding in communities such as D'Iberville. In Jackson County, the Orange Grove, Franklin Creek and Helena areas were hit especially hard when the Escatawpa River crested at its all-time record highest of 11.9 feet.
Watch WLOX Archives: Georges causes record flooding on Escatawpa River
Watch WLOX Archives: Tchoutacabouffa River reaches all-time record highest crest
Damaging winds
The impacts from Georges were not limited to just rainfall. High winds toppled trees and caused widespread roof damage along with power outages. Georges made landfall in Biloxi with maximum sustained winds around 100 mph. According to the National Hurricane Center, a wind gust at Keesler Airforce Base (KAFB) of 125 mph was measured and a minimum pressure of 964.9 mb was observed. A wind gust of 107 mph one mile north of the beach in Gulfport was measured by Mississippi Power.
Watch WLOX Archives: Georges rips wall off Trent Lott Middle School
Watch WLOX Archives: Georges peels roof off Hurricane Shelter
Storm Surge
Storm surge from Georges was maximized over Jackson County due to its landfall location in Biloxi. This put Jackson County on the right side of the eye where onshore flow drove water inland. The surge neared 10 feet in Pascagoula at Bayou Chico, according to the NHC. 8.8 feet at Biloxi Back Bay. And 8.1 feet at Gulfport Harbor.
Retired
Hurricane Georges was responsible for 602 fatalities, mainly in the Dominican Republic and Haiti from catastrophic flooding. No deaths were reported in Mississippi. One fatality occurred as a direct result of freshwater flooding from Georges in Mobile and three other fatalities occurred indirectly related to Georges in Florida. The hurricane cost an estimated 2.955 billion dollars across Mississippi, Alabama, Florida and Louisiana.
The name "Georges" was retired by the World Meteorological Organization, never to be used again for naming tropical systems in the Atlantic Basin.
Click here to subscribe to WLOX News on YouTube: Keep up with South Mississippi news, sports, and local events on our YouTube channel!
Copyright 2023 WLOX. All rights reserved.