Alabama lawmakers vote to move forward with construction of new Statehouse
Alabama lawmakers have voted to move forward with the construction of a new Statehouse to replace their current building, which is plagued with mold and other problems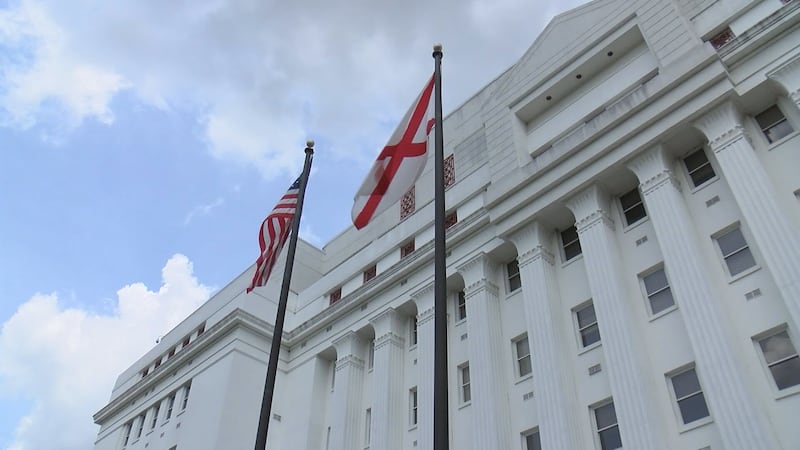 Published: Sep. 27, 2023 at 10:48 AM CDT
MONTGOMERY, Ala. (AP) — Alabama lawmakers voted Tuesday to move forward with the construction of a new Statehouse to replace their current space, which they said is plagued with mold and other problems despite a number of renovations in recent decades.
The Alabama Legislative Council, a 20-member panel made up of legislative leaders and their appointees, backed the signing of an agreement with the Retirement Systems of Alabama, which has built several office buildings in downtown Montgomery that are used by other public entities, for the design and construction of a new Statehouse. It would be sold or leased to the Alabama Legislature.
Republican Sen. Sam Givhan, who is a chairman of the council, said lawmakers do not yet know an estimated cost but it will become available in the design phase. Lawmakers will be able pull out of the construction agreement if they decide the price tag is too high.
"That is going to depend on what the final design is," Givhan said. "We don't have that final design yet."
The proposed building would be located on the site of a parking lot that lies behind the existing Statehouse.
Starting in the mid-1800s, lawmakers met at the Alabama Capitol, which also includes the governor's office. But in 1985 they moved into the current building when the Capitol was undergoing renovations. Legislators have offices there, and they opted not to return.
Lawmakers for years have considered replacing the building, which they said was not originally built to be a legislative meeting space and has numerous issues.
"The significant challenges with the current Alabama State House, ranging from black mold to chronic flooding to outdated electrical systems and countless others, have been well documented by the media and experienced by everyone who utilizes the building," House Speaker Nathaniel Ledbetter said in a statement.
In 2020, lawmakers briefly discussed the possibility of using $200 million of federal pandemic relief funds for a new statehouse, but the idea drew immediate backlash.