3 dead after car being pursued by police crashes in Indianapolis minutes after police end pursuit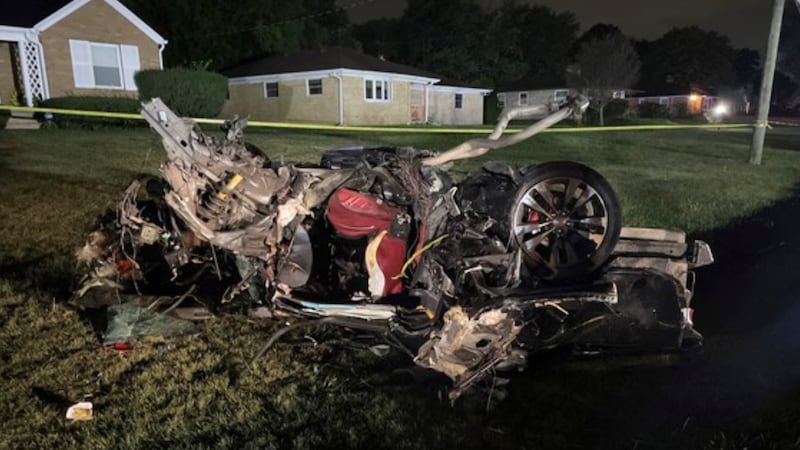 Published: Sep. 27, 2023 at 12:39 PM CDT
|
Updated: Sep. 27, 2023 at 2:15 PM CDT
INDIANAPOLIS (AP) — Three people including a teenage boy died when a sports car being chased by police in Indianapolis collided with another vehicle just minutes after officers ended their pursuit, authorities said Wednesday.
An Indiana state trooper began the pursuit Tuesday night when the driver of a Dodge Challenger fled the officer's attempt to pull it over on suspicion of reckless driving on Indianapolis' far east side, state police said.
The pursuit lasted about 12 minutes, traversing several city streets before shifting into rural areas of adjacent Hancock County and then back toward Indianapolis' east side, police said. State troopers and other officers tried to deploy stop sticks but couldn't get into position to stop the car, police said.
After the car left a "rural, low populated area" and began returning to Indianapolis' east side, troopers ended their pursuit at 9:50 p.m., in part due to the driver's aggressive, reckless driving.
About five minutes later, police learned there had been a serious crash involving two vehicles close to the area where the pursuit had started.
Officers found that the car, which was carrying three people, drove through a red light and collided at "extremely high speed" with a vehicle being driven by a woman who was traveling alone.
The woman, who died at a hospital, was identified as Makayla Hankins, 21, by the Marion County Coroner's Office.
Two male passengers who were extricated from the Challenger's wreckage were pronounced dead at a hospital and identified by the coroner's office as Christian Leyba-Gonzalez, 14, and Jose Gonzalez Jr., 32.
Police identified the Challenger's driver as Luis Leyba-Gonzalez, 19, adding he suffered minor injuries in the crash. He was arrested on a preliminary charge of resisting law enforcement causing death, police said.
Leyba-Gonzalez has not been formally charged, according to online court records, and it was unclear Wednesday if he has an attorney who could speak on his behalf.
Copyright 2023 The Associated Press. All rights reserved.