First Alert: South Mississippi's drought intensifies to worst level
Latest update shows an 'Exceptional' drought over Harrison County in late September
Published: Sep. 21, 2023 at 8:53 AM CDT
|
Updated: Sep. 21, 2023 at 9:56 AM CDT
SOUTH MISSISSIPPI (WLOX) - Rain has often been hard to come by in many recent weeks in Coastal Mississippi. This has allowed for our drought to get worse and worse.
In parts of Coastal Mississippi, the drought has now reached the worst level possible: 'exceptional.' That's what the latest update from the U.S. Drought Monitor shows.
"Exceptional drought is the most severe drought with the worst conditions on record. It would only be expected to occur once or twice within a 100‐year period," according to the National Drought Mitigation Center.
There may not be much relief in sight. The weather pattern over the next seven to ten days has only low rain chances in Coastal Mississippi, according to the weather page.
One week ago, the drought was 'extreme' in Coastal Mississippi. But, it was not quite yet 'exceptional.' Then, as of September 21, the 'extreme' drought has intensified to an 'exceptional' drought across parts of Coastal Mississippi.
September 21st's update shows an 'exceptional' drought in Harrison County and southern Stone County. Pretty much the entire rest of Coastal Mississippi is under an 'extreme' drought.
For the month of September, rainfall has been below normal in the Gulfport-Biloxi area with only two inches of rain when there should be almost four.
But for January 1 to September 21 2023, rainfall has been extremely low compared to normal for the Gulfport-Biloxi area. There have only been about 25 inches of rain when there should be over 49 inches. That's a deficit of more than 20 inches.
August was the driest month of the year by far with hardly any rain all month. It was also Gulfport-Biloxi's 2nd driest August since 1893. And when you compare to all months since 1893, which is over 1,000 months, August 2023 was the 64th driest month on record.
If the year ended today on September 21, then 2023 would be the driest year ever recorded for Gulfport-Biloxi since 1893. However, typically an additional 12 inches of rain is expected between October, November, and December. If we actually get around 12 additional inches of rain by December's end, that would put us at about 38 inches of rain for the year total. This would still be in the top 3 driest years since 1893.
Take a look at the images and captions below to help put into perspective the latest local drought information.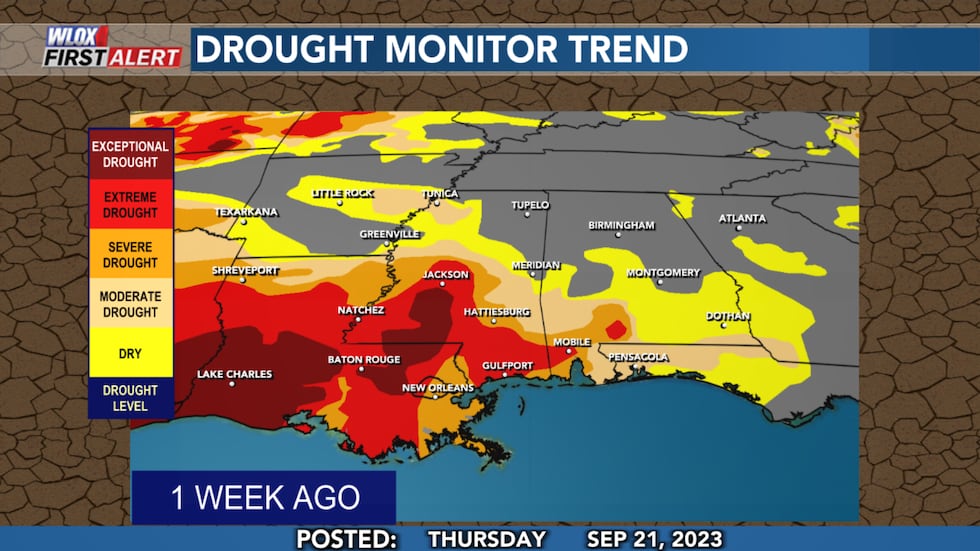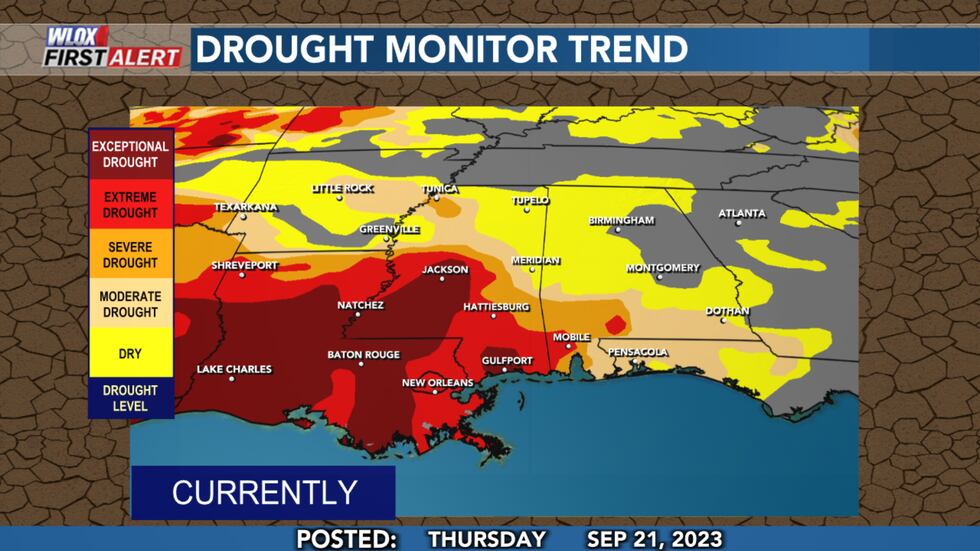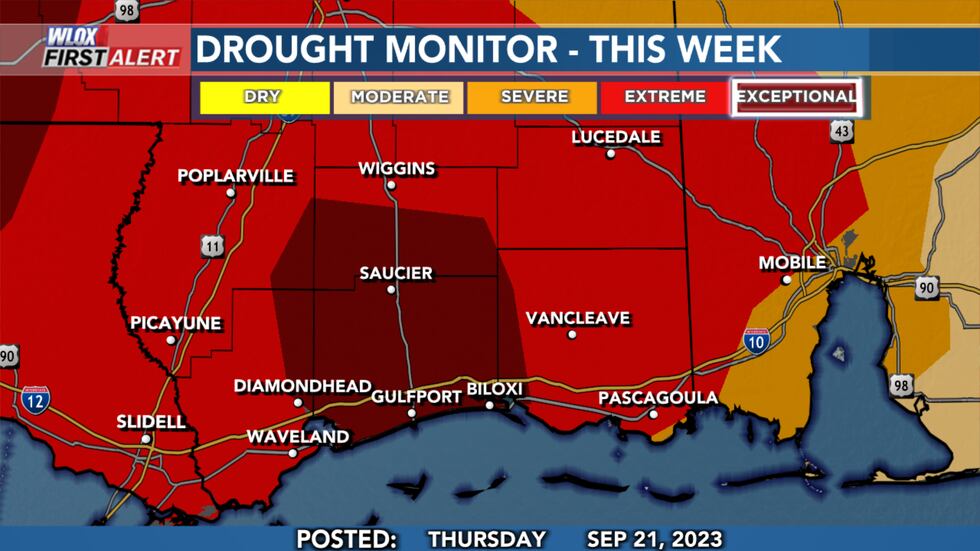 Click here to subscribe to WLOX News on YouTube: Keep up with South Mississippi news, sports, and local events on our YouTube channel!
Copyright 2023 WLOX. All rights reserved.