World's tallest male dog dies after amputation surgery, owner says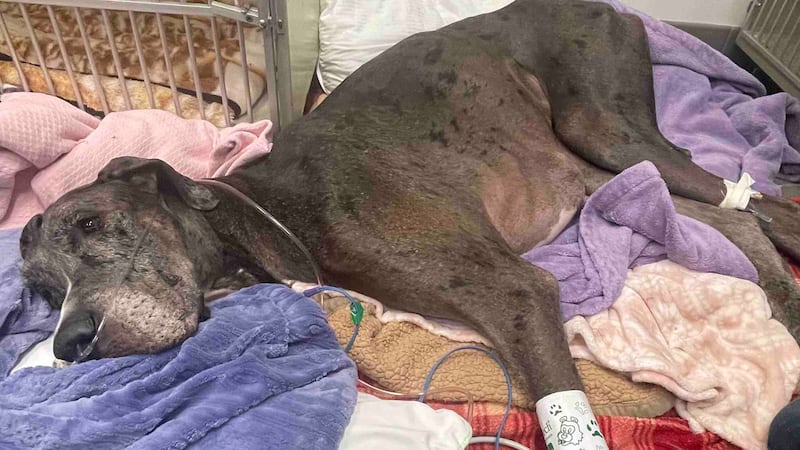 Published: Sep. 13, 2023 at 9:37 AM CDT
(Gray News) – The world's tallest male dog died just days after having surgery Friday to have his front right leg amputated after a devastating bone cancer diagnosis, according to Guinness World Records.
"Recently, a beloved member of our family, our dear dog Zeus, has been diagnosed with cancer. He has been a loyal and devoted companion, bringing immeasurable joy and comfort to our lives," owner Brittany Davis said.
Davis posted an update on GoFundMe Friday saying the surgery had gone well and his leg weighed 11 pounds.
"After surgery, they put a t-shirt on patients, but they didn't have one big enough for Zeus. So, his oncologist literally gave Zeus her shirt," she wrote.
Monday, Davis said in an update that doctors noticed the 3-year-old Great Dane wasn't eating and was more lethargic.
She said his medical team noticed some bluing around his mouth, so they did blood work and chest X-rays.
"They discovered he has aspiration pneumonia which means he has fluid and bacteria in his lungs," Davis explained in the GoFundMe update.
Davis said Tuesday Zeus had died.
"He fought hard, but the pneumonia was just too much. He is not in pain anymore. He is resting peacefully," she wrote in an update on GoFundMe.
Davis said Zeus' doctors sat on the floor with him and their family and cried alongside them.
"Our baby boy is gone," she said. "Our hearts are broken."
Guinness World Records said Zeus was awarded the record for tallest male dog in March 2022 with a height of 3 ft. 5.18 in.
Copyright 2023 Gray Media Group, Inc. All rights reserved.