Mississippi setting example for drone use in federal forests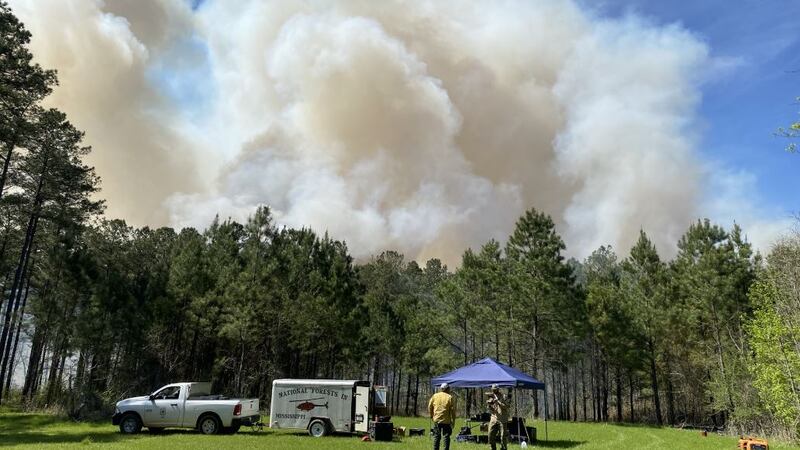 Published: Sep. 8, 2023 at 6:10 PM CDT
JACKSON, Miss. (WDAM) - The National Forests in Mississippi are leading the nation in using unmanned aircraft systems, commonly referred to as drones, as a natural resource management tooli and responding to emergencies, such as wildfires.
Jeff Goyings, assistant fire management officer for the National Forests in Mississippi, said UAS technology provides safety.
"UAS technology allows us to perform many of the same tasks, but without exposing employees to the high-risk operations associated with manned aviation within the fire environment." Goyings said.
The Forest Service currently uses the technologies to support a host of emergency response and natural resource management activities, including wildfire suppression, prescribed burns, forest health, research, recreational impacts, mapping and law enforcement missions.
This year, the National Forests in Mississippi prescribe burned more than 41,000 forest acres with drone aerial ignitions as part of treatments designed to improve the overall habitat and reduce the potential for catastrophic wildfires.
Goyings said that the main safety benefit of using UAS to ignite prescribed burns is removing the need to put personnel in an aircraft operating at low speeds and low altitudes.
Secondary benefits come from the ability to have infrared capability to monitor fire behavior, fire progression and thermal outputs in real time.
The cost savings of operating a drone versus manned aircraft is also substantial. Manned aircraft for aerial ignition often cost around $3,000 per hour while drones run about 30 cents per hour of flight time, depending on aircraft.
Thanks to developments in remote-sensing technologies, such as multispectral cameras and LiDar, future drones should help produce high-definition topographical maps and locate previously unknown archeological sites.
Such drones also would be able to create three-dimensional vegetation maps capable of discerning individual species type, as well as the health and timber size at the individual tree level.
The National Forests in Mississippi currently has two, fully-qualified aerial ignition pilots and one trainee pilot on staff.
The process to become a fully-certified UAS pilot with aerial ignitions qualifications takes between three to five years. Candidates must first pass a written test at a Federal Aviation Administration testing facility, followed by attending several in-person classes that incorporate hands-on exercises.
"There are so many benefits to using UAS with minimal exposure to the folks on the ground," said Daron Reynolds, forest fire management staff officer.
Want more WDAM 7 news in your inbox? Click here to subscribe to our newsletter.
Copyright 2023 WDAM. All rights reserved.