Tornado damages Moss Point homes, businesses, high school campus
Published: Jun. 19, 2023 at 3:12 PM CDT
|
Updated: Jun. 19, 2023 at 6:48 PM CDT
JACKSON COUNTY, Miss. (WLOX) - Severe storms left behind flooding and damage across Jackson County Monday afternoon, but the worst of it appears to be in downtown Moss Point where a tornado touched down.
According to Jackson County EMA director Earl Etheridge estimates at least 100 structures were either damaged or destroyed by the storm. While street flooding is an issue in some areas, downed trees, powerlines and other roadway obstructions appear to be among the most repetitive problems.
Eight people were trapped inside the M&M Bank on Main Street. All have been freed and marked safe.
There's roof damage and interior water damage to several Moss Point High School buildings. The gymnasium was severely damaged and the football field's press box is nowhere to be found.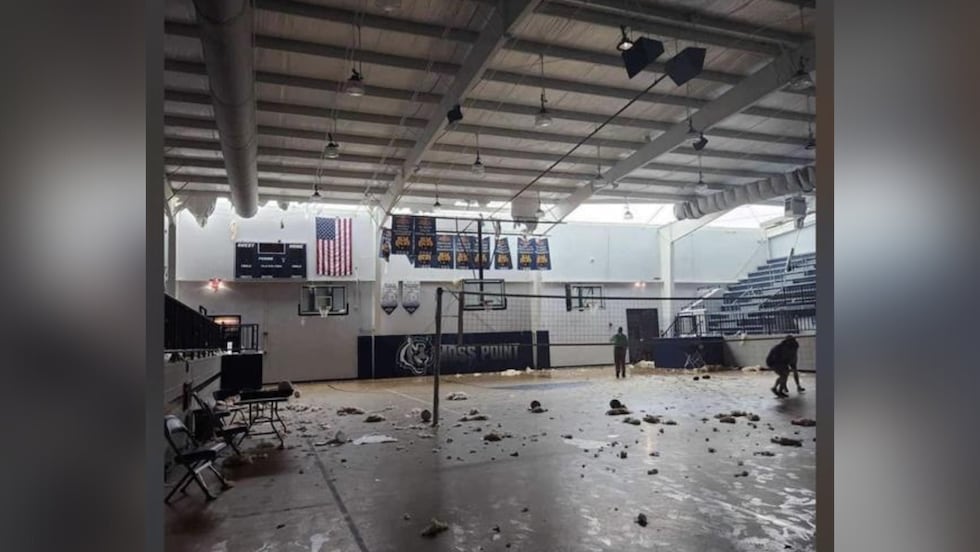 The roof is gone at First Missionary Baptist Church on Main Street, and there's severe damage to the J.H. Williams, Sr. Learning Center.
There are numerous reports of damaged trees, downed power lines, and damage to homes and commercial buildings in Moss Point. Everyone is asked to avoid the area so emergency crews can reach those in need.
The Red Cross has a temporary shelter open at Pelican Landing for those affected by the storms. As of 7pm, 21 people are currently at the shelter, mostly consisting of people evacuated from Palmetto Street.
If you are in need of assistance, call Moss Point Police at 228-475-1711.
WLOX News will continue to update this story as new information becomes available.
Click here to subscribe to WLOX News on YouTube: Keep up with South Mississippi news, sports, and local events on our YouTube channel!
Copyright 2023 WLOX. All rights reserved.