Riopelle's walk-off homer lifts Florida over Alabama 7-6 in SEC tourney
BT Riopelle hit a walk-off three-run home run in the bottom of the 11th inning to rally top-seeded Florida to a 7-6 victory over Alabama in the second round of the Southeastern Conference Tournament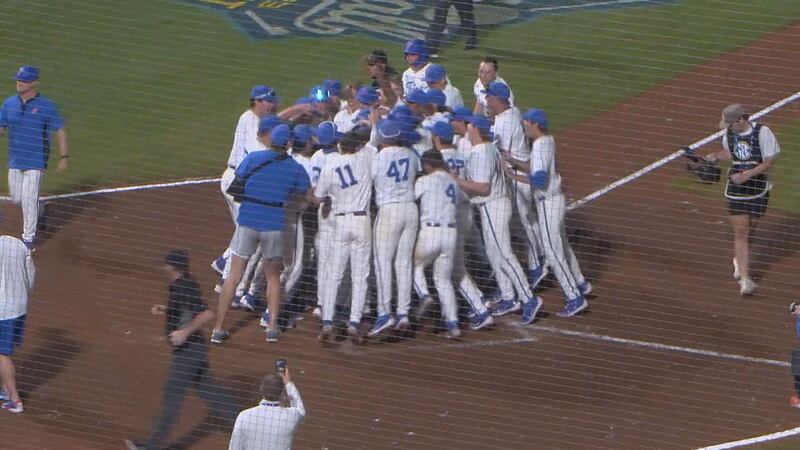 Published: May. 25, 2023 at 4:38 AM CDT
HOOVER, Ala. (AP) — BT Riopelle hit a walk-off three-run home run in the bottom of the 11th inning to rally top-seeded Florida to a 7-6 victory over Alabama on Wednesday night in the second round of the Southeastern Conference Tournament.
The Gators (43-13) trailed the ninth-seeded Crimson Tide (39-18) by three runs after Tommy Seidl's double cleared the bases with two outs in the top of the inning. Florida intentionally walked Jim Jarvis to load the bases for Seidl.
Alabama reliever Aidan Moza allowed a lead-off single to No. 2 batter Wyatt Langford to begin the bottom of the 11th and was replaced by Alton Davis II. Jac Caglianone greeted Davis with a single to right and Josh Rivera followed with a run-scoring single. Riopelle homered to right-center on a 0-2 pitch from Davis (0-2).
Rivera homered in the bottom of the first inning to give Florida a 2-0 lead.
Colby Shelton had an RBI single to get Alabama on the scoreboard in the fourth. Jarvis evened the score with a sacrifice fly in the fifth and Shelton homered in the sixth to give the Crimson Tide a 3-2 lead.
Florida tied the game in the bottom of the eighth on a throwing error by Moza.
Cade Fisher (5-0) got the final out of the 11th to pick up the win for the Gators.
Florida advances to play No. 3 seed LSU on Thursday. Alabama will play either No. 5 seed Auburn or No. 4 see Vanderbilt in a loser-out game earlier Thursday.
___
AP college sports: https://apnews.com/hub/college-sports and https://twitter.com/AP_Top25