OK, Oakley: Veteran reunites with lost bulldog 3 years later in Jones Co.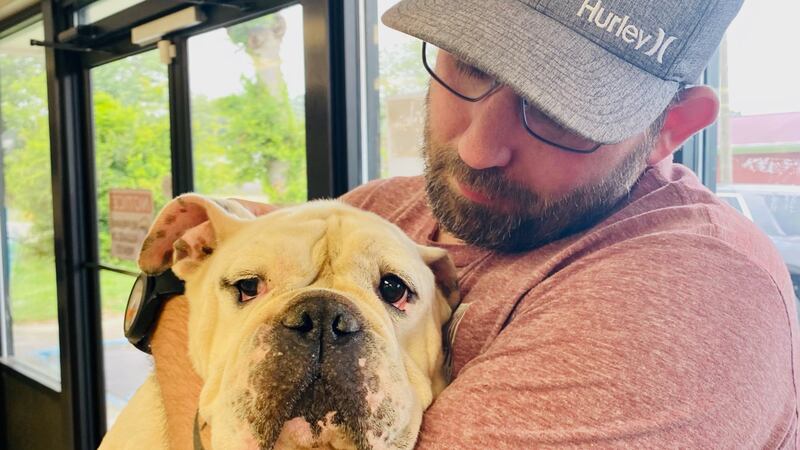 Published: May. 19, 2023 at 2:57 PM CDT
JONES COUNTY, Miss. (WDAM) - A U.S. Army veteran and his English bulldog named Oakley had a tearful reunion as a result of the hard work of Jones County Sheriff's Department Deputy Regina Newton.
Oakley reunited with his owner, Ryan Anthony, Friday morning at Sawmill Animal Hospital after a microchip scan found that information on Oakley's owner.
On Tuesday, Newton responded to a report of an "aggressive bulldog" on Toombs Road in northern Jones County.
Upon arrival, Newton spoke with the complainant and discovered she was terrified of dogs. This led her to believe the bulldog, which was jumping up, was showing aggression.
The complainant told Newton that the dog was chained to a tree since it was roaming the area and she thought he was aggressive. She did not know the dog's owner.
Newton located the dog and recognized it was in physical distress and in need of food and water. Newton rescued the bulldog and contacted a private animal rescuer.
The deputy was advised to take the bulldog to Sawmill Animal Hospital where he was scanned for a microchip. At the hospital, a microchip was located with information on the owner of the bulldog who lives with his wife in Perryton, Texas.
Ryan Anthony, the owner of the bulldog, said Oakley was last seen approximately three years ago when he was living in Mississippi. Oakley is now 10 years old.
Newton is investigating the circumstances surrounding Oakley's time in Jones County.
Oakley is now on his way home with the Anthony family.
"This has been a wonderful way to end a long week at work with a beautiful reunion between a U.S. Army combat veteran and his best friend, Oakley," said Newton. "These are the days that animal advocates live for."
Want more WDAM 7 news in your inbox? Click here to subscribe to our newsletter.
Copyright 2023 WDAM. All rights reserved.