Day care worker arrested after baby in her care suffers dislocated elbow, police say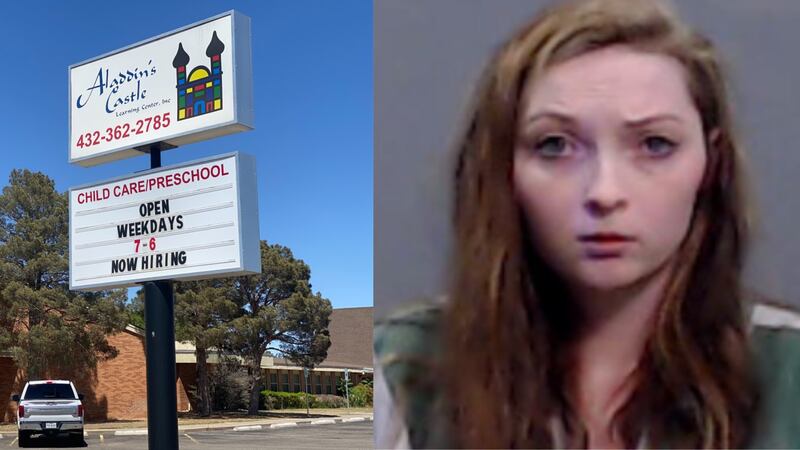 Published: Apr. 27, 2023 at 6:06 PM CDT
ODESSA, Texas (KOSA/Gray News) - Authorities in Texas have arrested a day care worker after a child recently suffered injuries at a learning center.
KOSA reports that Sara Micaela Middleton, an employee at Aladdin's Castle Learning Center, was arrested Thursday morning for injuring a child in her care.
Authorities said the baby's mother informed them about her child's injuries.
According to an affidavit, the mother claims she received a call on Wednesday from personnel at Aladdin's Castle who said that her baby had fallen off a changing table.
The mother then went to the day care to pick up her child and noticed that the baby's right arm was swollen.
She reportedly kept her child's arm as still as possible and went to the Odessa Regional Medical Center where she learned that her baby's elbow was dislocated.
Officers with the Odessa Police Department said they were able to obtain video of the incident.
According to authorities, Middleton could be seen in the video recklessly pulling the baby's arm as she was sitting on the ground before lifting her up.
Middleton then dragged the child by the foot out of the camera's view, police said. She was arrested at the learning center and is facing charges that include injuring a child.
Aladdin's Castle personnel have since denied telling the mother that her baby had fallen off a changing table.
According to the day care, they had made accommodations for Middleton per doctor's orders stating that she could not lift 15 pounds or more. Therefore, Middleton was changing diapers on a disinfected changing pad placed on the floor.
The center claims that Middleton was trying to get the baby to the changing mat, but the child was resisting because they wanted to continue to play.
Personnel with the day care said they have not had a chance to speak to Middleton since the incident but believe she will probably not be qualified to work with children again due to the charges.
Copyright 2023 KOSA Gray Media Group, Inc. All rights reserved.