GRAPHIC: Investigators release details into Jones Co. unnatural intercourse case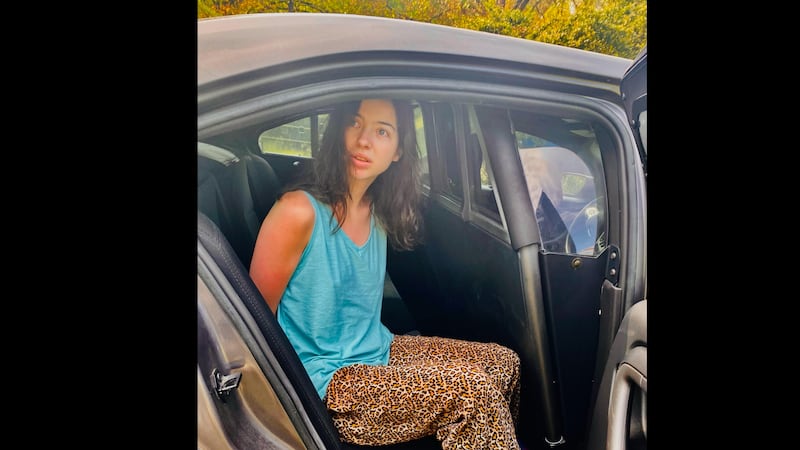 Published: Apr. 7, 2023 at 12:54 PM CDT
JONES COUNTY, Miss. (WDAM) - New details about the events leading up to 19-year-old Denise Frazier's arrest have been released.
According to the affidavit, Jones County Sheriff's Deputy Regina Newton received information on Tuesday that a woman was accused of having sexual intercourse with a dog.
During the initial investigation, Newton was able to identify Frazier as the suspected woman, the report said.
Newton located Frazier at a residence on Norton Road in Laurel and spoke to her after Mirandizing her.
The affidavit said Frazier admitted she was the one in a video, but stated she was forced to do it. She also said that it occurred a year ago in Hattiesburg.
The document said Newton received several more videos of Frazier having intercourse with a German shepherd. A video also showed a German shepherd, which Newton saw at the residence.
JCSD Investigator Sgt. J.D. Carter, who is also the affiant in the case, said one of the videos appeared to have been taken in a jeep at the Freedom Baptist Church parking lot in the Myrick community.
The videos were from Snapchat, a social media application. A geocentric location for Myrick, Miss. was seen at the top left of a video. Snapchat reportedly uses locations through GPS, Wi-Fi and/or cell tower data to provide the location of a user's device.
Screenshots of iCloud-shared photos of the videos showed a range of dates between Feb. 23 -28, 2023.
These findings and circumstances led Carter to suspect Frazier willfully, unlawfully and feloniously had sexual intercourse with one or more domesticated animals, one being a male German shepherd and recorded the intercourse via an electronic device on or about Feb. 23 - Feb. 28, 2023, according to the affidavit.
The affidavit was signed on Wednesday, and Fraizer was arrested later that day and charged with unnatural intercourse - aggravated cruelty with an animal.
Officials said three separate dogs were seen on video, and all animals are now in a safe place getting medical help.
The sheriff's department said it's in the initial investigation phase, but has found no evidence that Fraizer was threatened or coerced to participate in these acts on video.
During her initial court appearance Thursday, Jones County Justice Court Judge Grant Hedgepeth set her bond at $25,000. He also ordered that she stay away from animals until after her trial.
Hedgepeth said this charge could come with up to 10 years if found guilty.
JCSD said some videos may have been made in other counties. Those counties have been alerted, and more charges may be added.
GRAPHIC WARNING: The below affidavit contains graphic details relating to the case. Viewer discretion is advised.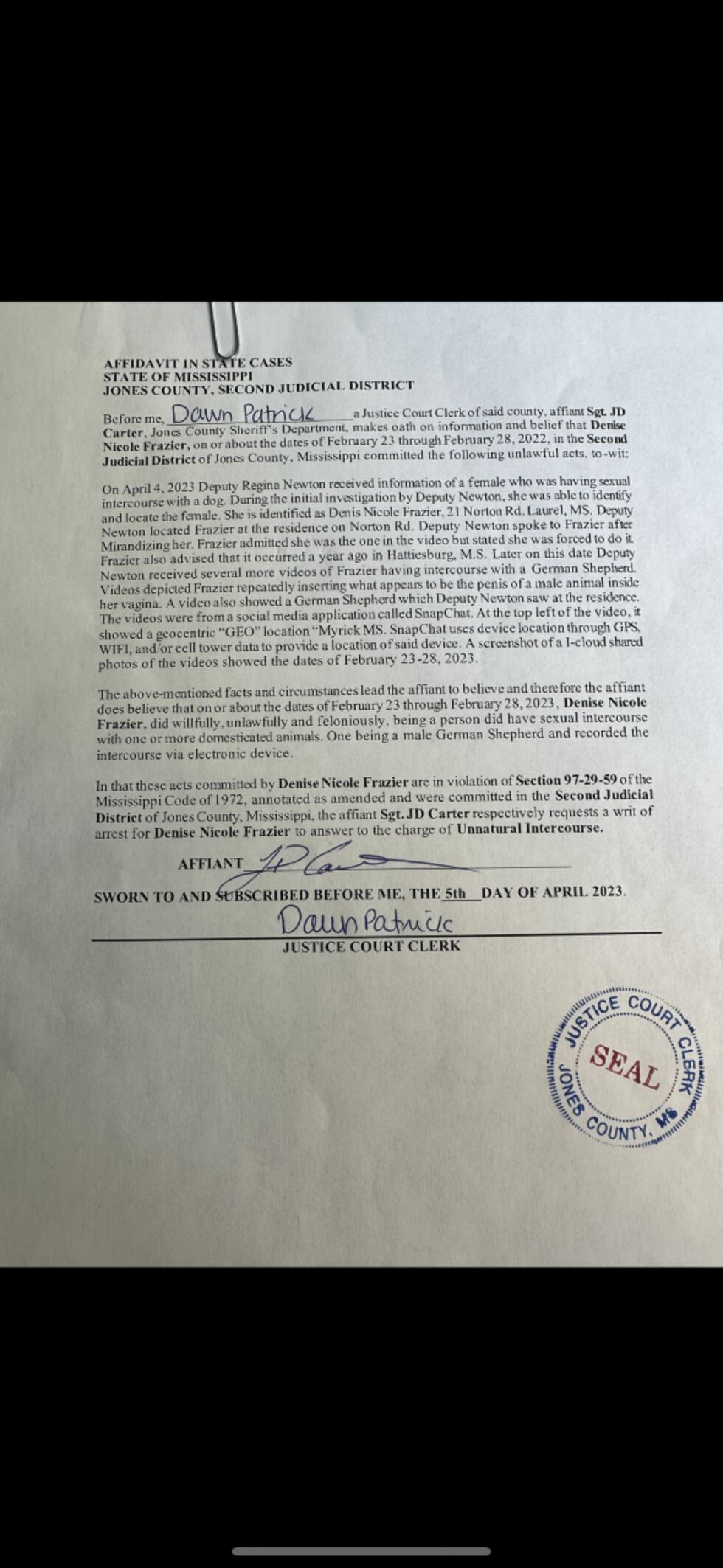 Want more WDAM 7 news in your inbox? Click here to subscribe to our newsletter.
Copyright 2023 WDAM. All rights reserved.