Tanner Hall goes the distance in 4-1 Southern Miss win at Troy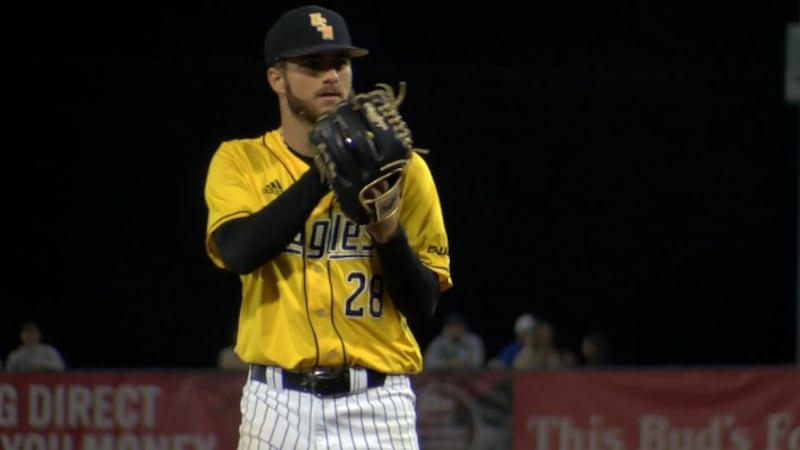 Published: Mar. 31, 2023 at 11:28 PM CDT
Southern Miss Sports Information
TROY, Ala. (WDAM) - Tanner Hall threw the first Southern Miss nine-inning game in over a year and Slade Wilks registered a three-run, eighth-inning homer to lead the Golden Eagles to a 4-1 Sun Belt Conference series opening victory over Troy Friday night at Riddle-Pace Field.
The Golden Eagles improved to 15-9 overall and 4-3 in league play, while the Trojans fell to 19-8, 3-4. The series continues with a 3 p.m., contest Saturday.
Hall threw the first nine-inning complete game for the Golden Eagles since Hunter Riggins did it against Louisiana on March 5 of last season. Hall scattered six hits and two walks with six strikeouts to improve to 5-2.
It also marked the first complete game of Hall's 25 career starts as a Golden Eagle. His only blemish in the contest was a solo homer by William Sullivan in the eighth. It was Sullivan's 13th of the year.
Southern Miss jumped out with a solo run in the second inning. Reece Ewing led off the frame with a double off the right field wall. Carson Paetow then rocketed a ground ball to the Troy second baseman who was playing in short right field with the shield. The ball ricocheted off his glove, allowing Ewing to score on the play.
Both starting pitchers, though, were brilliant as Hall battled with Troy's Brady Fuller. After giving up a single to Blake Johnson later in the second, Fuller then retired 14 in a row until Christopher Sargent opened the seventh with a single. The Golden Eagles finally got to Fuller in the eighth. After getting two outs, Matthew Etzel walked and Dustin Dickerson followed with an infield single. Wilks then drew Fuller to 3-2 before blasting a pitch over the left-center field wall to give the Golden Eagles a 4-0 advantage.
Fuller finished by giving up all four runs on six hits with a walk and six strikeouts over 7 2/3 frames to suffer the loss and fall to 2-3.
Both teams finished with six hits each.
Want more WDAM 7 news in your inbox? Click here to subscribe to our newsletter.
Copyright 2023 WDAM. All rights reserved.