Ole Miss stuns Stanford, reaches first Sweet 16 in 16 years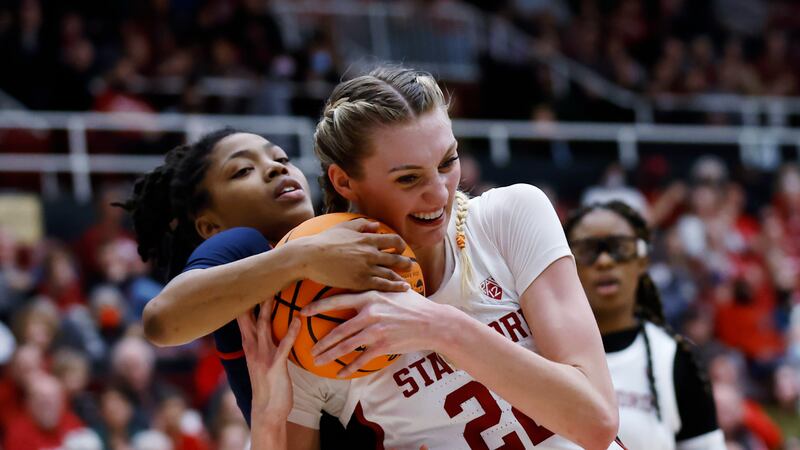 Published: Mar. 19, 2023 at 11:10 PM CDT
|
Updated: Mar. 20, 2023 at 12:05 AM CDT
STANFORD, Calif. (AP) - Sobbing as she received hugs from friends, family and administrators, Mississippi coach Yolett McPhee-McCuin tried to grasp the magnitude of her team's stunning win against top-seeded Stanford when someone reminded her there's more basketball to be played.
Her two young daughters danced for joy on the floor.
Her proud father provided a shoutout to everybody back home in The Bahamas.
Her team posed at midcourt and shouted, "Seattle!" That's where the Rebels are headed next.
Madison Scott hit a pair of free throws with 23 seconds left that gave Mississippi the lead for good, Angel Baker scored 13 points, and the Rebels delivered on their declaration to get defensive, stunning top-seeded Stanford 54-49 on Sunday night to reach the NCAA Tournament's Sweet 16 for the first time in 16 years.
"First of all just incredibly grateful. I have a lot of mentors in my life and one of my mentors would always say to me that the person with the experience is at the mercy of the one with the anointing," the 40-year-old McPhee-McCuin said in reference to Hall of Famer and winningest women's coach Tara VanDerveer. "He spoke that over my life maybe 10 years ago. And so to be in this situation right now, to take down an historical program like Stanford, a coach and a woman that I admire I have watched is incredible."
Behind the entire game and never with a lead, Stanford called timeout with 28 seconds left then Hannah Jump turned the ball over and Scott converted. Haley Jones lost the ball out of bounds on the Cardinal's last possession with a chance to tie then again in the waning moments.
Marquesha Davis hit a pair of free throws with 15.4 seconds to play as Ole Miss overcame not making a field goal over the final 5:47, going 0 for 8.
"This is such a big accomplishment. A lot of us came here to make history and that's what we're doing," freshman Ayanna Thompson said.
These upstart Rebels (25-8) advance to the Seattle Regional semifinal next weekend, while VanDerveer's Stanford team (29-6) is eliminated far earlier than this group envisioned — the season ending on the Cardinal's home floor. Jones fought tears after her final game, finishing with 16 points and eight rebounds but five turnovers.
"Some of the things we did were self-inflicted. The turnovers really hurt us," VanDerveer said. "They're really a tough team, they're a lot better than (No.) 8 teams we've played before. Sometimes you don't have a really good matchup."
Only four No. 1 seeds had lost before the Sweet 16 since 1994, with Duke the last one in 2009. Stanford did so once before, falling to 16th-seeded Harvard in the first round of the 1998 tournament.
The Cardinal had reached 14 straight Sweet 16s and hadn't lost in the first or second rounds since No. 10 seed Florida State shocked the fifth-seeded Cardinal 68-61 at Maples Pavilion in the second round exactly 16 years ago to the day before on March 19, 2007.
Cameron Brink came back from a one-game absence because of a stomach bug to finish with 20 points, 13 rebounds and seven blocked shots, but Stanford never led and tried to come from behind all night. The program's career blocks leader, the junior star finished with 118 on the season and has 297 total.
"Cam wasn't 100% today but I thought she really battled," VanDerveer said.
Stanford had won 21 consecutive NCAA games on its home floor and is 41-5 all-time at Maples during March Madness.
Ole Miss led the entire first half on the way to a 29-20 advantage at the break at raucous Maples Pavilion, where the crowd went wild when Brink blocked three straight shots in the same sequence by Rita Igbokwe midway through the second quarter. About two minutes later, Igbokwe grabbed at her mouth after being hit.
The Rebels got a scare when senior guard Myah Taylor went down hard grabbing at her chest with 6:41 left in the third after colliding with Francesca Belibi while moving to defend Indya Nivar. After a short break to catch her breath, Taylor was back running the point.
The Rebels declared from Day 1 arriving in the Bay Area they were ready to play their tenacious defense to make a mark on the NCAA Tournament. Stanford's layups regularly rolled out. The Cardinal got called for repeated offensive fouls. They made mistakes when it mattered most.
"It brought tears to my eyes," said Gladstone McPhee, coach McPhee-McCuin's father. "It's beautiful. This is what you wait for."
BIG PICTURE
Ole Miss: Parents Gladstone and Daisy cheered on fifth-year coach McPhee-McCuin as her team reached the second round after last year's first-round exit by South Dakota. Her daughters, 10-year-old Yasmine and Yuri, 5, rooted the team all the way, with Yasmine yelling, "That's my mom!" when Ole Miss came out before tipoff. ... The Rebels advanced to the Elite Eight in 2007. After grabbing 24 offensive rebounds in the win against Gonzaga, the Rebels crashed the boards again to create second chances with 20 more.
Stanford: The Cardinal also never led in the first half of 55-46 loss at USC on Jan. 15. ... They had a 14-game home winning streak since a 76-71 overtime loss to No. 1 South Carolina on Nov. 20. ... VanDerveer announced Jump plans to return for another year of eligibility. Jones will turn pro and Belibi has been accepted into a program at Harvard.
___
AP March Madness coverage: https://apnews.com/hub/march-madness and https://apnews.com/hub/ap-top-25-womens-college-basketball-poll and https://twitter.com/AP_Top25
Copyright 2023 The Associated Press. All rights reserved.