Saints introduce Derek Carr as quarterback formally signs four-year contract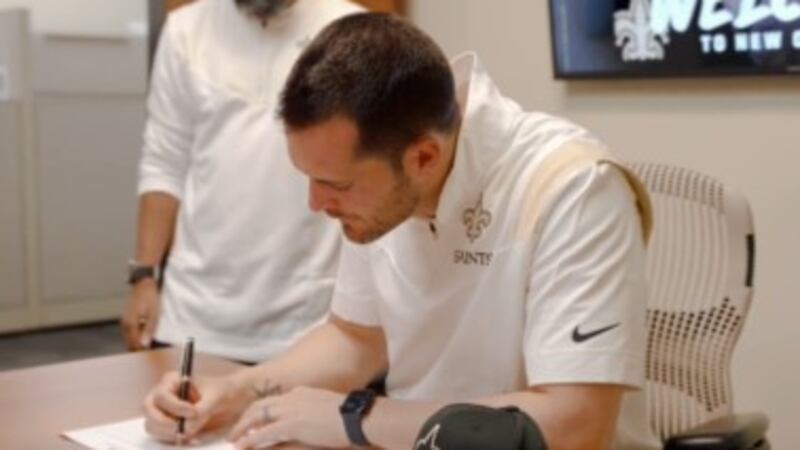 Published: Mar. 11, 2023 at 11:54 AM CST
METAIRIE, La. (WVUE) - Derek Carr was officially introduced as the Saints' new quarterback Saturday (March 11), after formally signing his new four-year, $150 million contract at the team's headquarters in Metairie.
"It's an exciting time for us as an organization," Saints coach Dennis Allen said. "We're obviously happy that we have him. I have always admired the type of person that he is, as well as the type of player that he is."
Carr said, "This really is a dream-come-true moment for me. The warmth and the love that I've felt from the city of New Orleans, Mrs. Benson (team owner Gayle Benson), Mickey (Saints general manager Mickey Loomis), D.A., the whole organization, has been unbelievable.
"And I have to say thank you to the Raiders -- Oakland and Las Vegas -- I had nine great years there. ... I wouldn't be here without them."
Carr was the Raiders' starting quarterback for nine seasons before the team decided late last season to bench him for its final two games. The Raiders attempted to work out a trade for Carr, until the quarterback decided he would not waive his no-trade clause.
The Raiders then released Carr on Valentine's Day, just before another $40 million of his contract was to become guaranteed. Carr agreed to terms with the Saints as a free agent on March 6, after having also met with the New York Jets.
"Getting released, it alerts you to some things," Carr said. "That fire gets a little hotter on the inside."
The Saints released a short video of Carr signing his new deal and photographs of the quarterback with team officials, including Allen, before holding a press conference with local media.
Allen was head coach of the then-Oakland Raiders when that team drafted Carr into the NFL to start his career in 2014.
"He trusted me with the keys to that organization," Carr said. "So, to be the quarterback there for nine years, thank you. ... And thank you for texting me, and blowing up my phone, to make sure I came to the right spot. ... We chose New Orleans."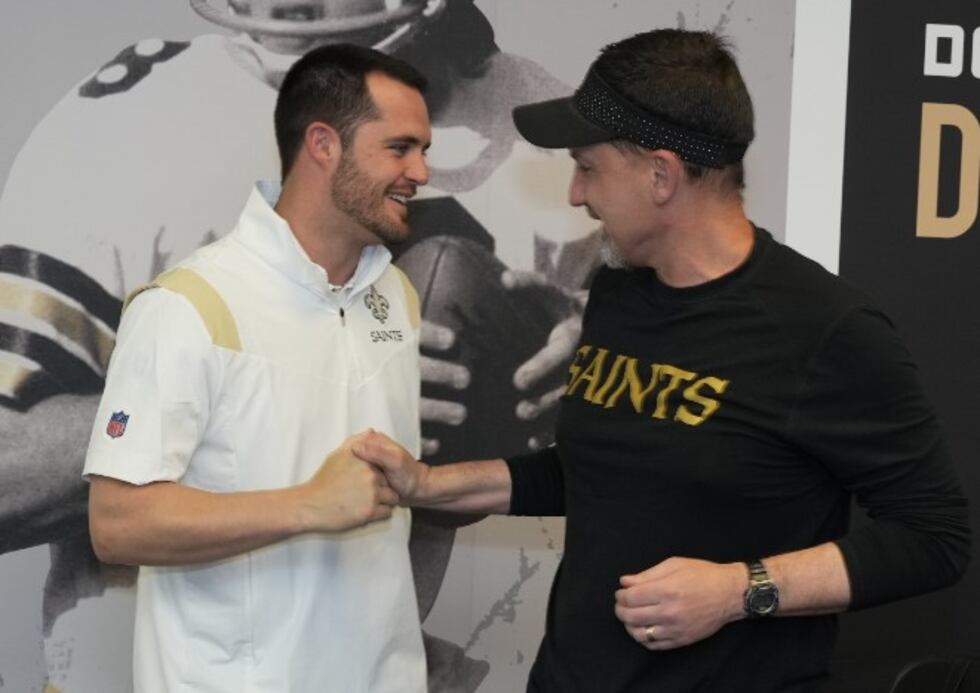 Carr said he texted former Saints quarterback Drew Brees with questions about the organization and city while on vacation in Mexico, and the retired Saints star helped sell him on the opportunity.
"A lot of what he said is probably why I'm sitting here today," Carr said. "I have so much respect for him as a player, as a person and a dad. A lot of what he had to say was going to carry weight with me."
Carr also said he appreciated the Saints' honesty and enthusiasm during their pursuit.
"At the end of the day, they came out first," Carr said. "They tried to trade for me. To feel wanted like that again is nice. For someone to see the value that you can possibly bring to their organization and to their city, and to their locker room ... that means something."
See a spelling or grammar error in our story? Click Here to report it. Please include the headline.
Copyright 2023 WVUE. All rights reserved.