USM baseball clinches series with 2-1 win Saturday over Dallas Baptist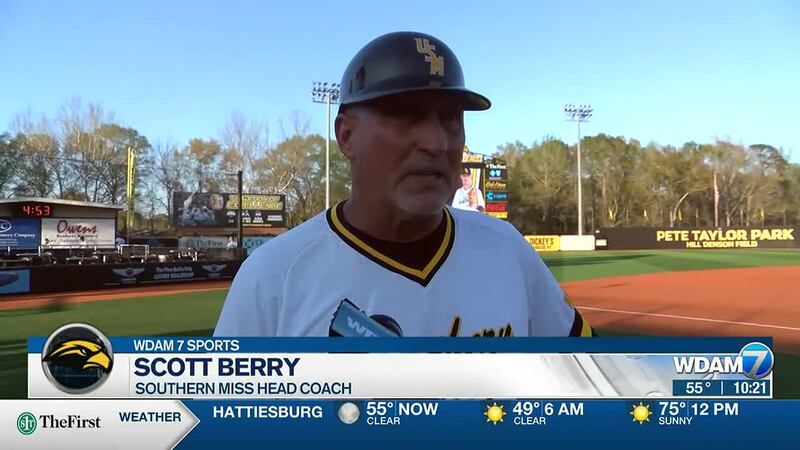 Published: Mar. 5, 2023 at 6:20 AM CST
From University of Southern Mississippi Sports Information
HATTIESBURG, Miss. (WDAM) - Matt Adams allowed a run in 7 1/3 innings and Reece Ewing provided the only offense the Golden Eagles needed in a 2-1, series-clinching victory over Dallas Baptist University Saturday afternoon.
USM (7-3) goes for a series sweep at 1 p.m. Sunday Pete Taylor Park.
Adams struck out a career-high 11 batters. He registered two strikeouts in three different innings and fanned the side in the fifth.
Adams (1-0) gave up a run on four hits and two walks.
The junior from Pearland, Texas, worked around leadoff runners from the second through fourth innings.
The Patriots (7-3) strung together three-straight hits to open the third. The last, a single by catcher Grant Jay, knocked in the visitors' only run.
Adams got out of the jam on a popout to shortstop and a double-play groundout.
Adams then opened the fourth inning with a walk, but retired the next seven batters.
With one out in the sixth inning, a batter reached on a fly ball that was misplayed in right field and put a runner at third base. But Adams again stiffened, posting a strikeout and groundout to strand the runner at third.
After retiring the next six hitters, he issued a one-out walk in the eighth to end his day. Reliever Tyler Martin came in and got two quick outs to again end any threat.
Martin opened the ninth by hitting a batter, before the Golden Eagles went to the bullpen for Will Armistead.
After a foul out to first, Armistead hit a batter to give the Patriots two runners on base.
For the second-straight day, Southern Miss went back to Justin Storm to try and nail down the game.
Storm responded by whiffing the final two hitters to end the game and register his third save of the year.
Southern Miss scored their lone runs in the fourth inning. With one out, Slade Wilks walked and Ewing followed with his first home run of the season, a two-run shot to left center field.
Dustin Dickerson collected two of the Golden Eagles' five hits.
DBU starter Ryan Johnson (1-1) gave up both runs on three hits and three walks with seven strikeouts.
Want more WDAM 7 news in your inbox? Click here to subscribe to our newsletter.
Copyright 2023 WDAM. All rights reserved.