UPDATE: Law enforcement searching for suspect in shooting at Turtle Creek Mall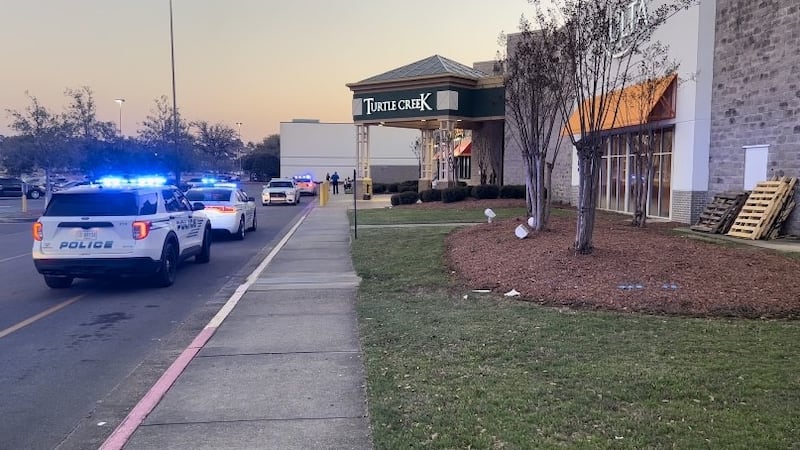 Published: Mar. 4, 2023 at 7:30 PM CST
From Hattiesburg Police Department Public Information Office, Lamar County Sheriff's Office
PINE BELT, Miss. (WDAM) - The Hattiesburg Police Department and Lamar County Sheriff's Office are searching for a suspect in a shooting inside the Turtle Creek Mall food court that left one wounded Saturday evening.
Lamar County Sheriff Danny Rigel said law enforcement "was looking for a black female, possibly, a juvenile, wearing a red hoodie and blue jeans."
Rigel said the suspect was last seen "running east toward Weathersby Road."
Rigel confirmed that one person had been shot, suffering a non-critical wound and was being treated at a local hospital.
Rigel also confirmed that another person had been injured during "everyone leaving the food court."
Rigel said his deputies and HPD officers were searching several residences for the suspect.
Earlier, Hattiesburg Police Department Public Information Officer Ryan Moore had sent out a release about the incident.
The release read:
"On Saturday, March 4, 2023, members of the Hattiesburg Police Department and Lamar County Sheriff's Department responded to a report of shots fired inside Turtle Creek Mall just before 5:30 p.m.
Shortly after, officers were notified of an individual that arrived at a local hospital seeking treatment for an apparent gunshot wound.
One other individual inside was injured by people running after the shooting occurred.
No other individuals inside the establishment have reported any injuries at this time.
Additional details will be released when they become available.
If you have any information pertaining to the incident, please contact Hattiesburg Police (601) 544-7900 or Metro Crime Stoppers at (601) 582-STOP."
Want more WDAM 7 news in your inbox? Click here to subscribe to our newsletter.
Copyright 2023 WDAM. All rights reserved.