GRAPHIC: Impassioned calls for police reform at Tyre Nichols' funeral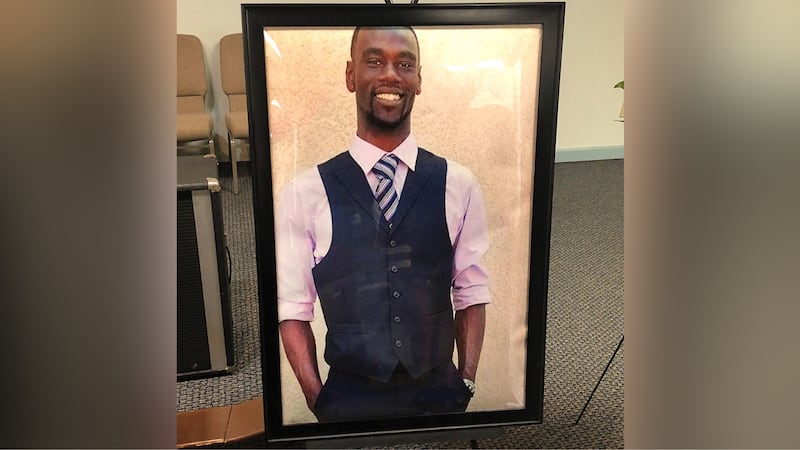 Published: Feb. 1, 2023 at 7:04 AM CST
|
Updated: Feb. 1, 2023 at 7:49 PM CST
MEMPHIS, Tenn. (AP) — Tyre Nichols' family and friends remembered him with songs of faith and heartfelt tributes Wednesday, blending a celebration of his life with outraged calls for police reform after the brutal beating he endured at the hands of Memphis police.
Nichols' mother, RowVaughn Wells, fought back tears as she spoke lovingly of her son.
"The only thing that's keeping me going is that I truly believe that my son was sent here on assignment from God. And I guess now his assignment is done. He's gone home," she said, urging Congress to pass police reform.
WARNING: Video contains graphic content. Viewer discretion is advised.
The Rev. Al Sharpton and Vice President Kamala Harris both delivered impassioned speeches calling on lawmakers to approve the George Floyd Justice in Policing Act, a broad package of reforms that includes a national registry for police officers disciplined for misconduct, a ban on no-knock warrants and other measures.
Harris said the beating of Nichols, a 29-year-old Black man, by five Black police officers was a violent act that violated the stated mission of police to ensure public safety.
"It was not in the interest of keeping the public safe, because one must ask, was not it in the interest of keeping the public safe that Tyre Nichols would be with us today? Was he not also entitled to the right to be safe? So when we talk about public safety, let us understand what it means in its truest form. Tyre Nichols should have been safe," she said.
Nichols was beaten after police stopped him for an alleged traffic violation Jan. 7. Video released after pressure from Nichols' family shows officers holding him down and repeatedly punching, kicking and striking him with a baton as he screamed for his mother.
Sharpton said the officers who beat Nichols might have acted differently if there were real accountability for their actions. He also said he believes that if Nichols had been white, "you wouldn't have beat him like that."
"We understand that there are concerns about public safety. We understand that there are needs that deal with crime. But you don't fight crime by becoming criminals yourself. You don't stand up to thugs in the street becoming thugs yourself. You don't fight gangs by becoming five armed men against an unarmed man. That ain't the police. That's punks," he said.
Family of other Black men and women killed by police — including George Floyd, Breonna Taylor, Botham Jean and Eric Garner — also attended the funeral and Nichols' mother called on officials to prevent more tragedies.
"We need to take some action because there should be no other child that should suffer the way my son — and all the other parents here have lost their children — we need to get that bill passed," Wells said. "Because if we don't, that blood — the next child that dies, that blood is going to be on their hands."
Tiffany Rachal, the mother of Jalen Randle, who was fatally shot by a Houston police officer in 2022, sang a rendition of the classic gospel standard "Total Praise" to rousing applause from the congregation and Nichols' family.
"All of the mothers all over the world need to come together, need to come together to stop all of this," Rachal said.
Civil rights attorney Ben Crump, who represents Nichols' family, referred to the graphic video showing the officers punching, kicking and beating Nichols, even after he lay helpless on the ground.
"Why couldn't they see the humanity in Tyre?" he asked.
Tyre's sister, Keyana Dixon, said she felt a pain like she had never experienced before "when those monsters murdered my baby brother." LaToya Yizar, whose mother was Nichols' godmother, read from a poem she wrote titled, "I'm Just Trying to Go Home," invoking Nichols' words to the officers.
Sharpton said he took his daughter Ashley early Wednesday to the site of the former Lorraine Motel, where the Rev. Martin Luther King. Jr. was shot on April 4, 1968. He noted that King was in Memphis to support a strike by city sanitation workers, most of whom were Black.
"The reason why ... what happened to Tyre is so personal to me, is that five Black men that wouldn't have had a job in the police department, would not ever be thought of to be in an elite squad, in the city that Dr. King lost his life, not far away from that balcony, you beat a brother to death," Sharpton said.
Nichols, a skateboarder and amateur photographer who worked making boxes at FedEx, grew up in Sacramento, California, and loved the San Francisco 49ers. He came to Memphis just before the coronavirus pandemic and got stuck. But he was fine with it because he was with his mother, and they were incredibly close, she said. He even had her name tattooed on his arm.
Nichols made friends during morning visits to Starbucks and always greeted his mother and stepfather when he returned home with a sunny, "Hello, parents!" The baby of their family, Nichols had a 4-year-old son and worked hard to better himself as a father, his family said.
In the three weeks since Nichols' death, five police officers were fired and charged with murder. Their specialized unit was disbanded. Two more officers have been suspended. Two Memphis Fire Department emergency medical workers and a lieutenant were also fired. And more discipline could be coming.
Attorneys for two of the charged officers, Emmitt Martin III and Desmond Mills Jr., said they will plead not guilty. Blake Ballin, the lawyer for Mills, told AP that the videos "produced as many questions as they have answers."
Lawyers for the three other officers have not provided comment to the AP.
Nichols' death was the latest in a string of early accounts by police about their use of force that were later shown to have minimized or omitted mention of violent encounters.
___
AP reporters Travis Loller and Jonathan Mattise contributed from Nashville, Tenn.
___
For more coverage of the Tyre Nichols case, go to https://apnews.com/hub/tyre-nichols.
Copyright 2023 The Associated Press. All rights reserved.