ALERT DAY: Strong storms possible tonight into Wednesday morning
Windy Tuesday and stormy Tuesday night
Published: Jan. 23, 2023 at 12:32 PM CST
|
Updated: Jan. 24, 2023 at 10:45 PM CST
SOUTH MISSISSIPPI (WLOX) - An Alert Day is in effect for tonight in the WLOX area. This is because of our increased risk for severe storms overnight tonight into Wednesday morning. A Tornado Watch has been issued for all of South Mississippi until 5 AM Wednesday.
Before the thunderstorms arrive, it will be a windy evening. There is a High Wind Warning in effect for all of Coastal Mississippi. And since the tidewaters will be higher than normal at high tide tonight due to the strong onshore flow, a Coastal Flood Advisory is also in effect. There is a Coastal Flood Warning for Hancock County.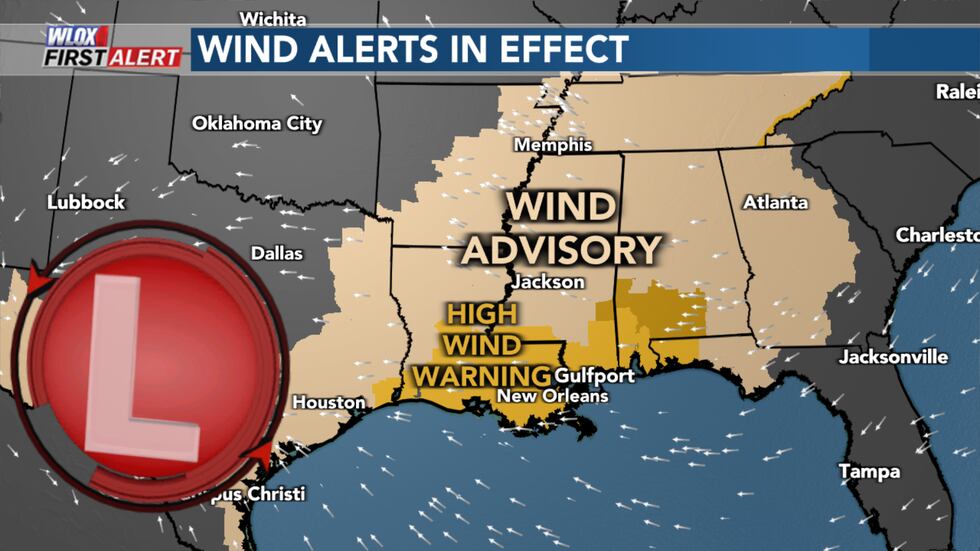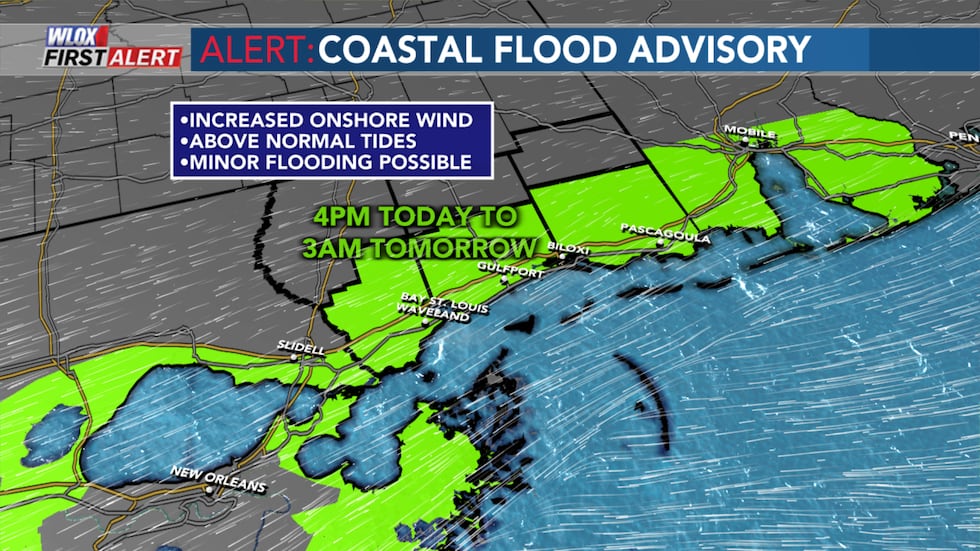 All of Coastal Mississippi is in the Level Three Risk zone for damaging thunderstorms. Keep in mind that the higher the risk level means the higher the probability of actually seeing damaging thunderstorms.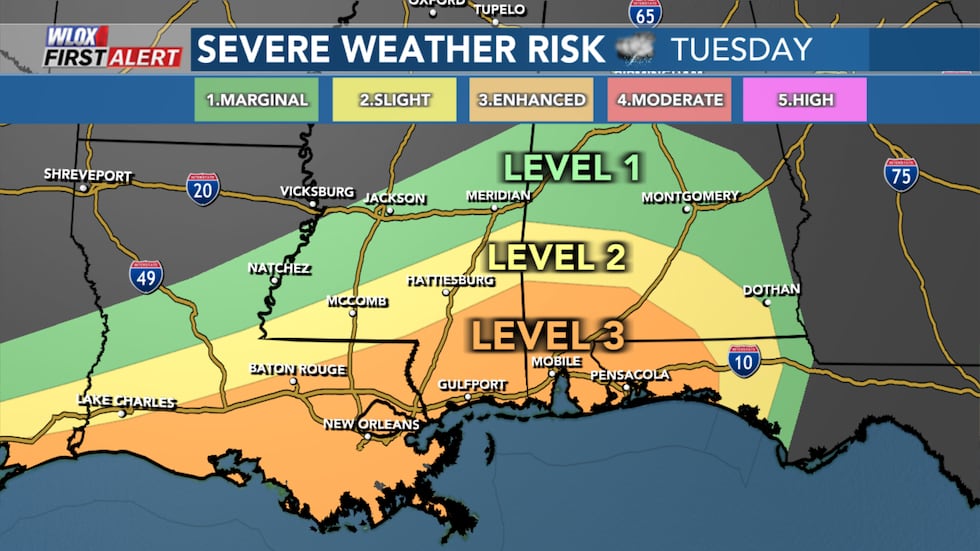 Coastal Mississippi's window for our most intense thunderstorms may be between 9PM Tuesday night to about 2AM Wednesday morning as a possible squall line moves in from the west. Our greatest concern will be damaging thunderstorm wind gusts of 60 miles per hour or greater. There is also a decent risk of tornadoes, a few of which could be strong. We can't rule out the risk for large hail and flooding rain.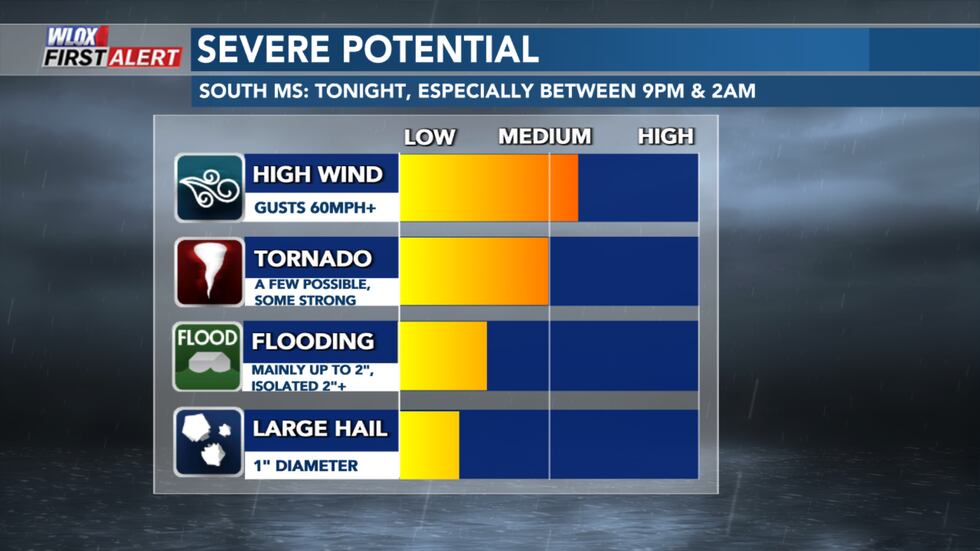 For Tuesday, plan on scattered showers mainly after noon. But, Tuesday night a squall line will likely move in from the west which is when our severe weather threat will be at its greatest. A low pressure system will be moving through the Gulf of Mexico Tuesday night, riding along the northern gulf. If the warm sector of the front moves inland enough, parts of South Mississippi could see some strong, gusty winds with isolated, quick spin-up tornadoes.
It is possible for tornado warnings and severe thunderstorm warnings in the WLOX area tonight. So, be sure to have our WLOX First Alert Weather App downloaded. With your notifications set to 'ON', you can receive those alerts first.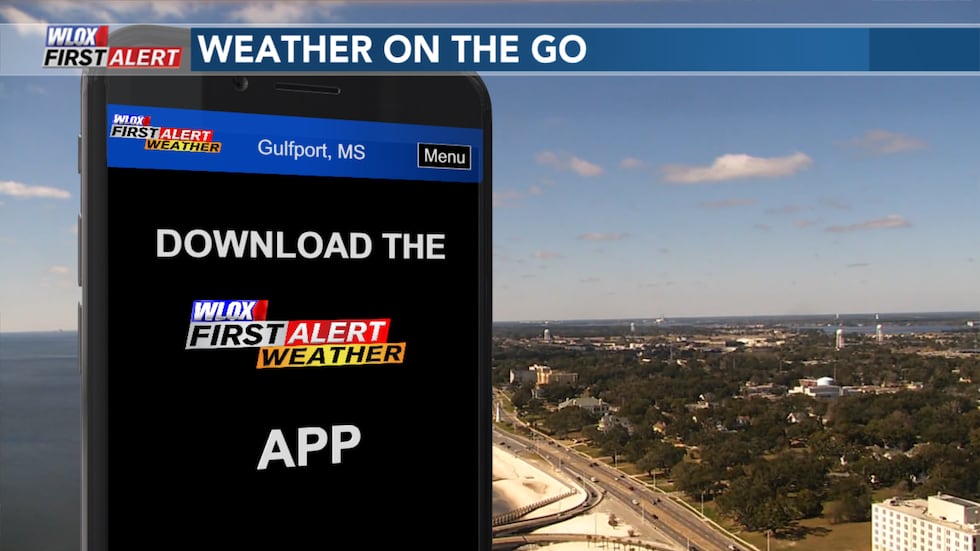 Want more WLOX news in your inbox? Click here to subscribe to our newsletter.
Copyright 2023 WLOX. All rights reserved.