Endangered sea turtles arrive in Gulfport for rescue, rehabilitation effort
Updated: Dec. 15, 2020 at 7:42 AM CST
GULFPORT, Miss. (WLOX) - You may have heard the expression, "When turtles fly." Well, it turns out that they do.
It was a welcome sight Monday in Gulfport as a plane carrying 45 Kemp's Ridley sea turtles arrived all the way from the Northeast.
The turtles flew into Gulfport-Biloxi International Airport through the organization Turtles Fly Too, which pairs up volunteer pilots with missions to deliver endangered animals to safer areas.
And in the turtle world, there are no others who are more at risk than the Kemp's Ridley turtles.
"These are the most endangered sea turtles in the world," said Moby Solangi, Director of the Institute for Marine Mammal Studies.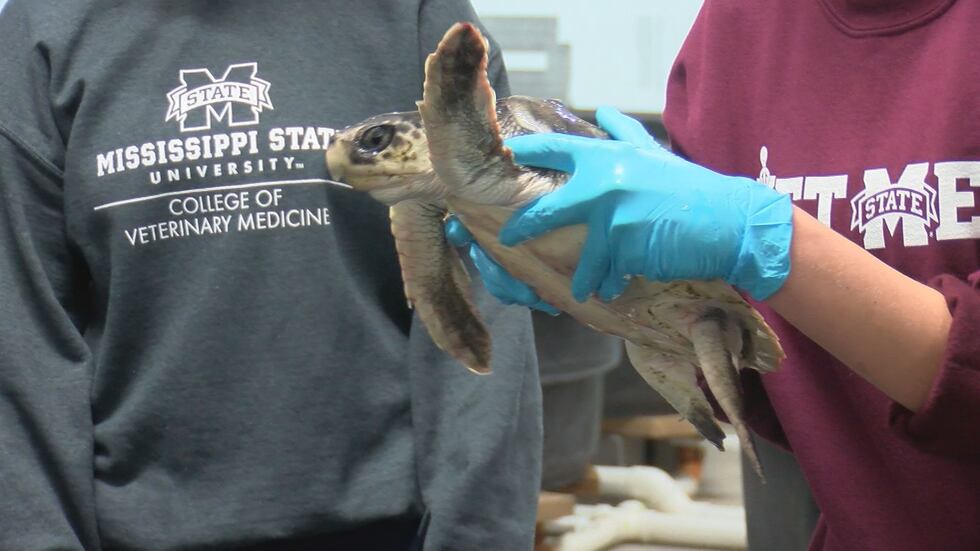 Gulfport's newest aquatic reptiles are now safe after enduring dangerously cold waters in the northeast.
"It's a yearly event, these cold stun events," said Theresa Madrigal, the Stranding Coordinator at IMMS. "We do typically see a couple hundred or so animals that will come washing up onshore."
An assembly line of eager helpers carefully took the boxes of turtles off the plane. Their next stop? The Mississippi Aquarium or IMMS.
"We are going to take each individual animal and assess its health," said Alexa Delaune, the Vice President of Veterinary Service at Mississippi Aquarium.
Such an event gives the Coast's newest facility a first-time experience. "We are super, super excited because this is one of our pillars - our conservation pillars," said Delaune.
It also givers an older facility a shot at continuing their work. "We are very experienced in doing this and we are glad to help," said Solangi.
The rescue effort was organized in less than a week - from the flight, to the ride, and to the crews.
"Everyone worked together really, really well and super quickly," Delaune said.
Over the next few weeks, 25 turtles will settle in at the aquarium while the other 20 will go to IMMS. However, animal experts say the goal isn't to keep them here permanently, but to release them into the wild once they are ready.
"Every animal that we can save helps in the restoration of the species," Solangi said.
And while the veteran conservationists get a chance at leading the rehab projects, the next generation is also getting hands-on experience.
"The aquatic opportunities we have at Mississippi State are really phenomenal," said Mississippi State University student Amanda Rowe said.
Rowe is a second-year student at MSU's College of Veterinary Medicine, joining a handful of other students and residents who pitched in to help the turtles.
"We got an email very early Sunday morning about this opportunity, and I emailed them back as soon as I woke up and here I am the next day," said Rowe.
Regardless of whether it's the first time or just one of countless efforts, both the aquarium and IMMS understand how important a project like this is.
"It's amazing anytime we can help an animal," said Delaune. "I think it makes it extra special that this is an endangered species."
The turtles will not be on display for guests at either facility. Staff say that they are wild animals and are just being treated before being released.
Turtles Fly Too partners with the National Oceanic and Atmospheric Administration (NOAA) and US Fish and Wildlife Service (USFWS) to educate students and other non-profit organizations about the importance of general aviation to our society, and specifically, endangered sea turtle rescue operations.
NOAA and other organizations call on Turtles Fly Too to provide air transportation when endangered species are threatened, either through a cold stun event, entanglement, or when an endangered animal is injured. These transports are made possible by the donation of time, equipment, and fuel from our "Turtle Fliers," the dedicated, generous pilots associated with Turtles Fly Too. Using flights instead of ground transport shortens travel time and therefore reduces stress on these turtles and other endangered species.
Copyright 2020 WLOX. All rights reserved.