Senator Cindy Hyde-Smith secures second win against Mike Espy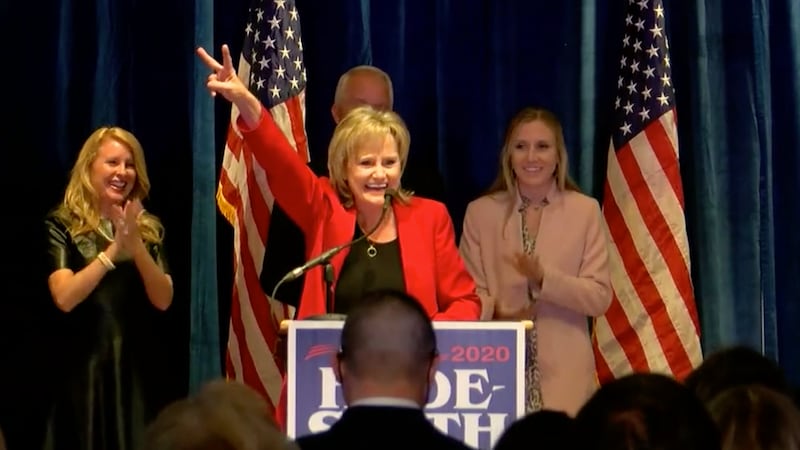 Updated: Nov. 4, 2020 at 8:12 AM CST
JACKSON, Miss. (WLBT) - Republican Incumbent Senator Cindy Hyde-Smith defeated Democratic nominee Mike Espy in Mississippi's U.S. Senate race.
Mississippians closely watched the race between Senator Hyde-Smith and Espy as it was a rematch between the two candidates.
Tuesday night was a repeat win for Senator Hyde-Smith. The latest results show her winning with 56% of the votes, while Espy secured 42%.
She was declared the winner of the race shortly after 10:30 p.m. on Election Night.
During her victory speech, Senator Hyde-Smith said the only thing better than beating Espy was beating him twice. However, she says the win is not about who Mississippians voted for.
"When people call our office and they need help and assistance, we don't ask them who they voted for," Senator Hyde-Smith said. "Anybody that has an issue, we're going to dive in neck-deep, but mainly represent the conservative values of Mississippians: the pro-life, the second amendment, those things that Mississippians care so much about. Anyone who is a Mississippian, I want to be your senator, and I will prove that every single day."
Although Espy raised more money than Hyde-Smith throughout the campaign, it was not enough to secure the victory.
Before conceding the race, Espy thanked his friends and family for supporting him throughout the campaign.
"We did everything that we could do to win this race but it wasn't enough," Espy said. "What I want to say is that we built an infrastructure, we built the bridge. Even though, I may not be able to cross it personally others behind me will cross it."
Senator Cindy Hyde-Smith will serve a full six-year term in the U.S. Senate.
Copyright 2020 WLBT. All rights reserved.