Man living with disability celebrates wedding with jiu-jitsu
Updated: Oct. 25, 2020 at 8:21 PM CDT
VANCLEAVE, Miss. (WLOX) - He was born with a disability, but he has not let that slow him down. Even after a surgery left him in a wheelchair, he has continued to pursue his passion.
Now, Jeremy Richards wants to share his knowledge with the world.
"My goal is to teach anybody and everybody, but especially those with disabilities," said Richards.
The 37-year-old moved to the Coast from Illinois and has become a unique part of the South Mississippi martial arts community.
That's an accomplishment many wouldn't expect from a man in a wheel chair.
"I started to learn to adapt everything from the wheelchair," said Richards. "And I found 90 percent of what people without a wheelchair can do, I can do, I just have to find a way to adapt my situation."
Richards has showed determination from a young age to follow his dream.
"When I was a teenager, I called every Dojo I could find in the phone book and was turned down," said Richards. "I even had some go as far as laughing at me."
But, he finally found two instructors in Illinois who believed in him, and they have changed his life.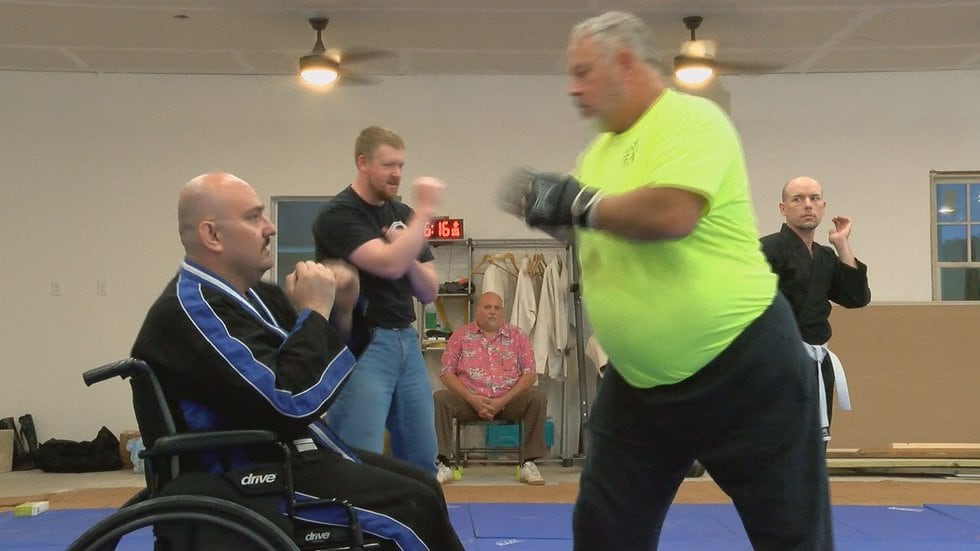 "These men have impacted my life so very much," said Richards. "I've gotten to do things that I could only dream of just because of that. So, I want to take what I've been given and give back to others and help people see they can do more than they ever dreamed."
The things he learned through jujitsu have also helped him cope with the pain, caused by the spina bifida he was born with.
Spina bifida is a birth defect that happens when the baby's backbone and spinal cord don't form properly.
"I've been able to deal with pain on a higher scale because I'm used to mentally overriding things, pushing my body," said Richards. "So, my mind sometimes has to override it because I'm going to deal with pain because of my disability and the chronic issues."
When those instructors made plans to come to Richards' wedding, they offered to teach a class of their different style of jiu-jitsu.
"They do radically different things than what we do here, we do traditional Japanese jiu-jitsu very similar to what you would see in Judo or Aikido." said David Wilson, chief instructor at Heiwashinkai Jujutsu where Richards trains.
For Richards, it was a natural fit.
"You know they were coming down for the wedding," said Richards. "They offered to teach. It's like instead of a bachelor party or something like that, I just wanted to train. "
The things Jeremy Richards has learned through jujitsu have also helped him cope with the pain, caused by the spina bifida he was born with.
Copyright 2020 WLOX. All rights reserved.