Coast casino employees have at least 15 cases of COVID, aren't following mask policies, claims workers' union
Updated: Aug. 20, 2020 at 10:03 AM CDT
BILOXI, Miss. (WLOX) - A workers' union that represents over 300,000 casino workers in North America is calling for more protection from the Mississippi Gaming Commission.
Representatives from UNITE HERE Local 23 appeared before the gaming commission Thursday morning, presenting the concerns detailed in the union's report.
The Mississippi Gaming Commission did not make any changes at the meeting on Thursday, but did acknowledge the union's report and their concerns.
That report details changes include enhanced cleaning efforts for hotel rooms, as well as policies that better enforce handwashing, social distancing, and masks. They are also asking that contact tracing programs be made available informing workers of a positive case within 24 hours.
In a report submitted to the Mississippi Gaming Commission on Thursday, UNITE HERE Local 23 claims that mask requirements are not being enforced, that workers who were potentially exposed to the virus were told to keep working, and that sanitation efforts were not effective or thorough.
Kelli Pizzi works at the only 24-hour restaurant at the Beau Rivage, and has for 5 years. She said that after being exposed by a co-worker to COVID-19, her workforce management team told her it had been longer ago than 14 days... so she was fine. "The next day I went and got tested. My test was negative. After that, a manager told that they will catch a lot of people because they are just going to get tested so t hey can get time off work because they are running out of attendance points," Pizzi said.
It is a similar story for Carolyn Ford, a 17-year veteran of the IP Biloxi. She also said that she was exposed to COVID-19 by a co-worker and subsequently tested positive. "Friday morning I got up. the nurse called me and told me I was positive. But, they wanted me to come back to work before I got the results. What if I would have come back and I could have spread it to more and more employees," Ford said.
This inaction by the casino management teams have left the staff no other option, they say, but to rely on each other. "They themselves have to take the task of going the extra mile to protect each other because the company is not moving expeditiously at all once they are learning of this," said Unite Here Local 23 President, Marlene Patrick-Cooper. Management teams at each of the properties where her members are located, Cooper said, need to move faster when dealing with COVID-19. "If someone reports that they are exhibiting symptoms, that immediately the management team take that person off of the job and have them to go get tested immediately. Also, for them to review surveillance to find out who was working, who was around them. The main thing is to stop it. That's what community exposure is all about," Cooper said.
The report says the union has documented 15 cases of coronavirus among employees at Biloxi casinos. Workers reported risks of potential exposure to supervisors, say the report, but were made to continue working for multiple days afterward.
The report states 10 cases were documented at the Beau Rivage Resort & Casino, including a server at the Stalla restaurant, a server and a food runner at the Terrace Café, two cooks, a dishwasher and four housekeepers. Five cases were reportedly documented at the IP Casino Resort Spa, all in the housekeeping department.
UNITE HERE Local 23 filed a public records request asking the gaming commission to release investigative reports of inspections performed between July 16 and Aug. 11 at the Beau Rivage, the IP Casino, and Harrah's Gulf Coast. Of the 25 reports they received, the union says 12 of them contained accounts of casino patrons not wearing masks at all or not wearing them correctly, leaving their noses and/or mouths exposed. Most of the reports noted that inspectors and casino staff corrected the noncompliance during the inspection, said the union.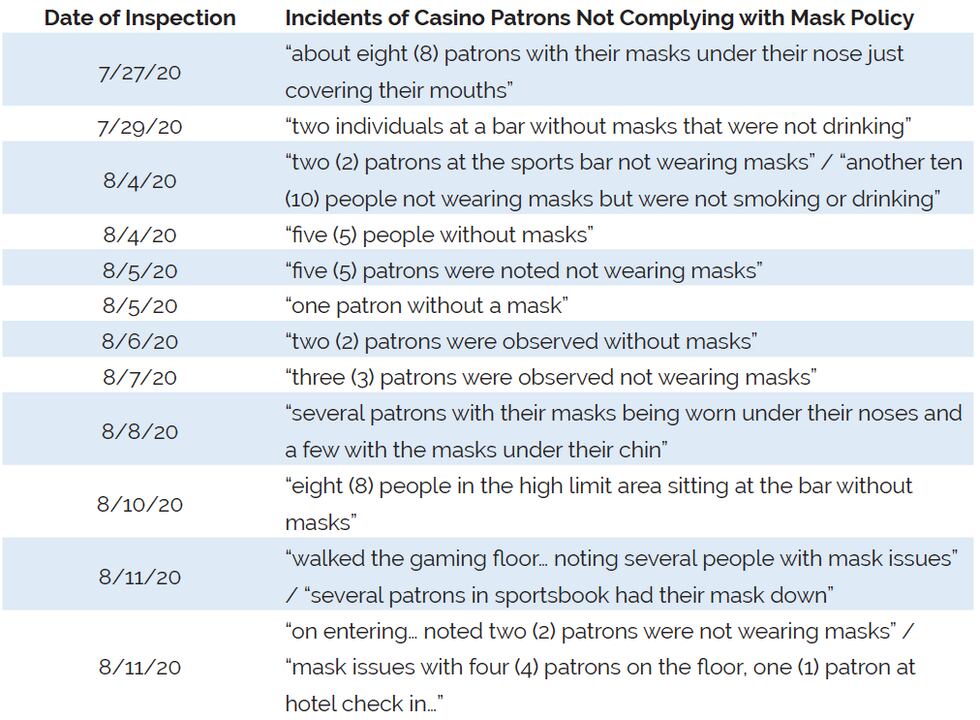 According to the union, the Mississippi Gaming Commission's reopening guidelines reduce the frequency of cleaning in guest rooms which may increase the risk of spreading the Coronavirus.
A survey of 96 Beau Rivage and IP Casino workers conducted by UNITE HERE found that only 19% of surveyed workers thought their employer was doing enough to prevent COVID-19 in the workplace.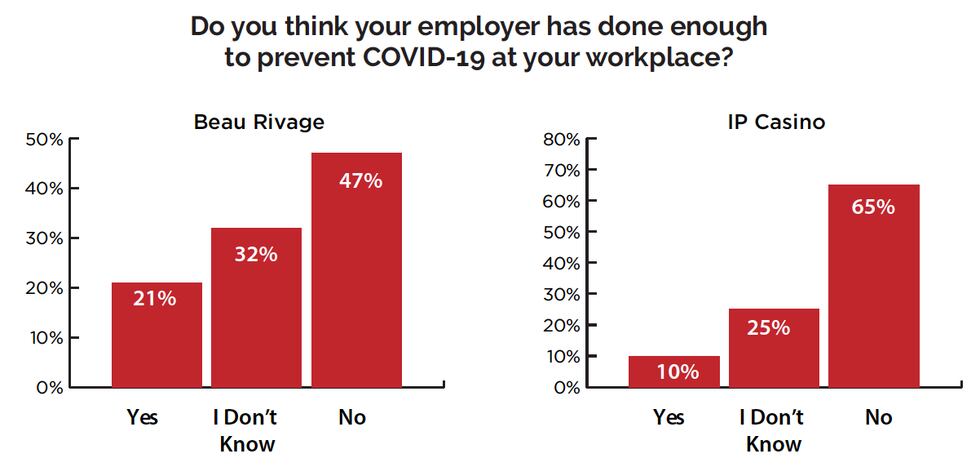 70% of surveyed workers reported that casino guests "rarely" or "never" followed social distancing guidelines.
The survey was conducted from June 9-29th, shortly after the casinos reopened. The Beau Rivage reopened on June 1st and the IP reopened on May 21st.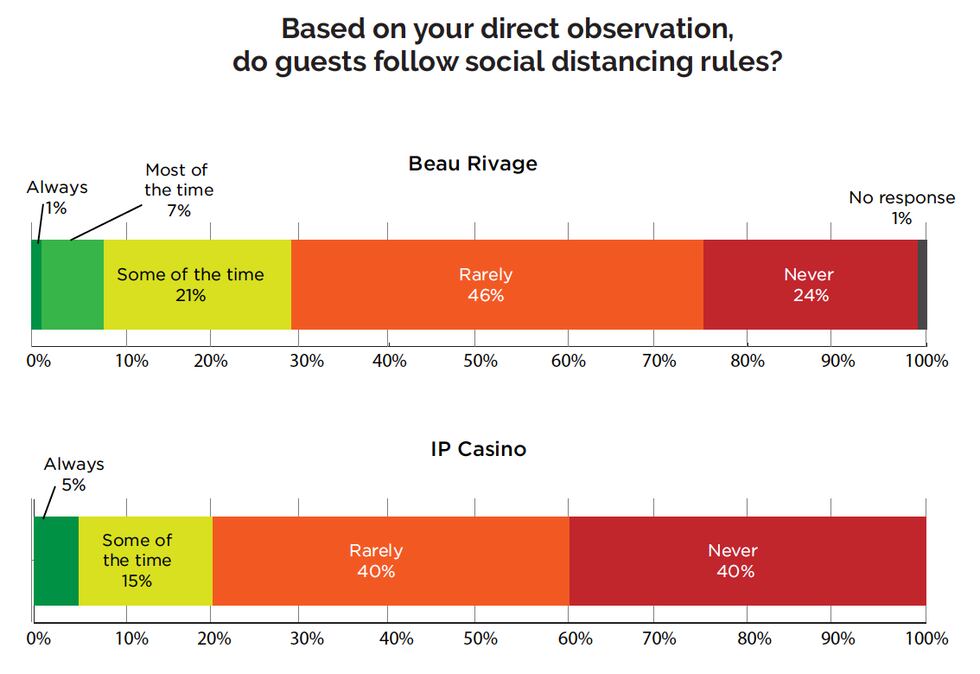 The union is also calling on the Mississippi Gaming Commission to update its policies regarding housekeeping in casino hotel rooms. As of now, those guidelines say rooms are only being cleaned after a guest checks out to help reduce the spread of the virus. However, the union's report says those guidelines go against daily housekeeping standards implemented in Las Vegas and Atlantic City. they are now calling on the MGC to put those same policies in place.
The casino workers' cries for help did not fall on deaf ears. "I appreciate the testimonies," said Commissioner Al Hopkins of the Mississippi Gaming Commission. "I appreciate everyone in attendance in this virtual meeting. I assure you that I am extremely aware of everything that you have said in your report, and what you testimony has been. I assure you that the two commissioners and I will meet together with regard to it to do what we can to make it as safe as possible," Hopkins said.
The Beau Rivage released a statement Wednesday, along with a copy of MGM's Seven-Point Safety Plan.
"The company offers free testing for BR employees, covers two weeks' pay if an employee tests positive so the employee can quarantine, and our policy is that if an employee has had close sustained contact with another employee who is Positive then they are required to be tested before coming back to work. We contact trace ourselves when employee reports positive test. In addition, MGM launched internal marketing campaigns "Take Five" and "I Care" to keep protocols top of mind both at work and when out in the community."
To read the Beau Rivage's Seven-Point Safety Plan, click HERE.
The IP Casino also released a statement Wednesday night regarding the union's claims, saying:
"We remain committed to providing a safe and healthy environment for every guest and team member. We continue to practice comprehensive safety measures that meet or exceed the requirements of federal, state and local health officials, including social distancing, frequent sanitation of high-touch surfaces, temperature checks and symptom screening of team members and customers, and mandatory face coverings.
We also require that team members stay home from work if they feel sick, or have been in close contact with an infected individual. Team members who do so are eligible for paid time off."
To read the full report that was submitted to the Mississippi Gaming Commission by UNITED HERE Local 23, click HERE.
Copyright 2020 WLOX. All rights reserved.