Hancock County student returns to school after battling cancer
Five months ago, Janna Babin was taking her 8th-grade classes at home with the help of Skype. Monday, her classmates welcomed her back with open arms.
Updated: Feb. 17, 2020 at 5:40 PM CST
BAY ST. LOUIS, Miss. (WLOX) - A heartwarming homecoming of sorts took place Monday for Janna Babin. She was only a brand new student of two weeks at Our Lady Academy (OLA) when she got sick and could no longer regularly attend classes.
"I finally got my shots and was cleared to go back to school because all of my numbers in my labs were good," said Babin, an 8th-grade student at OLA.
With the goal of getting back to school, Babin continued her schoolwork while her body was fighting cancer.
"She had tutors at St. Jude's to keep her up with her school work. She's been keeping up with it, doing a great job, working a lot with the tutors, doing a lot on her own and face timing with all of her classes so she could stay on schedule as much as possible," said OLA's principal Marilyn Pigott.
What might normally be seen as a distraction was not an issue for teachers and students at OLA.
"It is a little bit of extra work, but that's not something that they mind doing. We had one student in particular who walked the iPad from class to class and would hold it up in the hallways so that Janna was part of the school while she was at home," Pigott said.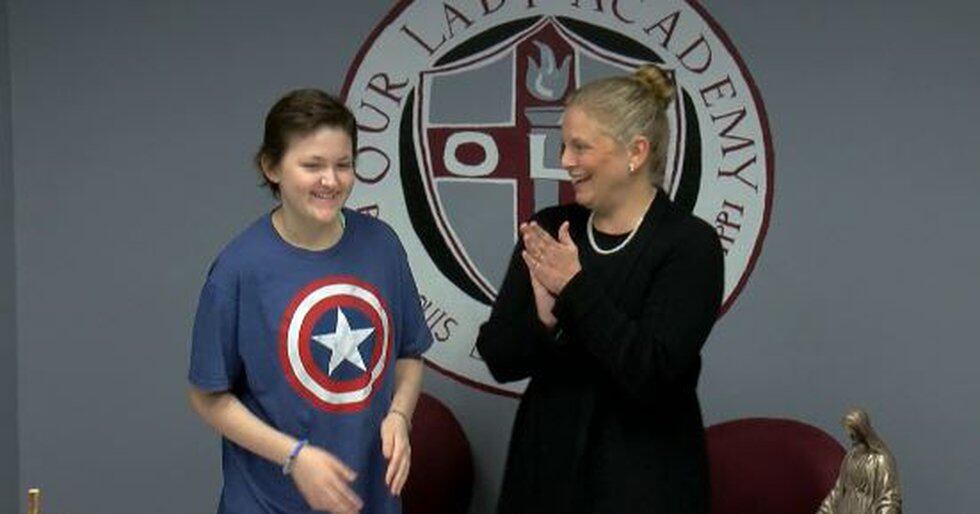 That student was Shelby Zimmerman. "One day they asked me to carry and face time her on the iPad. It's cool whenever she just gets to sit on the iPad in class and we do get to interact with her," Zimmerman said.
Zimmerman wasn't the only classmate excited to see Babin back in the classroom.
"It's a little bit different but I'm really excited because she's one of my best friends," said classmate Kirynn Necaise.
Anne Pierson Kane helped to organize a lemonade fundraiser for Babin while she was away from school. That fundraiser netted $500.
"We missed her but we've gotten used to her being on the TV in class every day. She's been working with us in math. We do our problems with her and all the other classes," Kane said.
At the end of the day, despite her illness, getting back to a regular schedule for Babin was most important.
"It seems like it's gone by really fast and I'm finally able to interact and be in the classroom physically," Babin said.
Babin finished the 7th grade from her room at St. Jude Children's Hospital. Now that she is in remission, she's excited to finish this school year alongside her classmates.
Knowing that she has the support of her family, her friends and her teachers, Janna is now poised to continue and finish the 8th grade stronger than before.
Copyright 2020 WLOX. All rights reserved.