From the Coast to the Capitol, Michael Watson sworn in as Secretary of State
Published: Jan. 10, 2020 at 7:16 AM CST
JACKSON, Miss. (WLOX) - Seven state wide elected lawmakers took the oath of office Thursday, including a familiar face for South Mississippi residents.
Jackson County's Michael Watson was sworn in as Secretary of State, replacing Lt. Gov. Delbert Hosemann who's leaving to lead the Senate.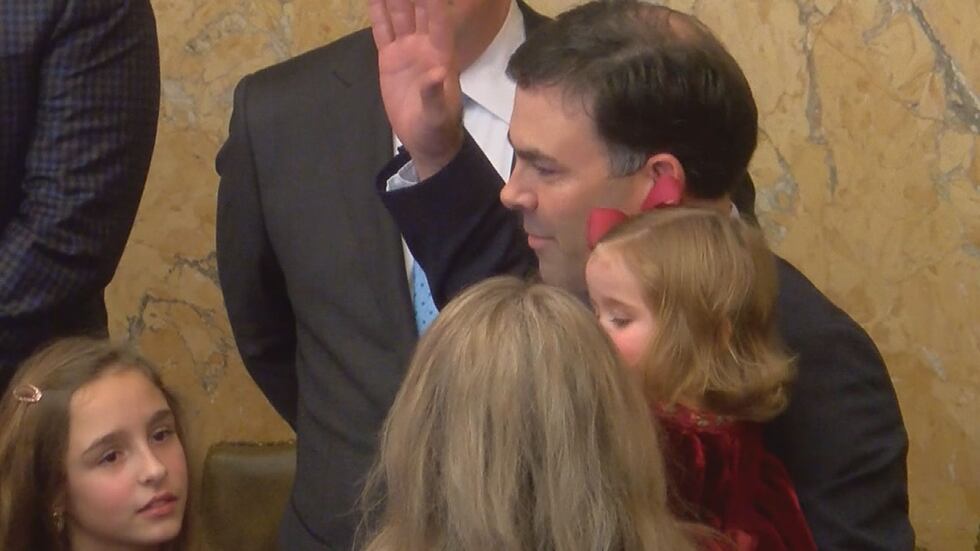 With his wife and three children by his side, Michael Watson became Mississippi's 36th Secretary of State on Thursday. It was an emotional experience for the former state senator who grew up in Pascagoula.
"The American dream is tied up in this office," Watson said.
Before being sworn in, Watson sat down with WLOX in his new office. He's the first person from the Coast to win a statewide election in two decades.
"To have that voice on a statewide level where I can tell the Coast's story in Corinth or in Desoto County and all across this state is so important for the Coast," Watson said. "I've seen a growing, strengthening body from the Coast in the legislature as a whole, and to couple that with a statewide elected official is really good news for the Coast."
Being from the Coast, Watson knows how important the interpretation of tidelands can be when recruiting developers.
"It's important to preserve our coastline. It's beautiful, gorgeous and we want to do everything we can to preserve it, but you've got to develop that with economic development," Watson explained. "When talking about the Coast being an economic engine for the whole state, that's an important piece. I want to be clear the law is already set, and we need to work within those parameters. The important piece is knowing the relationships that are already there are going to be very important to continue those relationships to make sure the Coast is well represented when tidelands is an issue."
As he walks the halls of the Capitol, Watson understands his role of protecting the integrity of the state's elections. He also plans to help small businesses get off the ground, but he made his top priority clear.
"It would have to be the DMV; it's an issue that impacts so many Mississippians," Watson said. "I get text messages, Facebook messages and emails daily from somebody who's had an awful time and awful experience at the DMV."
Watson wants to implement new and more convenient options for people trying to get a driver's license, but there is a process to go through for those changes.
"Yes, the legislature has to move the DMV from the Department of Public Safety over to the Secretary of State's office, so until that happens I can't really institute any of the changes we want to make," he said.
After serving three terms in the state Senate, Watson's principles aren't changing just because he has a different office.
"A conservative approach of making sure we don't spend more than we have, and let's make sure with every opportunity we get to give more individual freedoms to individuals across the state, because they know what's best for them, not people in Jackson, is a great principal to follow," Watson said.
All statewide elected officials have now been sworn in with the exception of Governor-Elect Tate Reeves, who'll take the oath of office during his inauguration ceremonies on Tuesday, Jan. 14.
Copyright 2020 WLOX. All rights reserved.