Keeping your personal information secure as you Cyber Monday shop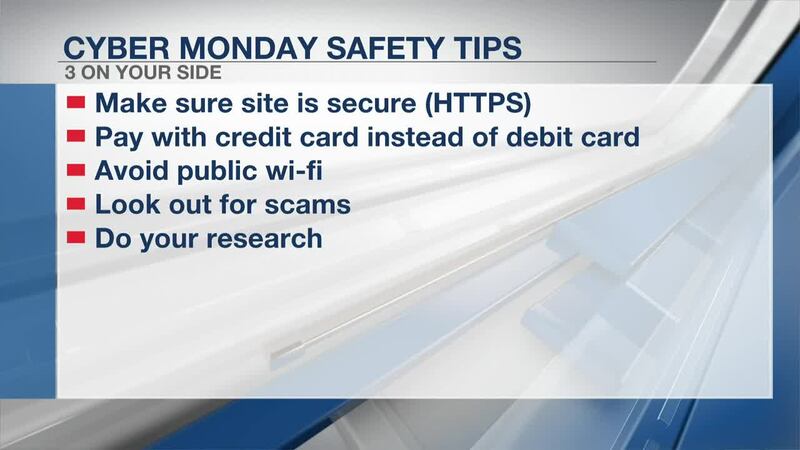 Updated: Dec. 2, 2019 at 9:21 AM CST
JACKSON, Miss. (WLBT) - Get your credit or debit card ready.
It's Cyber Monday, one of the biggest online shopping days of the year.
The Better Business Bureau wants to remind everyone that even online shopping has risks.
Whether you plan to use your phone, laptop or computer to shop online, there are some things to keep in mind.
The BBB says you should watch out for false advertising and keep a close eye on the web address on your browser.
First, make sure your devices have all security updates installed. Keeping your anti-virus software up to date is important because it can often detect non-secure websites and pop-up phishing scams.
Scammers can create look-a-like websites designed to steal your information. When logging on, look for web addresses that have an "S" after the HTTP. You also want to look for a lock and key to confirm the website is secure.
Offers from online retailers can often be misleading, so make sure you understand everything before you buy.
If you use a credit card, you can dispute questionable charges later. Debit cards don't offer the same protection. Debit cards are linked to bank accounts, which can lead hackers directly to your accounts.
The Better Business Bureau also recommends if you shop on the go, do not use public wi-fi, only secure connections.
You should shop on sites with good reputations. If you see advertising on social media or through email about a great deal on something you want but you have never heard of the store selling it, that is a red flag.
Do your research on companies and if a deal seems too good to be true, IT PROBABLY IS!
Copyright 2019 WLBT. All rights reserved.