Instagram-worthy milkshakes bring 'Shark Tank' investors to The Yard
The Yard appeared Sunday night on the hit ABC show 'Shark Tank'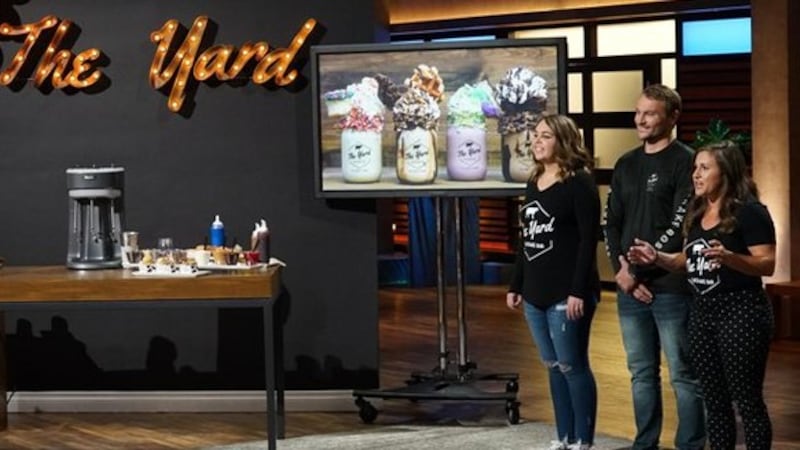 Updated: Nov. 11, 2019 at 6:29 AM CST
D'IBERVILLE, Miss. (WLOX) - Their milkshakes bring everyone to The Yard, including the multimillionaire investors on the hit ABC show Shark Tank.
In Sunday night's episode, husband-and-wife team Logan and Chelsea Green appeared on the show, asking the "sharks" to invest in The Yard Milkshake Bar, which is known for its over-the-top, Instagram-worthy desserts.
"We knew people would love our milkshakes, but we didn't think people would line around the block to wait for one," said the owners.
SCROLL DOWN TO SEE A CLIP FROM THE SHOW!
The couple asked for an investment of $400,000 into the business, which currently has four locations, including one in D'Iberville. However, their request shocked the sharks when the owners said potential investments would only be for future franchises, not the existing stores that are open now.
After all of the sharks expressed concern over the franchise-only deal, Logan and Chelsea said they would consider expanding the offer to include the four existing stores.
Kevin O'Leary offered $400,000 for a 15 percent stake in the franchise business and the corporately owned locations. Lori Greiner offered $400,000 for 12.5 percent, but added that she'd need stake in the existing locations as well. Daymond John, who is an investor in the dessert-themed restaurant Sugar Factory, declined the couple's offer, saying it was too competitive with his current interests.
Mark Cuban was the only shark who said he was okay with the couple keeping their four existing locations.
"I want you guys to use the $400,000 to open up units and I want 25 percent, not of the existing units, but of the new business," he said.
Logan and Chelsea countered with 20 percent, to which Mark countered back with 22 percent, and a deal was made.
WATCH A CLIP FROM LAST NIGHT'S EPISODE
The Yard's famous milkshakes are made in a mason jar and decorated with a variety of sweet treats, such as candy, cupcakes, cookies, and any other sweet creation a person can imagine. They retail for $14-20, with the largest size sold for $50.
Logan and Chelsea opened their first store in May 2017 in their hometown of Gulf Shores, Ala. They have now expanded to Panama City Beach, Fla., Fairhope, Ala., and Austin, Texas. There are also two franchise locations in D'Iberville and Hattiesburg.
The D'Iberville location was opened earlier this year by co-owners Lynn Hammons and Shelley Creel. It's located in the Promenade.
TAKE A CLOSER LOOK AT SOME OF THE YARD'S DECADENT CREATIONS AT THE D'IBERVILLE STORE!
Copyright 2019 WLOX. All rights reserved.