Centennial Plaza prepares to open its door to the public on Monday
The new resort includes 2 hotels, a waterpark, a restaurant, a chapel and a beautiful fountain.
Published: Aug. 2, 2019 at 7:06 AM CDT
GULFPORT, Miss. (WLOX) - Centennial Plaza celebrated a soft-opening Thursday night for invited guests to build excitement for the Grand Opening on Monday.
Centennial Plaza is being touted as a premier resort just a few days before it's doors open to the public.
"This is a step up in our game, honestly," said Coastal Mississippi CEO Milton Segarra. "This type of facility will bring a new option for families, couples, business, groups...It's really a remarkable investment."
With this year's dismal tourism season, Segarra said this will only help add to the allure of the Gulf Coast.
"Having this phenomenal resort, it's the best message we could send right now at this moment in which it's been so challenging for our entrepreneurs and our partners here on the coast," Segarra said. "To send this strong message about how important tourism is, opening this beautiful resort Centennial Plaza, is the best way to say... we are open for business."
Resort brass rolled out the red carpet this evening for invited guests to help usher in a new brand of hospitality.
"We have so many things to offer," said Segarra. "This particular resort is an example of that beauty and diversity that we have in terms of product, services and experiences here in coastal Mississippi."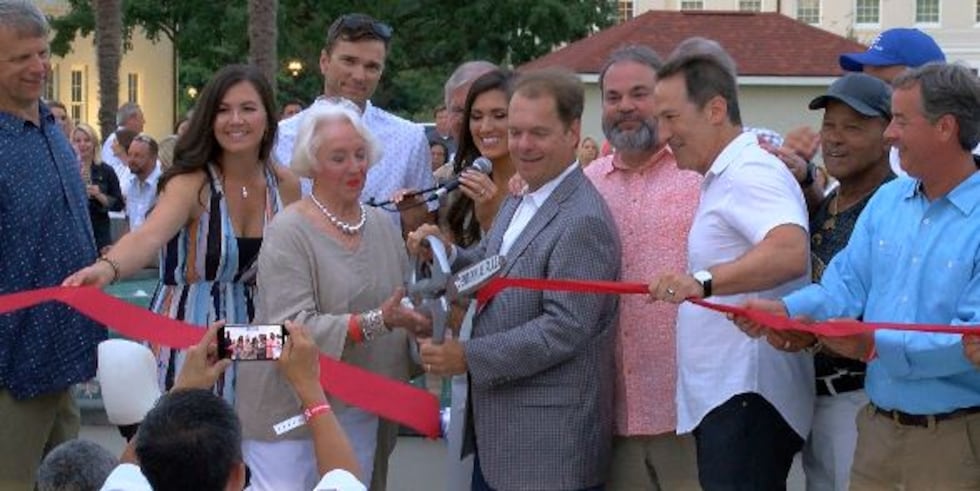 Centennial Plaza, which is located where the old VA building once sat on Highway 90, includes two hotels, a water park, a restaurant, and a chapel, as well as a beautiful fountain. Those amenities will open to the public on Monday.
For more information about the resort, visit Centennial Plaza's website.
Copyright 2019 WLOX. All rights reserved.