Remembering Thad Cochran: Mississippi's "Quiet Persuader" and a "true gentleman"
Updated: May. 30, 2019 at 3:57 PM CDT
Mississippi (WLOX) - As news of former U.S. Senator Thad Cochran's death spread Thursday morning, condolences from across the country began pouring in from those who worked with and admired Mississippi's longtime senator. Cochran, who represented Mississippi for more than 45 years, passed away Thursday morning at his home in Oxford, Miss. In 2017, the Republican was recognized as the tenth longest-serving Senator in United States history.
U.S. Senator Roger Wicker, (R-Miss.) served alongside Cochran in his last years in office, and called him "one of the greatest champions Mississippi has ever known."
"Thad Cochran was a giant in the United States Senate and one of the greatest champions Mississippi has ever known. He was also a dear personal friend for decades. My wife, Gayle, and I extend our heartfelt condolences to the Cochran family at this time. When Thad Cochran left the Senate, I was reminded of Henry Wadsworth Longfellow, who wrote, "Lives of great men all remind us we can make our lives sublime, and departing leave behind us footprints on the sands of time.
Thad Cochran's footprints are all around us. From his career in the Navy through his retirement in 2018, his life was marked by service to this country. The American economy is experiencing historic growth today in no small part because of the foundations laid by Thad Cochran. Our nation's military is stronger, groundbreaking federal research continues to advance, our citizens are healthier, and rural and agricultural communities from the Mississippi Delta all across this country are more vibrant. I am grateful and honored to have known him, learned from him, and been his friend. America is a better country because of Thad Cochran."
U.S. Senator Cindy Hyde-Smith (R-Miss.) was appointed to Cochran's seat when he announced his retirement in 2018. She recalled playing the piano in his Senate office on his last day as one of her "most cherished memories."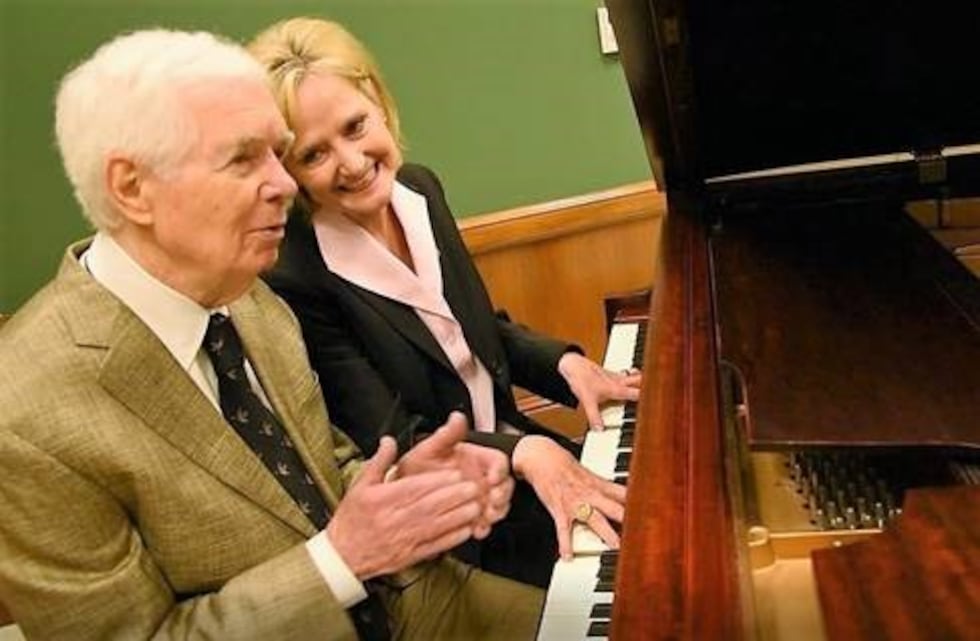 "Mississippi has suffered a tremendous loss today. Senator Thad Cochran was an incredible leader and a most respected member of the United States Senate. My colleagues who served with him consistently speak of him with such high regard. So many have said to me that he was truly their favorite Senator and friend. He treated everyone with distinction, and had a caring and concerned heart for his constituents and the state he so dearly loved.
"Mississippi is a better place because of his leadership that was guided by wisdom and faith. One of my most cherished moments, which I will hold in my heart forever, is playing God Bless America on the piano while he sang it in his Senate office on his last day there. My husband Michael and I send our deepest sympathy to his family at this time."
Mississippi Governor Phil Bryant requested that flags across the state be flown at half-staff in honor of Senator Cochran and his legacy of service to our state.
"Mississippi and our nation have lost a true statesman in Thad Cochran. He was a legend in the United States Senate where he worked tirelessly to move his state and country forward. He was one of our longest serving senators, and his influence can be felt in every corner of Mississippi. Whether it was fighting for resources during the dark days following Hurricane Katrina on the Coast or being a zealous advocate for farmers in the Delta, he dedicated himself to serving all Mississippians. The Quiet Persuader dominated Mississippi politics for nearly half a century, and he did so by being a gentleman. Senator Cochran has left a legacy of public service that should serve as an inspiration for all Americans. I am requesting that flags be flown at half-staff in Mississippi. Deborah and I are praying for the Cochran family during this difficult time."
Cochran's former colleagues in the Senate, from both sides of the aisle, remembered his extraordinary work ethic and grace. Senate Majority Leader Mitch McConnell called him a "legendary legislator" and "principled leader." While Senator Chuck Schumer, a democrat, called him "one of the most personally decent, nicest people I've met in my career in the Senate."
"Senator Cochran's genteel manner endeared him to people from all walks of life, and enabled him to build relationships that proved critical in championing Mississippi's interests. During some of the hardest times on the Coast, we benefited from his exemplary leadership to secure recovery funding for our region, particularly after Hurricane Katrina and the restoration process after the BP Oil Spill. His passing is a great loss to our State and Country. We offer our deepest condolences to his family during this time of grief." - Gulfport Mayor Billy Hewes
"Sen. Cochran was a friend to me and every citizen of the City of Pascagoula for many years, working diligently to help our community grow, whether it be through natural disasters like Hurricane Katrina or always supporting our local industries such as Ingalls Shipbuilding. Sen. Cochran's legacy will be that of a true statesman who was the 'Quiet Persuader' in Congress. He advised Presidents but always took time for his constituents, serving Pascagoula, Mississippi, and America well for more than four decades. Please join me in praying for Sen. Cochran's family as they grieve his passing, and may we all celebrate his life of service and remember his spirit and leadership as we mourn." - Pascagoula Mayor Dane Maxwell
"Senator Cochran served his state and nation with honor and dignity and leaves a legacy of statesmanship and service that will benefit Mississippians for decades to come." - MSGOP Chairman Lucien Smith
"One of Mississippi's greatest public servants passed today. His life's work is imprinted on each of us through his leadership in education, agriculture, hurricane relief, and his calm approach to the major issues impacting our State and our Country." - Mississippi Secretary of State Delbert Hosemann
"My thoughts and prayers are with the family of Senator Thad Cochran. I have the upmost respect for the Senator who represented Mississippi so well. He was a true statesman and a personal friend whom I knew and supported throughout his political career. His passing is the end of an era as Thad set an example for those who have followed him." - Commissioner of Insurance Mike Chaney
"I am saddened to learn of the passing of U.S. Senator Thad Cochran. A true statesman, Senator Cochran exemplified the qualities of a steadfast leader with a true servant's heart. He fought not only for Mississippians, but for all Americans. His lasting contributions in U.S. agriculture policy helped to create a more viable agriculture industry for farmers and ranchers across the entire nation, and for that, we are truly grateful. Our thoughts and prayers are with his family at this time." - Commissioner of Agriculture and Commerce Andy Gipson
"Thad served in the Senate my entire life. He was a patriarch of the Republican Party in Mississippi, and I grew up admiring him as a towering political figure and a gentleman. Although our political differences became apparent, my respect for him remains unchanged. If Heaven has a Senate, I trust Mississippi now holds a key chairmanship. Godspeed, Senator." - State Senator Chris McDaniel
"I was saddened to learn of the passing of my long-time friend Senator Thad Cochran. We both grew up in the Jackson area and entered politics over 40 years ago. Senator Cochran was always a friend to transportation in Mississippi throughout his lengthy career. After Katrina he made sure Mississippi was a priority for relief efforts and did everything he could to help his home state rebuild our transportation network after the storm. He was often soft-spoken, but his quiet leadership was important to the prosperity of the Magnolia State. I always respected him as a statesman and valued his personal friendship. I am grateful for his lifetime of service to the people of Mississippi and my prayers are with his family during this difficult time." - Commissioner Dick Hall, Chair of the Mississippi Transportation Commission
Copyright 2019 WLOX. All rights reserved.