'A sad day for the City of Biloxi': 24-year veteran of Biloxi Police identified as officer killed in shooting
Updated: May. 6, 2019 at 5:24 PM CDT
BILOXI, MS (WLOX) - Officer Robert McKeithen, a 24-year veteran of Biloxi Police Department, has been identified as the officer who was killed Sunday night outside the city's public safety building.
Police have captured and arrested 19-year-old Darian Tawan Atkinson Monday night. Atkinson is the man accused of killing Officer McKeithen.
Officials say Atkinson was arrested in Wiggins, MS. He can be seen smiling as he is escorted into Biloxi police headquarters. But Biloxi Police Chief John Miller says he is not bothered by his smile.
Chief Miller says there will be another charge of accessory. Police believed Atkinson was being helped while he was on the run.
As for what's next, police will build their case against Atkinson.
"Next, we want to make sure we have a solid case. We want this guy to pay for what he's done," Miller said.
Police say he will be charged with capital murder.
"It's a very sad day for the City of Biloxi. A 24-year veteran for our department Robert McKeithen - and there's no easy way to say this - was murdered last night right here in our parking lot," said Biloxi Police Chief John Miller. "Robert was an unbelievably fine policeman. He did a great job; took care of the citizens of Biloxi for almost 24 years."
An earlier news conference was held at 9 a.m. Monday to update the public on the shooting.
McKeithen died just after 10 p.m. after being shot multiple times outside the police headquarters, according to the chief.
"Robert was planning on retiring at the end of the year," said Chief Miller. "He leaves behind a wife, two stepsons, and a stepdaughter. He was a wonderful family man. That's where he spent all of his time, with his family."
Biloxi Police Chief John Miller, Harrison County Sheriff Troy Peterson and Gulfport Police Chief Leonard Papania all stood at the front of a room at the Lopez Quave Public Safety Center on Porter Avenue just before 6 p.m. to give the latest updates in a news conference on the investigation into the shooting death of Officer McKeithen.
Sheriff Peterson urged for people to come forward with information about Atkinson's whereabouts.
"We don't know his actions. We don't know what he's going to do. That's why we've been asking from the very beginning for the public to give him up," said Sheriff Peterson. "If you're hiding him, as a family member of friend, you're going to be charged.
Officers were certain Atkinson will be captured.
I have no doubt that we will take him into custody," said Chief Papania. "We want it. Our community wants it, and I hope he wants it."
Chief Papania wanted to make sure the public was aware that anyone helping Atkinson will also be charged.
"If there's somebody or a group that is causing us not to do it (locate Atkinson). They will answer for their sins," he reiterated.
All three men honed in on their gratitude of the community's efforts.
"He was a very gentle man for a policeman, a likeable man who treated people with respect and dignity, and we're going to miss him sorely."
Authorities are looking for Atkinson, who is accused of shooting the officer outside the Lopez Quave Public Safety Center on Porter Avenue. That's the main headquarters for the Biloxi Police Department.
According to Chief Miller, first responders rushed the officer to Merit Health. The chief was there just before midnight when he received the news that the officer had died in the emergency room.
Investigators say he approached McKeithen outside the building in the parking lot, opening fire and shooting the officer multiple times. McKeithen was on-duty and in uniform at the time, said the chief.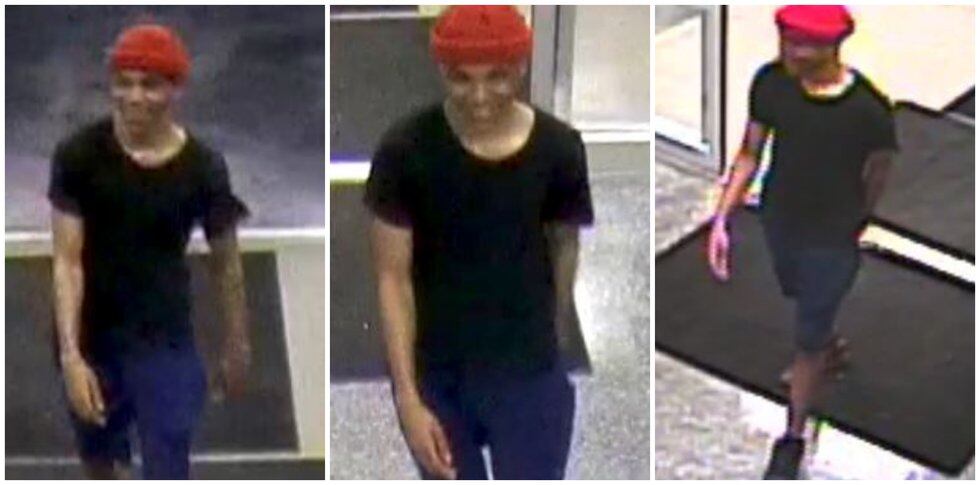 "The animal that did this is still on the run. and we're going to do everything within our power to bring him to justice for Robert and his family and for the men and women in the police department and for the citizens of Biloxi," said Chief Miller.
Authorities released surveillance photos that were captured from him entering the building.
They also released a description of the suspect, saying he is a thin man between 5′7″ and 5′10″. When he approached the officer, he was wearing a black T-shirt, navy blue shorts and a rolled up red skull beanie. He also had dark high tops with red heel caps.
Authorities are asking the public for any information that may lead to his whereabouts.
The chief did not know any details about how or why the officer confronted a suspect and gunshots were fired.
Because a Biloxi police officer lost his life in the line of duty, Chief Miller has asked the Gulfport Police Department to lead the investigation. Gulfport Police Chief Leonard Papania joined Chief Miller outside Biloxi Police Department Monday morning for the press conference.
"Any time you have this kind of deliberate and violent attack on a police officer, especially in front of a police station, it should cause everyone great concern," said Chief Papania.
Harrison County Sheriff Troy Peterson also spoke at the news conference, pleading with the public to give any information no matter how small it may seem.
"This is dreadful," said Biloxi mayor Andrew FoFo Gilich. Gilich was at the Lopez-Quave Public Safety Center in the wake of the shooting and consoled McKeithen's family at Merit Health in Biloxi Sunday night.
"Officer McKeithen dedicated his life to this job and this community. This is a tragic reminder of the dangers that these men and women face in their chosen profession, which is to protect our community."
Gulfport Police also welcomed the public to leave memorial items on McKeithen's patrol, which is parked outside Biloxi Police Department.
Bradford O'Keefe Funeral Homes is handling the arrangements for Officer McKeithen. Visitation will be Monday, May 13 from 9:30 a.m. until 12:30 p.m. at the First Baptist Church in Biloxi. The funeral service will be at 12:30 p.m. The burial will be at 2:30 p.m. at Biloxi National Cemetery.
So far, $35,000 in rewards has been offered in this investigation. The FBI is offering $20,000. The U.S. Marshals Service is offering $10,000 and Crime Stoppers is offering $10,000.
Since word got out that an officer had been killed, numerous agencies have reached out to Biloxi, said Chief Miller, offering any help they can. Agencies that came and helped include Mississippi Highway Patrol, Gulfport Police, D'Iberville Police, Pascagoula Police, Harrison County Sheriff's Office, U.S. Marshal's, Customs and Border Patrol, DEA, ATF, Biloxi Fire Department, Mississippi Bureau of Investigation, Harrison County Fire Services, Gulfport Fire Department, and the Harrison County District Attorney's Office.
This overnight shooting marks the fifth fallen officer for the Biloxi Police Department. Those fallen officers include Officer Emery Wilson, who was killed in a motorcycle accident in 1970; Officer David Higginbotham, who died in1972; Animal Control Officer Nathan Mitchell, who was hit by a train while trying to catch a dog in March 2001; and, Lt. Michael Meaut. We don't have any information on when Meaut was killed.
May 6th also marks 21 years since two Long Beach police officers lost their lives in the line of duty. Sergeant Steve Morgan and Detective James Northcutt were shot and killed while responding to a domestic dispute on May 6, 1998.
This tragedy in Biloxi happened exactly one week before the start of National Police Week, which is being honored May 13-19 this year.
McKeithen was 58 years old when he died.
Copyright 2019 WLOX. All rights reserved.