Sutherland, Dawson atop the leaderboard after first round of Rapiscan Systems Classic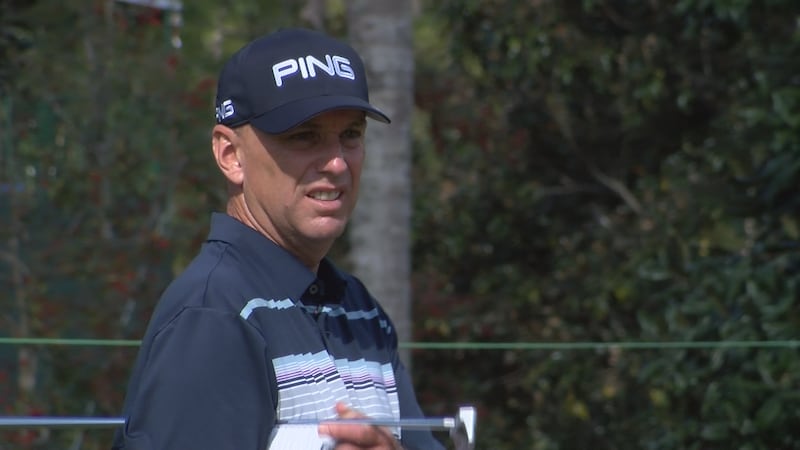 Updated: Mar. 29, 2019 at 8:13 PM CDT
SAUCIER, MS (WLOX) - The greens treated Kevin Sutherland quite well on the first day of the 2019 Rapiscan Systems Classic, to the tune of five birdies and an eagle on the sixth hole.
"Made that putt along with a bunch of other putts today," Sutherland said. "It was nice to roll the ball well, and I hit a lot of good shots."
One of those good shots came on a long putt on the 17th hole, even if it eventually gave the California native his only bogey on the day.
"I hit a really poor tee shot, and actually made a really good two putt from very far from the hole just to make bogey, so that green treated me just as well as all the others," Sutherland said.
However, that bogey bumped Sutherland from 8 under par to 7, which opened the door for Marco Dawson. The 55-year old sunk four birdies between holes 3 through 7 to close the gap, finishing the first round tied with Southerland for first place.
"The greens are what's really difficult out here," Dawson told WLOX. "I told my caddie, I said I made more putts today than I have in three or four years in any one round."
Tom Byrum had third place all to himself at -5, but a bogey on his final hole left him in a four-way tie alongside Scott Parel, Jeff Sluman and Tommy Armour III. Meanwhile, a pair of big names are not far behind, as Fred Couples and Vijay Singh sit tied for seventh at -3 with Kent Jones and Scott Hoch.
Sitting at +1 and tied for 45, Steve Stricker has some work to do if he wants to repeat as Rapiscan Systems Classic Champion, but there is still plenty of golf to be played.
"Who's leading after the first day or who's in second or third, it doesn't really matter," Sutherland said. "Someone's gonna shoot some good scores tomorrow, so just gotta hopefully be one of them."
The second round of the Rapiscan Systems Classic tees off Saturday morning (March 30) at 10:45.
Copyright 2019 WLOX. All rights reserved.