Radioactive construction equipment stolen from MDOT site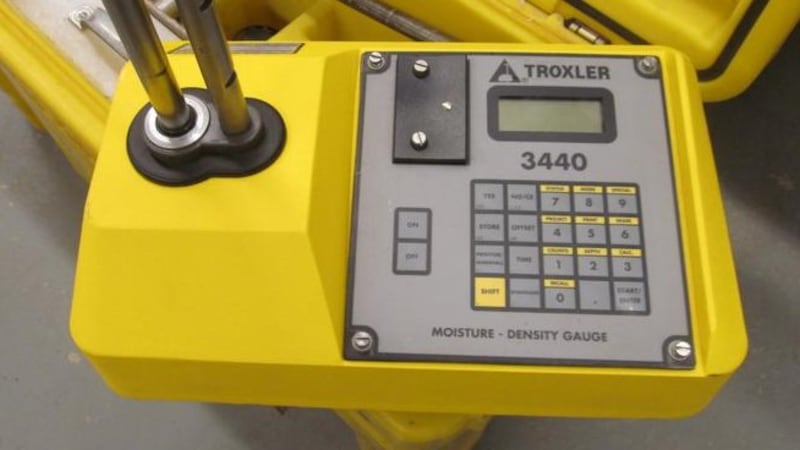 Published: Feb. 15, 2019 at 1:17 PM CST
JACKSON COUNTY, MS (WLOX) - Deputies in Jackson County are investigating after a radioactive piece of equipment was stolen from a MDOT site Friday.
A Troxler nuclear density gauge was reported stolen at 7:24 a.m. from the bridge replacement site 21 miles north of I-10 on Highway 57. The gauge is stored in a yellow 3′x3′x2′ foot container.
Nuclear gauges are common tools found on job sites and contain a small amount of radioactive material that pose a low-level radiation risk, according to authorities.
"It has a small rod in the middle of the machine that's not exposed; it's encased inside the machine," said MDOT engineer Kelly Castleberry. "Once the machine is in place, the rod comes out and it measures the reflection of the particles of asphalt or dirt and tells you how compact that is."
The device is worth a couple of thousand dollars, said Castleberry, adding that other items were also missing from the trailer at the work site.
Nuclear gauges are used for civil engineering projects and construction that measures soil density or soil water content. Nuclear gauges are also used for industrial, mining, and scientific purposes. The tools are also used for building roads and dams, as well as collecting scientific data on soil water content in agricultural and forestry settings.
According to Troxler's website, the radioactive sources in the portable gauges are sealed in stainless steel capsules that would be difficult to breach and would not represent a major hazard if spread over a large area.
Transporting a nuclear gauge is regulated by the U.S. Department of Transportation and is classified as a Type "A" transport.
The stolen nuclear gauge was being used on the Red Creek bridge project that MDOT is in the process of replacing. Castleberry said the loss of the device has not set back construction. The bridge is on track to be finished by early fall.
Anyone with information about the stolen gauge is asked to contact Jackson County Sheriff's Department at 228-769-3063. Anonymous tips may also be made to Mississippi Coast Crime Stoppers online or by calling 877-787-5898.
Copyright 2019 WLOX. All rights reserved.