Double amputee overcomes challenges, bowls a perfect 300
Ricky Rader lost both his legs nine years ago and now has prosthetics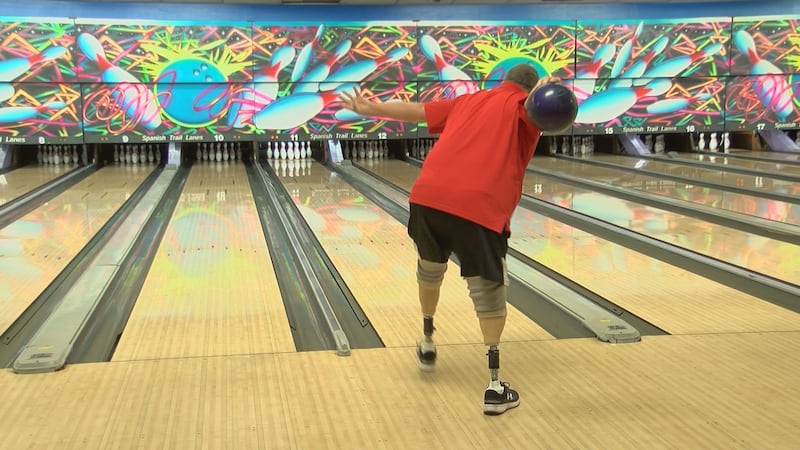 Updated: Jan. 15, 2019 at 7:38 AM CST
GAUTIER, MS (WLOX) - A Pascagoula man is proving that physical challenges can be overcome and he's inspiring others along the way.
Ricky Rader has always been a great bowler, spending years at Gautier's Spanish Trail Lanes perfecting his game. Now, he is overcoming new obstacles as he adapts to bowling with two prosthetic legs.
Both of Ricky's legs were amputated nine years ago due to infection.
"They got infected and the left one got so bad that it got in to the bone," he said. "They had to take it by emergency surgery to start with."
Ricky faced more than just physical challenges as he adjusted to living without his two legs.
"It was really hard. I had bouts of depression. I was confined to a wheelchair, had to have someone help me bath," he said. "I would get up and couldn't go anywhere, stuck in a chair all day long while my family was working."
However, it was his family that inspired him to fight.
"Their words of encouragement and pushing me everyday is what got me through this."
Nearly a decade later, Ricky made his return to bowling, this time with two prosthetic legs.
"It's really been hard being out for nine years. I couldn't pick up a ball or anything, was confined to a wheelchair."
His perseverance and determination paid off last week. With dozens gathered behind him, Ricky was just one strike away from a perfect game. With everyone on the edge of their seats, the ball rolled down the lane, clattering into the pins. It was a strike.
"I didn't think I would ever accomplish that ever after losing the second leg but my wife and some of my friends pushed me," said Ricky.
Jeff Clark, the owner of Next Gen Pro Shop, is a friend of Ricky's. He said it was an amazing feat for someone with no limitations but with Ricky's challenges, it was absolutely inspiring.
"Being a double amputee and being consistent and being able to bowl in and of itself is an accomplishment," said Clark. "Just being out there to do it is great but to throw 12 consecutive strikes that's amazing with two legs, much less with no legs. So it's pretty awesome."
Being in that moment, Ricky said it was a little nerve-wracking but, surprisingly, it wasn't that last frame that made him anxious.
"The last strike was exciting but the nervous strike was the tenth one. I threw a bad shot and got lucky but the next two I don't even remember throwing."
This isn't the first time Ricky has bowled a perfect game. In fact, it's the 23rd time he has bowled a perfect 300. Now, he said he is just going to keep working to get better at the game he loves.
Copyright 2019 WLOX. All rights reserved.