Pathways to Possibilities career fair draws thousands of students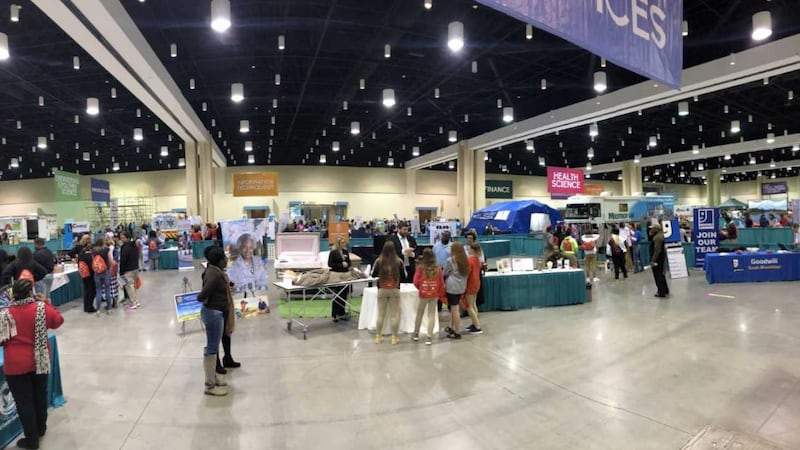 Updated: Nov. 14, 2018 at 3:37 PM CST
BILOXI, MS (WLOX) - Thousands of students were getting an idea of what their future could hold in Biloxi Wednesday afternoon.
What if you could have a convention floor full of different careers at your fingertips to explore? That's exactly what happened at the Mississippi Coast Convention Center for the sixth annual Pathways to Possibilities career fair.
"It gives a lot of kids opportunities to do different things," said Anthony Cowan, an eighth grader at Biloxi Junior High School.
Cowan got to step into the equipment of a firefighter to experience a moment of what these first responders go through each day.
"Hardeset thing I've ever done. They have to do this every day, multiple times a day, because it's their job, and this is hard," Cowan said.
He had a better appreciation for the work they do, but that was a small portion of what was available to try at this huge event. Organizers said it's a great way to get the next generation thinking about entering the workforce.
"Employers are finding a great deal of weaknesses among their candidate pool, and they're wanting to work more closely with the educators so that the product they're receiving is the product they need," said Paige Roberts, a project manager of the career fair.
About 7,500 eighth graders will end up cycling through the maze of industries by the end of the day.
"I love it. I just love seeing new possibilities," said Lilliana Clark, a student from St. Martin.
Clark was encouraged by what she saw and empowered for the future.
"Girls can do anything guys can do," she said.
Clark was inspired by all the possibilities she was seeing, and her attitude was just as inspiring.
"Have confidence in yourself. Don't let guys or other girls push around. Do what you love and be yourself because that's the most important thing," Clark said.
The Pathways to Possibilities career fair has expanded statewide, and is also now branching out to other states in the region.
Copyright 2018 WLOX. All rights reserved.