Veterans honored at St. Martin High School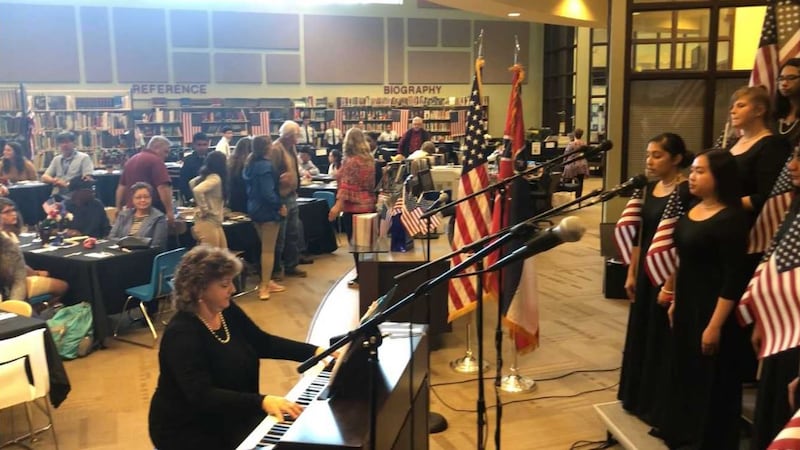 Updated: Nov. 12, 2018 at 2:31 PM CST
ST. MARTIN, MS (WLOX) - There was a special celebration in Saint Martin Monday honoring the men and women who served our country. Students at the high school were invited to bring a military hero in their life to class.
"You get to kind of relax, and think about the past, and how great we also had it in the past, and people who gave up their time to allow us to have our freedom," said student Cooper Simmons.
Simmons brought one of those people with him. His grandfather, Hubert, served in the Navy. His experience with these students gave him hope.
"Most of them you see in the school here, I'm encouraged by their desires and abilities. And I think we're in good hands," said Hubert Simmons.
There were veterans from every branch and many different conflicts, including World War II. That's where Navy veteran Bob Stanley served.
"I went in when I was a senior in high school at Christmas vacation," said Stanley.
Stanley's take on joining the military at a young age really put things in perspective for the students, including the members of the JROTC.
"It does spread some sort of sense of pride in me and to my fellow cadets over here," said Saveair Kemp, a Sophomore JROTC Cadet.
Kemp was glad to have an opportunity to bring his father, and Army vet, John Kemp to the school.
"When I see these kids and these administrators basically stop what they're doing for an entire day to recognize a group of veterans, it just warms my heart," said John.
It was a chance for these proud children and grandchildren of veterans to show what these heroes meant to them. It was also a great opportunity for those who served to swap stories and gratitude.
"So, it's always good to see fellow veterans and people in uniform," said John.
This Take a Veteran to School Day was part of a national effort sponsored by the History Channel.
Copyright 2018 WLOX. All rights reserved.