Memphis hospital employee seen wearing shirt with noose, Confederate flag while voting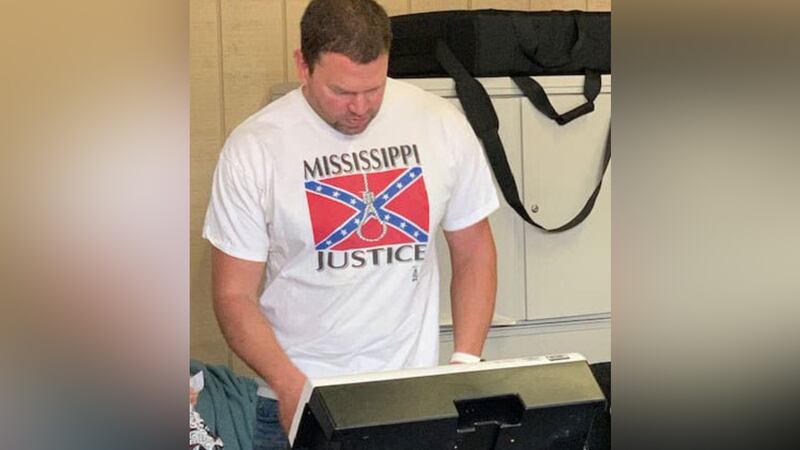 Updated: Nov. 7, 2018 at 10:48 PM CST
MEMPHIS, TN (WMC) - A Mississippi man has gone viral for wearing a wildly racist shirt inside an Olive Branch polling place during Tuesday's elections.
Now, amid accusations of voter suppression, more shocking revelations have come out. WMC Action News 5 has learned the man treats patients at a Memphis hospital.
The man in the shirt has been identified as Olive Branch resident, Clayton Hickey. His T-shirt said "Mississippi Justice" and showed a noose prominently displayed in the middle of the Confederate flag.
His fellow voters, including African Americans, were so horrified that one of them snapped a pic of Hickey. Less than 24 hours later, Hickey's employer Regional One Health, is investigating.
On his way to visit his daughter at the hospital Wednesday night, Don McCoy took one look at the photo and said, "The noose on there says racism and discrimination."
McCoy, a 67-year-old African American man, grew up in Memphis during turbulent years. He remembers being cursed at, spit at and having things thrown at him for no other reason than for walking down the street.
Clayton Hickey's fashion choice, he says, represents hatred and evil.
"It says to me, in my heart," McCoy told WMC Action News 5, "that I think they might do something, you know, chemically or even physically to someone in the hospital."
Hickey's picture was equally worrisome to John Segerson, who's white and recently released from Regional One's emergency room.
"I don't like the noose at all," said Segerson, "it makes me wonder what kind of preferential treatment he would give any person."
Before Clayton Hickey was tending to the sick and injured at Regional One as an EMT, he was a Memphis Police officer. But he resigned in 2010 after getting caught with an underage girl and alcohol in his car.
In an online post a few months later, Hickey described himself as a "generous and open-handed humanitarian who believes in helping others." The post went on to say Hickey "is always ready to help the needy" and that "his charitable nature and loving attitude set an example for others to follow."
Deidre Malone, president of the Memphis branch of the NAACP, views Hickey in a much different light, telling WMC Action News 5:
"I would have serious concerns if Mr Hickey is at Regional One Health or any other hospital that treats diverse groups of people. It is unfortunate that in 2018, we are still dealing with this type of racist display and behavior."
Don McCoy says he's concerned, too, but not all that shocked.
"I mean, I hate to see stuff like that," he said of Hickey's racist shirt, "but you know, just think of the people that feel that way who don't wear the t-shirt, you know? That's just how the world is."
Regional One Health released the following statement to WMC Action News 5:
"Regional One Health takes the health and well-being of our patients and the community we serve seriously. All allegations of inappropriate behavior involving employees are reviewed and investigated. We are aware of the photograph in circulation. We are investigating the matter and will take appropriate action when the investigation is complete."
Copyright 2018 WMC. All rights reserved.