Storm damages several neighborhoods in Jackson County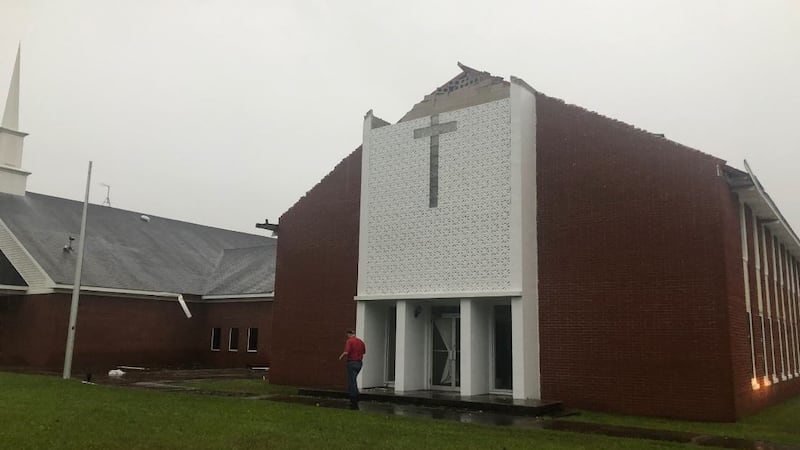 Updated: Nov. 1, 2018 at 2:27 PM CDT
ESCATAWPA, MS (WLOX) - A long line of storm damage in Jackson County left a big mess to clean up Thursday morning. Once the storm cleared the area, it didn't take long to start seeing what it left behind in Escatawpa.
Four Mile Creek Baptist Church took a direct hit, but the Rev. David Thomas was just glad no one was on campus at that time.
"Very thankful. We feel like we're very blessed," Thomas said.
Thomas knows the cleanup will take some time, and that was the case with other properties east and west of the church. Sharon Young and her husband Lowell were taken by surprise when the storm came through.
"I'm sitting there and all of the sudden I hear this terrible noise and it's like a swirl, swirl. And bam on the roof and bam here," Sharon said.
The Youngs had never experienced anything like this.
"It sounded like the whole side of the house blew out, that's how hard it hit," Lowell said. According to Lowell, he didn't even get this much damage during Hurricane Katrina.
"I was worried about everything and not knowing what I was going to be facing, and now I've got a mess to fix," he said.
However, he's still able to stay a little lighthearted in the process.
"I was wondering if anybody needs any firewood. Come and get it!" Lowell said.
Farther west, Richard Hall Jr. had a doctor's appointment to get to, but the storm laid trees down in his driveway, blocking the way out.
"I didn't realize it was this bad in the front, but it's even worse in the back," Hall said while looking at his porch and several storage sheds behind his house that were now flattened.
The damage extended through several neighborhoods more than three miles apart.
Copyright 2018 WLOX. All rights reserved.