Teens hand out candy, make memories with younger kids at trunk-or-treat
OSHS's student trunk-or-treat is held each Halloween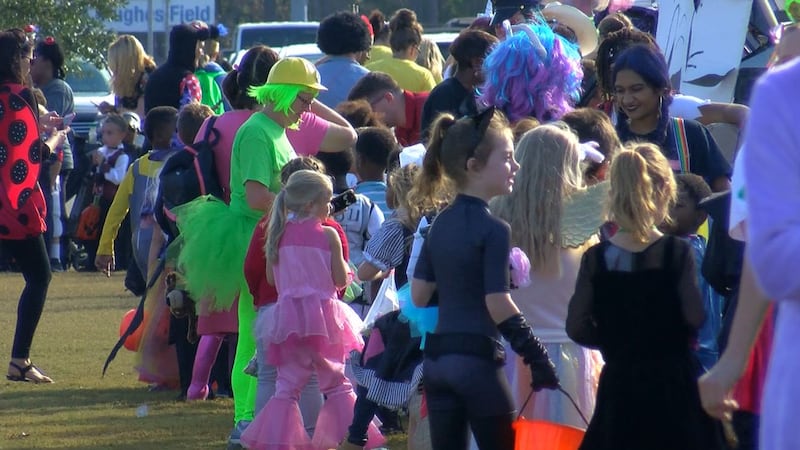 Updated: Oct. 31, 2018 at 12:16 PM CDT
OCEAN SPRINGS, MS (WLOX) - Students in Ocean Springs enjoyed a little Halloween fun during the school day. It turns out, it didn't take much begging to get a bunch of high schoolers out of class to hand out candy to a younger generation of Greyhounds.
Hundreds of kids came to the high school in buses from all three elementary schools in Ocean Springs. And the high schoolers were ready.
"They go all out, they have the best time. It's for the little kids, of course, but our big kids enjoy it just as much as the little kids do," said teacher Tracy Conerly.
The juniors and seniors set up behind the school decked out in Halloween gear and even got their cars ready for the occasion. This event has become a Halloween tradition after more than a decade of fun.
"It makes Ocean Springs a community and it brings us all together and it's just a fun experience that we all look forward to every year," said senior Makenzie Ezell.
Many of these high schoolers remember doing the same thing when they were in elementary school.
"It feels like not too long ago I was their age and now I'm one of the big kids," said senior Sarah Margaret Knight.
According to Drew Saucier, this was a great opportunity to show these upcoming students what to look forward to.
"It's pretty cool that now you're in the shoes that you once wanted to be in. So you just hope that you're making a positive impact and a good reflection on the kids," he said.
Around 1,800 elementary students came to the high school for the big trunk or treat event.
Copyright 2018 WLOX. All rights reserved.